Professor Ataur Rahman Belal
PhD
Research Development Director for Accounting and Financial and Management
Professor in Accounting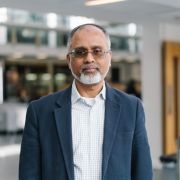 a.r.belal@sheffield.ac.uk
+44 114 222 3464
Room B050, Sheffield University Management School
Full contact details
Professor Ataur Rahman Belal
Management School
Room B050
Sheffield University Management School
Conduit Road
Sheffield
S10 1FL

Profile

Ataur is a Professor in Accounting. He re-joined the Management School in April 2018 having previously been Professor in the Department of Accounting at Aston University where he also served as the Head of the Department and member of the Senior Management Team of the Aston Business School.

Before that he was an Associate Professor at the University of Chittagong, Bangladesh. At Sheffield he is a member of the Accounting and Financial Management Division located within the Management School.

He held visiting positions and taught in the universities of Toulouse (France), Regensburg (Germany), University of Ottawa (Canada) and De los Andes (Colombia).

His editorial positions include former Editorship of Advances in Environmental Accounting and Management, Associate Editorship of Accounting Forum and Advisory Board Memberships in Accounting, Auditing and Accountability Journal, Critical Perspectives on Accounting and Business Ethics: A European Review. 
Research interests

Social and environmental accounting
Critical perspectives on NGO accountability
Accounting and Sustainable Development Goals (SDG)

---

Ataur's principal research interest lies in the area of social and environmental accounting from the context of developing countries such as Bangladesh, India and Vietnam.

His work in this area has led to a number of international large project collaborations funded by the British Council, British Academy and CIMA. He has presented his research in leading international conferences and workshops in various countries.

His research papers have appeared in the leading international journals in the field such as Work, Employment and Society [ABS 4]., Auditing and Accountability Journal [ABS 3], Journal of Business Ethics [ABS 3 and FT Ranked], Critical Perspectives on Accounting [ABS 3], Accounting Forum [ABS 3], Managerial Auditing Journal [ABS 2] and Advances in Accounting [ABS 2].
Publications

Books

Journal articles

Chapters
Teaching interests

Currently I am a Fellow Member of Higher Education Academy. My teaching is research informed and adopts a critical perspective on accounting. I tend to bring in latest insights from my research field on social and environmental accounting.

I also tend to bring guest lecturers from industry to provide practical insights to the students. My role is mainly to facilitate students' teaching and learning process by invoking and sometimes provoking their latent critical minds.

My teaching ethos include looking at accounting from an alternative perspective which promotes the role of accounting in capturing the social and environmental impacts and thereby promotes the transparency and accountability of organisations.

This is informed by the view that accounting has a much broader role to serve wider social interests.

This is a point of departure from the narrow and traditional perspectives on accounting which applies it mainly as a tool to aid corporate decision making with a view to maximise shareholders' wealth.
PhD Supervision

Social and environmental accounting
NGO Accountability
Accounting and SDG