Professor Bill Lee
Professor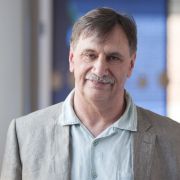 w.j.lee@sheffield.ac.uk
+44 114 222 3473
Room C066, Sheffield University Management School
Full contact details
Professor Bill Lee
Management School
Room C066
Sheffield University Management School
Conduit Road
Sheffield
S10 1FL

Profile

After working in industry for a number of years, I returned to full-time education to read for a BSc (Hons) in Sociology with Research Training and a subsequent PhD on "The cost conflicts of flexible manufacturing", both at the University of Bath.

My PhD thesis married together sociology with engineering and accounting and was the first of a number of research projects involving accounting that has contributed to my transition from working in departments of sociology to working in accounting divisions.

My employment in accounting divisions has included an initial period of twelve years as first a lecturer and then a senior lecturer in the Accounting and Financial Management Group at the University of Sheffield, a year as a professor of accounting at Keele University and the period since the 1st September 2012 as a professor of accounting at the University of Sheffield.

During my two spells at Sheffield, I have taken on a number of administrative and managerial roles including being Director of the Accounting and Financial Management undergraduate programme, Director of the MSc in Finance and Accounting and Director of the Doctoral Programme.

When I had a year away from Sheffield, as a professor of accounting at Keele Management School, I was Subject Leader of the Accounting Group and a member of the Senior Management Team.

I was also Head of the Accounting and Financial Management Division and a member of the School's Executive here at Sheffield for 3+ years.

During that time, I was instrumental in doubling the size of the division to ensure that it had the number of colleagues necessary to deliver its programmes, I oversaw the introduction of a new Masters programme in Accounting, Governance and Financial Management and I led the establishment – and was the inaugural director – of a research centre, the Centre for Research into Accounting and Finance in Context (CRAFiC).
Research interests

I have published on a wide range of topics across the accounting, management and related disciplines including articles on the relationship between accounting and technological change, the professional socialization of junior auditors and the origins and history of qualitative research in accounting.

My enduring research interests are those that allow me to combine the interests from my own education with my position in accounting.

My research in recent years has tended to focus on two broad areas: Research Methods and Research Practice; and the intersection of accounting and accountability with the organization of work, opportunities for learning and government support of learning initiatives. I have also developed a research interest in credit unions.

As well as publishing articles and edited collections in the area of research methods and research practice, I have received grants from the Institute of Chartered Accountants in England and Wales, the Economic and Social Research Council and the Higher Education Academy to organize conferences and seminars and to disseminate knowledge about research methods.

As well as publishing in the area of the intersection between accounting and accountability on the one hand and the organization of work, opportunities for learning and government support of learning initiatives on the other hand, I have received a number of grants to conduct international comparisons of the relationship between learning initiatives and forms of accountability.

Most recently, I have held a grant from the British Academy to conduct a comparative study of credit unions in the UK and New Zealand.
Publications

Books

Edited books

Journal articles

Chapters

Conference proceedings papers

Reports
Teaching interests

PhD Supervision

I am keen to supervise students who wish to conduct qualitative research studies in the areas of management accounting, public sector accounting, social accounting and accountability.
Teaching activities

I lead the Research Methods for Finance and Accounting module and lecture on the Corporate Governance module on the Accounting and Financial Management (AFM) Division's Masters programmes.

I also lecture on the Financial Management module on the AFM Division's undergraduate programme.

Since returning to Sheffield, I have also taught Issues on Corporate Governance on the undergraduate Accounting and Financial Management programme and Management Accounting on the postgraduate programmes.

Previously, I have taught Principles of Accounting, Management Accounting, Case Studies in Accounting and Financial Management at undergraduate level and Qualitative Research Methods on the post-graduate research programme.
Professional activities and memberships

Editing responsibilities

I am an editor of the European Management Review (EMR) where I have established a new section, "Methodology Matters", which I edit to provide a peer-reviewed outlet for articles that make a methodological contribution.

I am an associate editor for Qualitative Research in Organizations, a member of the editorial board of three other journals and I have served as an article editor for Sage Open.

I also conceived and edit – with Mark Saunders of Birmingham University in the UK and VK Narayanan of Drexel University in the USA – the Sage Mastering Business Research Methods series of books.

With Mark Saunders and VK Narayanan, I am also establishing a new book series with Edward Elgar entitled Dissertation Companions.
Broader community service

I have held a number of positions in the broader academic community. I was Vice Chair responsible for special interest groups (SIGs), a member of the Executive and a trustee of the British Academy of Management (BAM) for the duration of 2014.

I was a member of the national Council of BAM for the period 2013-2015, a member of the Executive of the Committee of Professors in Accounting and Finance for the period 2014-2015 and a member of the Awards Committee of BAM for the period 2015-2016.

I was also the program-evaluation coordinator for the Management Education and Development division of the American Academy of Management (AoM) for the period 2010-2011.

I have also served on the Economic and Social Research Council (ESRC)'s peer review college and reviewed grant applications to other bodies such as the Chartered Institute of Management Accountants as well as for a number of non-UK governmental bodies.

I have also completed the training to be an Athena-Swan panellist. I have helped to establish a number of community-based communities including the BAM Research Methodology SIG and the European Academy of Management (EURAM) Research Methods and Research Practice strategic interest group.

I was the inaugural secretary of the former and the inaugural chair of the latter. I remain a member of the steering committee of both.

I have been a visiting research professor at a number of different institutions including Massey University and the University of Canterbury in New Zealand, Griffith University in Australia, the University of Tor Vergatta, Rome in Italy and ISM University of Management and Economics in Lithuania.

I am currently a professor associated with the Institute of Business Creativity at the Ecole Hoteliere De Lausanne in Lausanne, Switzerland.