Professor Jill Atkins
Chair in Financial Management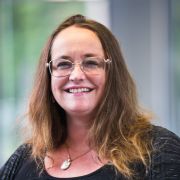 j.f.atkins@sheffield.ac.uk
+44 114 222 3427
Room C079, Sheffield University Management School
Full contact details
Professor Jill Atkins
Management School
Room C079
Sheffield University Management School
Conduit Road
Sheffield
S10 1FL

Profile

Jill Atkins holds a Chair in Financial Management at Sheffield University Management School and is also a visiting professor at the University of the Witwatersrand, South Africa. She previously worked as a professor at Henley Business School and King's College London.

Her research focuses on responsible investment, stakeholder accountability, social accounting, integrated reporting and corporate governance. Jill chairs the British Accounting & Finance Association's Special Interest Group on Corporate Governance and enjoys organising conferences which bring together governance specialists from the academia, corporate and investor communities.

She has recently co-edited a book on The Business of Bees: An Integrated Approach to Bee Decline and Corporate Responsibility as part of a long-term project investigating the role of accounting and responsible investment in preserving biodiversity and addressing the impacts of climate change on business.

Jill's leading textbook, Corporate Governance and Accountability, is in its 4th edition.
Research interests

The over-riding focus of my research is corporate governance, accountability and responsible investment.

My primary research interest over the past 15 years has been institutional investor engagement and dialogue within the context of responsible investment, i.e. investment according to environmental, social and governance (ESG) criteria.

I also research extensively in the areas of social and environmental accounting and accountability, integrated reporting and sustainability issues in accounting and financial management.

Currently, in collaboration with colleagues at Brunel University, the University of the Witwatersrand and University of Cape Town, I am working on an innovative field which focuses on the threats of climate change, habitat depletion and corporate activity on biodiversity and species extinction.

This has led to the development of an emancipatory 'extinction accounting framework', which is useful to companies in preparing disclosures relating to threatened species within their areas of operation, especially where they are producing integrated reports.

We are exploring the potential for this framework to be used to extend the existing Global Reporting Initiative (GRI) Principles and to slot into the integrated reporting framework. The framework is also useful to institutional investors engaging with companies on ESG issues and we are sharing the framework with a number of leading investment institutions.

Further, we are exploring the potential for the framework to be used by wildlife NGOs in their corporate engagement programmes on preventing species extinction.

Another important project which I have recently completed is a book, commissioned by Greenleaf publishers, on 'The Business of Bees: An Integrated Approach to Bee Decline and Corporate Responsibility'.

The book explores the role of corporate accounting, accountability and financial management in slowing the decline in bee populations globally. There is also a focus on the role of responsible investment industry, through engagement and dialogue, in driving corporate accountability for bee decline.

As co-editor, we have organised contributions from accounting and science academics in the US, Canada, South Africa, Japan, Germany and Sweden. We have included chapters from members of the responsible investment community.

The other extensive project for which I am the lead researcher, is a series of practitioner reports, published by ACCA, on integrated reporting, for which we have received funding from ACCA. The first report explored the social, ethical and environmental content of the 'new' integrated reports, when they became essentially mandatory in South Africa.

A second report canvassed the reactions of institutional investors in South Africa towards integrated reporting.

The third report, which was published in November 2015 on the ACCA global network, explores the views of the South African auditing community towards the challenges of assuring integrated reports.

These reports have been welcomed by the accounting and integrated reporting community.

I always enjoy the opportunity of publishing research in practitioner-oriented reports as well as in leading international academic journals, as this broadens the potential impact and usefulness of the research findings and extends the readership into the practitioner community as well as the academic community.
Publications

Books

Edited books

Journal articles

Chapters

Reports
Research group

Centre for Research into Accounting and Finance in Context (CRAFiC)

The development of corporate governance practice in emerging economies
The evolution and spread of integrated reporting in an international context
Responsible investor engagement and dialogue
Teaching interests

Jill's specialist teaching subject is corporate governance and she enjoys delivering lectures on all aspects of governance, accountability, responsible investment and sustainability reporting.

Lecturing and running workshops with students provides an excellent forum for learning and dialogue where the lecturer learns as much as the students, if not more at times.

Up to date illustrations from practice and case studies are often used to enliven the topics and their delivery.