Dr Sonal Choudhary
BSc. (Hons), MSc., MSc., PhD, FHEA
Management School
Head of Operations Management & Decision Sciences Research Centre
Senior Lecturer in Sustainable Management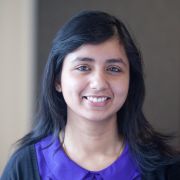 s.choudhary@sheffield.ac.uk
+44 114 222 3287
C095, Sheffield University Management School
Full contact details
Dr Sonal Choudhary
Management School
C095
Sheffield University Management School
Conduit Road
Sheffield
S10 1FL

Profile

Dr Sonal Choudhary is the Head Operations Management & Decision Sciences Research Centre and a Senior Lecturer in Sustainable Management at Sheffield University Management School (SUMS). She is also an active member of Institute for Sustainable Food and interdisciplinary research centres such as Advanced Resource Efficiency Centre (AREC).

At SUMS, Sonal is currently leading projects funded by Science and Technology Facility Council (STFC), Economic and Social Research Council (ESRC), British Academy, WhiteRose Network and N8 Agri-Food. These projects are looking into different aspects of operations and supply chain management practices along with technological adoptions for enhancing the resilience and sustainability of food system in different regions. She is also involved in H2020 Marie Curie ITN project on Circular Economy, ESRC funded PhD supervision on food, water and energy issues. She has created a network of national and international stakeholders in food, energy and water industry that includes some of the big players, service providers, retailers, processors, SMEs, farmer organisations, NGOs, certification bodies and policy makers in the UK, India, ASEAN and African countries. She leads Sustainable Agri-food integrated VAlue chain Network (SAVAN). She is also leading STFC Food Network+ Phase 2 which now has > 1000 members.

Prior to joining SUMS, Sonal worked as a Marie Curie Research Fellow in the field of environmental sustainability (Project Sunshine and N-SINK) at the University of Sheffield. She has also worked on a number of other projects funded by Food Standard Agency (FSA), DEFRA, European Commission (FP-7), Ministry of Environment and Forest, India, and IPCC. She has published about 30 papers in leading international journals, peer-reviewed conferences and national newspapers. She has also received two best paper awards in international conferences. She acts as a reviewer to many international journals in the area of operations and supply chain management, sustainability, climate change, ecology and environmental economics,. She has chaired various international conferences.

Sonal has been recipient of many prestigious academic awards and scholarships including All-India postgraduate scholarship, DfID Commonwealth Scholarship, and Marie Curie Fellowship. She has also received a "Gold medal" in Environmental Sciences for holding the first rank at her University during her postgraduate study in India.

Sonal is also involved in consultancy projects with Business in The Community (BiTC). In spare time, Sonal conducts education and outreach activities in the field of climate change, sustainable production and consumption, and behavioural change as well as encourages women participation in sustainability research. She has received the UK Foreign and Commonwealth Office grant and wide media coverage in India and the UK since 2011 for her outstanding contribution in community services and leading such thought-provoking activities. She has also been named as a "Climate Leader" and trained in leading climate advocacy by former US vice president and noble laureate Al Gore in 2013.

She obtained a PhD in the area of environmental science, pollution and sustainability in the Arctic from the University of Sheffield, 2014. Her education also includes a MSc. in GIS and Environmental Modeling with distinction from the University of Hull, UK and a MSc. in Environmental Biology with distinction from the University of Delhi, India.
Research interests

Sonal's research interests are mainly in the domain of sustainable operations and supply chain management, inclusive and integrated value chains, lean six sigma and sustainable natural resource management (food-water-energy-environment nexus). Her research interests also include understanding the impact of climate change, technological adoption, supply chain configurations and stakeholder relationships on building resilience of the food system. She also investigates how sustainability and regulatory issues affect business strategies and shape attitude towards the sustainable and circular economy.

She welcomes exploring future collaborations in the following fields:

Lean and six sigma methodologies and tools for achieving operational efficiency and waste reduction across the supply chains
Role of Big Data and disruptive technologies (IoT, AI, Blockchain, digital twin, industry 4.0) for building more resilient, sustainable and circular supply chains.

Circular Economy practices across supply chains of MNCs, SMEs and at regional level (Urban metabolism) in developed and developing economies
Business ethics and corporate social responsibilities (CSR)
UN Sustainable Development Goals (SDGs) adoption strategies in different organisations including education sector
Sustainability of SMEs including Dairy and fresh-food industry
Integrated assessment of science-business-policy collaborations for effective and efficient resource management
Sustainable management of natural resources including Carbon, Nitrogen and Water footprint management
Applications of remote sensing & GIS in devising sustainable management strategies for low carbon futures (including green logistics and short-supply chain).
Publications

Journal articles

Chapters

Conference proceedings papers

Presentations
Research group

She is currently supervising six PhD students and one post-doctoral researcher and is interested in supervising students in any area of her research interests or related themes.

Current PhD Students:

Mr Tim Else (2017-2020): Sustainability in the UK Dairy Supply Chain (ESRC 1+4 funded; co-supervisor: Prof Andrea Genovese)

Ms Ola Al Haddid (2017-2020): Impact of the mining industry on SDG 6-Cleaner Water and Sanitation in Jordan (Jordan Gov. funded; co-supervisor: Dr Martina McGuiness and Dr Sanjay Lanka)

Ms Hui Sun (2016-2020): Resilience in Pork Supply Chain in China (ESRC funded; co-supervisor: Prof Lenny Koh)

Mr Meletios Bimpizas-Akis (2017-2021): Promoting Circular economy in agri-food supply chain (Grantham funded; co-supervisors: Prof Andrea Genovese; Dr Estrella L Diez and Prof David Evans)

Ms Reena Sayani (2018-2022): Sustainable management of energy to improve quality of life in developing countries (Grantham funded; co-supervisors: Prof Darren Robinson and Dr Milijana Odavic)

Ms Mecia Miguel (2019-2022): Methods and tools for evaluating the life cycle cost of new products based around the Circular Economy (Marie Curie fellowship; co-supervisors from Tata Steel – Dr Nick Coleman and Dr Peter Hodgson)

Ms Ilina Atanasovska (2020-2023): Exploring whether the agri-food eco-industrial park stakeholders implement circular economy practices that lead to social value (ProCEeDs- EU funded project; co-supervisors from SEERC)

Recent Completed PhD Students:

Dr Benjamin H Lowe (2014-2017): Monetary valuation of virtual water use in global supply chains (ESRC funded; co-supervisor: Prof David Oglethorpe)

Current Post-docs:

Dr Benjamin H Lowe (2018-2020): Monetary valuation of virtual water use in global supply chains with particular focus on Goal Programming, and economic value of rainfall (Vice Chancellor fellowship; co-supervisor: Prof David Oglethorpe)

Dr Seyed Ebrahimi (2019-2021): Metrics and tools for evaluating sustainability impact of different technological adoption in Cold Food Chain in India (STFC-GCRF funded)
Grants

Title/ Description

Awarding Body

Dates

Other Organisations Involved

Amount / Role

STFC Food Network+ Phase 2

STFC

2020-2023

University of Manchester, University of York, Southampton University, Open University, Hull University

£1.2M

 

(PI)

TRAnsforming Cold Food Chains in India through Space ScIence and TechNologies – TRANSSITioN

STFC-GCRF

2019-2021

UK: STFC-RAL Space, STFC-Hartree Centre, STFC-ASTeC, Cryox, IBM Research

India: Linde India, National Centre for Cold Chain Development (Gov. of India Advisor for Cold Chain), NITI Aayog (Policy Advisor for Gov. India), Different State Ministries, Go4Fresh (Amazon India Supplier), NGOs – CSA-India, Farm-Fresh Hand Picked, EPMCR, Academia: IITM, NIT-Goa, BIM-Tech, Jadavpur University

£842K

 

PI: Food side; Co-Programme Director 

 

PI: STFC side (Dr Bryan Shaughnessy)

STFC Food Network+

STFC

2017-2019

University of Manchester, University of York, University of Liverpool, Newcastle University 

£450K

 

Industry & Impact Lead

Marie Curie ITN – Realising the Transition towards a Circular Economy: Models, Methods and Applications (ReTraCE)

H2020-MSCA-ITN

2018-2022

Academia: Università degli Studi di Napoli Parthenope, University of Kassel, South East European Research Centre, Högskolan Dalarna, University of Kent, Erasmus University Rotterdam

Non-academia: Tata Steel UK, Ltd, Olympia Electronics, Academy of Business in Society

€4M

Co-I/ Co-Supervisor

 

PI: Prof Andrea Genovese (SUMS)

RISE – Promoting Circular Economy in Food Supply Chain (ProCEedS)

H2020- RISE

2019-2022

Academia: Kentro Erevnon Notioanatolikis Evropis Astiki Mi Kerdoskopiki Etaireia, Universita Degli Studi Di Napoli Parthenope, Uniwersytet Lodzki, Instituto Nacional De Tecnologia Agropecuaria

Non-Academia: Co-Operatives UK Limited, Proteg S.P.A, Solagri Soc. Coop., Thalis Thrasyvoulos Nefeloudis, Fundacja Rozwoju Przedsiebiorczosci

€450K

Co-I

 

PI: Prof Andrea Genovese (SUMS)

Applications of Cryogenics and Space Thermal Engineering in Cold Food Supply Chain in India

STFC Food Network+

& SheFF

2018-2019

STFC RAL Space, Cryox

£11K

(PI)

21st Century Abattoirs: Exploring applications of STFC IoT sensors/ detectors, Blockchain, Big data and AI capabilities in Meat Supply Chain

STFC & FSA

2019-2020

University of Hull, University of Manchester, STFC Hartree Centre and STFC RAL Space

£10K

(PI)

Data-driven agri-food supply chains for sustainability and productivity: A case in Henan Province, China

STFC Food Network+ & Henan University 

2019-2020

University of Roehamptom (UoR), Henan University, Xinqi Garlic Agriculture Technology Co., Ltd., STFC Hartree Centre

£21K

(Co-I)

 

PI: Prof Wantao Yu

(UoR)

Integrating STFC data science, IoT and AI capabilities for automating food waste data collection in Thailand

STFC Food Network+

2019-2020

STFC RAL Space, STFC Hartree Centre, Thammasat University (Thailand), GoOrganic (Thailand), SOS-Thailand

£8K

(PI)

Sustainable Palm Oil Supply Chain in West Africa

ESRC-Whiterose

2017-2019

University of Leeds

University of York

£11K

(PI)

UK Agri-food Value Chain Risk Analysis

N8 Agri-food - HEFCE

2016-2018

Durham University

Newcastle University

£15K

(PI)

Sustainability Performance in Agri-food Supply Chain: (UK Dairy Supply Chain Case study)

British Academy

2016-2018

 

£10K

(PI)
Teaching activities

Sonal is committed to research-led teaching and encourages critical thinking among the students. She encourages interaction and collaborations among students, as well as students and faculty for student motivation and involvement.

She was the Programme Director for MSc Management from 2017-2018 and led three modules. She was module leader for: 

MGT6081 – Sustainable Logistics and Supply Chain Management (for MSc LSCM) 
MGT357 – Corporate Social Responsibility (3rd yr, BA Management core module) 
MGT140 – Business Challenges (involves 5 different industry collaborations for 10 week project) 

Sonal was also involved in research ethics committee of SUMS and is a HEA fellow. 

Dissertation supervision for MSc. LSCM and MSc. Management.