Professor Yvonne Beach
Management School
Chair in Management Education
Associate Dean for Strategic and Executive Partnerships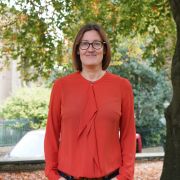 Profile

Yvonne is responsible for the development of valued added strategic & executive partnerships including the third sector, corporates, industry, policy makers and professional bodies.

In addition, Yvonne leads the Executive & Professional Education portfolio of the Sheffield University Management School with the aim to equip and deepen the understanding of leadership and management, focused on professional and executive education which will support career progression.

This is delivered through a variety of professional development pathways, from degree and higher-level apprenticeships, MBAs, EMBAs and post-experience MSc programmes to short courses and bespoke in-house solutions.

Yvonne is a professional senior project manager delivering strategic projects and managing a portfolio of continuous improvement and organisational change projects which drive through the necessary changes to deliver strategic intent whilst focused on stakeholders.

In addition, Yvonne delivers professional guest lectures, coaching and consultancy with organisations within and outside Higher Education organisations.
Research interests

My research interests are located in organisational studies with a particular interest in complex organisational change projects with a focus on socio-political dynamics.
Publications

Conference proceedings papers
Professional activities

Lean Six Sigma (Services) Black Belt
Lean Practitioner
Prince2 Practitioner

Conference Papers

Beach Y, 2016. The socio-political dynamics and complexity of organisational change projects: A research agenda. 5th International Scientific Practical Conference on Project Management in the Baltic States, Project Management Development – Practice and Perspectives (ISSN 2256-0513).
Beach, Y. and Coule, T. (2016) Transforming the boundaries of project management: A critique of disciplinary assumptions and mental traps. In: Thriving in Turbulent times. 30th Annual Conference at the British Academy of Management 2016, 6 - 8 Sep 2016, Newcastle, UK. (In Press)
Beach, Y. and Coule, T. (2016) Socio-political dynamics and complexity of organisational change projects: Approaching projects as a contested and negotiated space. In: Procedia Computer Science. ProjMAN - International Conference on Project Management, 5 - 7 Oct 2016, Porto, Portugal. Elsevier . (In Press)