In less than a year after graduating, I raised a six figure investment and am paving the way for the new era of nightlife

Stefano Di Gregorio
Undergraduate alumnus
BA Accounting and Financial Management
2021
Inspired by business problems spotted in the nightlife scene during their student social-lives, Stefano Di Gregorio and his business partner Chris Saraty decided to make it their business to revolutionise the nightlife industry.
BoogieSearch was founded on the problem of hidden fees and sky high prices on the secondary market. Chris, my co-founder, and I created the first prototype to bring transparency and power to the ticket buyers. We participated, won £2500 in a Startup Competition in March, and went full time as soon as we graduated in May that year. We set up base in Brighton and hired a few friends.
As I write this, things have changed.
We have raised £160,000 of investment and our team has grown massively. BoogieSearch now consists of Chris (CEO), me (Stef, COO), three full time software developers and a sales and marketing team.
In May, we will begin our EIS funding round where we aim to raise £300k to supercharge our growth. Now focussing on the local nightlife market, we partner with venues and drinks brands to provide rewards for event goers. In the 70 days since launching, we expanded to 2500 active users and over 1000 rewards have been claimed. What seems like for the first time in history, local venues in Brighton can utilise customer data to increase their revenue and drive greater attendance. We are super excited for the future and plan to roll out our events and rewards platform across the UK and the south coast in 2022.
My BA in Accounting and Financial Management at Sheffield University Management School exposed me to the fundamentals of accounting, corporate finance and the global economy.
This gave me a superb baseline to do my own extensive research into business areas, emerging technology companies and organisations. Because of this education, I have been able to comprehend advanced business strategies and mechanisms that are helping my company grow and function today. My corporate finance modules and Bloomberg terminal experience taught me how to analyse public companies in detail and understand how they raise finance for ventures and what differentiates good business models from bad. To compliment my degree and to better prepare for setting up my company, I quickly learnt that we needed to further develop our knowledge in the areas such as the legalities of hiring, people and PAYE.
I miss the nightlife in Sheffield!
I miss going out on West Street and having a good time. To add to this, I miss the incredible friends I made throughout my time at Sheffield. I try to keep in touch and I am looking forward to meeting some again at my graduation ceremony this summer.
Written by Stefano Di Gregorio in April 2022.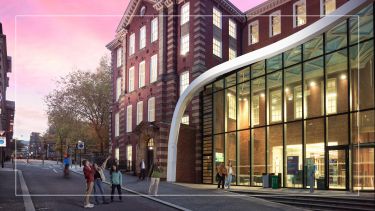 Visit us
Discover what sets Sheffield apart at our undergraduate open days on the Saturday 21 October or Saturday 18 November.