Mr Alexis Thouki
BA (Hons.) MA
Management School
Doctoral Researcher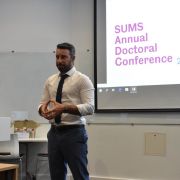 athouki1@sheffield.ac.uk
Sheffield University Management School
Full contact details
Mr Alexis Thouki
Management School
Sheffield University Management School
Conduit Road
Sheffield
S10 1FL

Profile

Alexis examines the phenomenon of heritagization of religious sites (the process in which pre-existing sites with alternative uses and values, acquire new functions and are venerated for different values) through the lens of Critical Realism. The primary focus of his research is a critical reflection of the production and consumption of ecclesiastical heritage, looking at how competing discourses and processes legitimise certain practices as opposed to others. The study explores the political, social, and cultural impact of international cultural tourism and world heritage designation on the management and interpretation of religious sites in Cyprus. However, he is equally interested in exploring how religious tourists define and practice what they understand as religious heritage and how they formulate responses towards the sociocultural change taking place at religious destinations.
Qualifications

Bachelor in Archaeology and History of Art (Aristotle University Greece) and Masters in Heritage Studies (Newcastle University UK)
Research interests

Alexis is interested in contributing widely in the museum and heritage modules with a growing interest in qualitative research, social science, and the application of Critical Realist epistemology in heritage studies. His work seeks to connect theoretical debates with practical concerns.

Research interests include:

Critical Heritage Studies
Management and Interpretation of Cultural Heritage
Religious Tourism and Pilgrimage
Archaeology and museums
World Heritage
History and philosophy of conservation
Qualitative Research
Critical Realism
Publications

Journal articles

Conference proceedings papers
Professional activities

Commercial Archaeology
Publications:

Journal Articles:

Thouki, Alexis. 2019. The Role of Ontology in Religious Tourism Education—Exploring the Application of the Postmodern Cultural Paradigm in European Religious Sites. Religions 10: 649.

Conference Papers:

Thouki, Alexis. 2018. Interpretation of sacred sites: Methodological challenges in balancing materiality and spirituality. Paper presented at Heritage 2018: Proceedings of the 6th International Conference on Heritage and Sustainable Development, Granada, Spain, 12–15 June 2018; Edited by Rogério Amoêda, Sérgio Kira, Cristina Pinheiro, Juan M. Santiago Zaragoza, Julio Calvo Serrano and Fabián García Carillo. Granada: Editorial Universidad de Granda, Volume 2, pp. 2093–102.