We want our students to succeed. That is why we offer a range of studentships to support excellent candidates.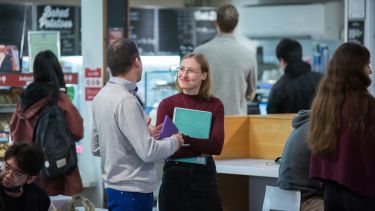 Sheffield University Management School has an overarching mission to give priority to research that promotes socially responsible work practices.
Our research strategy derives its distinctive character by prioritising research that encourages positive societal transformation and sustainable policy outcomes.
We seek to promote a vibrant, enabling and inclusive research environment that prizes ambitious and pluralistic intellectual enquiry.
To enhance the research environment, we are investing in a number of PhD studentships. Doctoral students will join our community of scholars and develop the advanced skills required for rewarding careers in academia or industry.
We do this by delivering an outstanding supervision experience underpinned by our commitment to engage in socially responsible research.
Entry requirements
The Management School is looking to appoint exceptional candidates to its doctoral programme. PhD candidates must meet our PhD entry requirements.
Entry requirements and writing your research proposal guidance
Funding
These are fully funded 3.5 year studentships covering Home or International tuition fees, and a stipend at the basic UKRI rate (£17,668 for 2022/23).
A research and training support grant of £2,250 in total is available to support research costs during the successful applicants' PhD periods.
How to apply
In order to be considered for the following studentships, you must also apply for a place to study in the department using the Postgraduate Online Application Form.
In crafting a research proposal, you are required to demonstrate how you would engage with objectives of the proposed studentship.
Read the University's application guidance and apply now.
The deadline for applications is Wednesday 30 November 2022.
All PhD studentships below have a start date of February 2023.
PhD Studentships currently available
Workforce reconfiguration in residential care: opportunities, risks and future directions

Improving well-being of healthcare staff: dealing with cumulative stressors

Interpersonal emotion regulation effectiveness and wellbeing at work - looking at situational and individual context

The impact of climate change reporting on corporate structures

Implementing the United Nations' Sustainable Development Goals in international business

Freeports in the UK:  Prospects for Worker Voice?

Ethics of communications by a virtual influencer
Find a PhD
Search for PhD opportunities at Sheffield and be part of our world-leading research.