We want our students to succeed. That is why we offer a range of scholarships to support excellent candidates.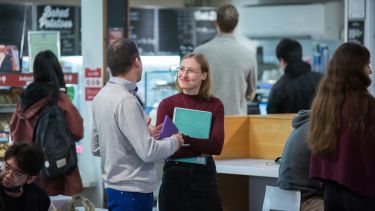 Postgraduate research scholarships
In order to be considered for the following Scholarships you must also apply for a place to study in the Department. 
Please submit this application at the latest by 14 January 2022, preferably sooner. This allows time for your PhD proposal and application to be assessed, any queries to be addressed and for you and your prospective supervisors to concentrate on finalising your scholarship application. Please note - we will not consider your studentship application unless we receive your application for a place to study in the Department by this date. 
White Rose Doctoral Training Partnership studentships
More information about the WRDTP Studentships will be added to these web pages soon. In the meantime, applicants who are interested in applying for a WRDTP studentship are invited to attend an information session for guidance on the application process. These will be held on a virtual basis, using Blackboard Collaborate, on the following dates:
Standard WRDTP Pathway/AQM Awards
Thursday 14 October 2021, 10am-11am
Thursday 18 November 2021, 5.30pm-6.30pm
WRDTP/Stuart Hall Foundation Pathway Awards
Wednesday 13 October 2021, 2-3pm
Tuesday 16 November 2021, 5.30pm-6.30pm
Sessions will include a slideshow presentation and time for questions, which can be submitted via the Blackboard Collaborate text-based chat function. A reminder email including a link to the session and instructions on how to use Blackboard Collaborate will be sent nearer the time of your workshop.
To book your place on either session, please click here.
Potential supervisors of applicants are also welcome to attend these sessions for further information.
Find out more about WRDTP studentships
AHRC White Rose College of Arts and Humanities
The White Rose College of the Arts & Humanities (WRoCAH) is a Doctoral Training Partnership of the Universities of Leeds, Sheffield and York. It is responsible for the distribution of AHRC-funded doctoral studentships for these universities and for the coordination of a doctoral training programme. WRoCAH is able to offer around 48 AHRC studentships per year to candidates with a place for doctoral study at the Universities of Leeds, Sheffield or York.
Applicants for an AHRC studentship must have applied for a place of study in an eligible School, Department or Centre and may only apply for funding at one of Leeds, Sheffield or York. The studentship application form and details of how to apply are only available from the WRoCAH website.
Please note that scholarship applications for the 2020-21 academic year have now closed. 
China Scholarship Council
This scheme provides academically excellent Chinese students with the opportunity to study for a PhD at the University of Sheffield. The scholarships are supported jointly by the China Scholarship Council and the University of Sheffield.
The Scholarship will cover:
University Tuition Fees
A grant for living costs
One return flight from China
Eligibility
You must be a national of, and reside in, mainland China (not including Hong Kong or Macau). You must also be intending to return to China once your programme is completed.
Scholarships will be awarded on the basis of academic merit and the fit of the applicant's proposed research programme with Sheffield's identified research priorities:
Health, demographic change and wellbeing
Food security, sustainable agriculture and the bioeconomy
Secure, clean and efficient energy
Smart, green and integrated transport
Climate action, environment, resource efficiency and raw materials
The changing world – inclusive, innovative and reflective societies
Secure societies – protecting freedom and security of citizens
This scheme is opening soon - please click here for more information.
---
Funding opportunities for international students
The University holds a range of funding opportunities for international PGR applicants.
Where country specific scheme exist, they will be listed on the country pages here.
Our PhD finder also lets students search by funding status here.
 
---
PhD training in the Faculty of Social Sciences
As part of the Faculty of Social Sciences you will have access to world class training alongside your doctoral study. The Social Sciences Doctoral Training programme is tailored to your individual needs to ensure you have the right skills you need to develop your research.
The training programme is designed to exceed current UK Economic and Social Research Council (ESRC) training and development guidelines, and gives all our social science PhD students access to ESRC-funded White Rose Doctoral Training Partnership cohort activities, regardless of your source of funding.
All our students receive interdisciplinary training and experience opportunities via the White Rose Doctoral Training Partnership, and additional discipline specific training is provided in each of our departments.
Find out more about our Social Sciences Graduate School
Find a PhD
Search for PhD opportunities at Sheffield and be part of our world-leading research.