When you study with us, you study at a Triple Crown accredited Management School within a Russell Group institution.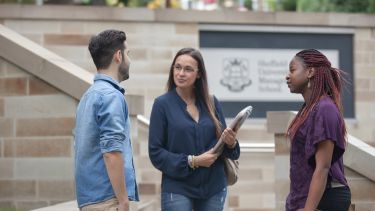 We are a leading business school with a world-class reputation for high quality teaching and research. Here are four reasons to choose Sheffield University Management School.
1) An outstanding reputation 
Our Triple Crown accreditation places us within the global elite of business and management schools. It is an endorsement of the quality of our programmes, research output, support for students and alumni, and links with industry. The University of Sheffield is also a member of the Russell Group, which represents the UK's leading universities.
2) Our dedication to your career
The University of Sheffield is the top University in the north for graduate prospects.
Our Futures First employability offer to students includes career coaching, skills training, and special events. Top graduate employers frequently visit the School to hold sessions with our students.
Employability is also embedded in our curriculum. Our modules expose students to real world scenarios to ensure that our graduates are work-ready. As a postgraduate student here, you have the opportunity to apply for a company project as part of your degree. If your applications is successful, you will have the chance to work with a company on a business issue and make a positive impact in a professional setting.
---
---
3) A unique student experience - The No.1 Students' Union
University life encompasses more than just your studies. What you do in your spare time shapes your university experience and the contacts you make.
Our Students' Union is consistently voted the best Students' Union in the UK (Whatuni Student Choice Awards 2020, 2019, 2018, 2017).
There are over 300 societies to get involved with, from the more academically focused (Management Society, Investment Society), to societies for specific hobbies, sports and cultures.
4) A vibrant and safe city
Sheffield is the 4th largest city in the UK, and the only UK city to have a national park (the Peak District) within its city boundary.
The Management School building and the student accommodation is a short walk from the hustle and bustle of the city centre, yet a short bus journey will transport you to the rolling hills and open countryside of the Peak District. It's the perfect location for city and country lovers alike.
Sheffield is truly a student city. Having two universities in the city centre creates a fantastic environment and community for students.
Sheffield is an easy-going place to live, and locals welcome the contribution students make to life in the city. What's more, Sheffield is one of England's safest major cities and has been awarded the Purple Flag for city safety, making it one of the safest places in the country for a night out seven years running.
Sheffield has the largest theatre complex outside London, one of the largest independent cinemas in Europe, a diverse network of museums, and a thriving music scene flourishing in small pubs, bars and major venues including Sheffield Arena and the City Hall.
With Sheffield's eclectic mix of cafés, restaurants, bars and venues, you'll never be short of something to do in Sheffield.
An affordable city for students
Sheffield is ranked among the top 10 most affordable UK university cities in the 2018 Natwest Student Living Index. If you choose to stay in University accommodation, this is located a short walk away from the campus and city centre. Most bus companies in Sheffield offer a student fare with your NUS card for any journey within the city.
Shops, venues and services in Sheffield compete to offer the best discounts for the student population. What's more, the Students' Union provides an array of affordable eateries, entertainment and bars.
Weekly online events
Attend an online event when it suits you, all year round, as an alternative to an open day.
Every Wednesday, Sheffield Live sessions cover different aspects of University life. You can also meet your department and learn more about studying your subject.