Using the 'Scenarios' tool to anticipate, plan and design work roles in organisations
Research impact case study by the Institute of Work Psychology.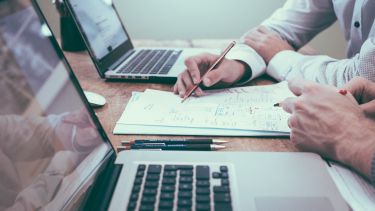 The Scenarios tool was first developed at the Institute of Work Psychology (IWP) in the 1990s, and has since been used by their researchers in many contexts. In various forms it has been used to help researchers and people in organisations work together to guide change processes, especially where technology or the organisation of work is changing.
One of the most significant impacts of the Scenarios tool in recent times has been in call centres, where it has produced improvements in staff absence, motivation, quick resolution of problems at source, improved communications between management and other employees, and better change management processes in the long-term.
Underpinning research
The Scenarios tool was developed as a way for organisations to consider, in a collaborative fashion, how to make changes to how work is organised and processed. The aim is to improve a range of outcomes, including staff motivation, commitment and attendance, the institutionalisation of effective change processes, enriched jobs that allow for staff development, and effective processing of work.
It has been used in research with a number of organisations to help them redesign work roles, especially in times of change or when new technology is being introduced. The stream of research has, as a whole, involved a number of organisations.
A key study using this tool was conducted at the Royal Mail, which funded the research. It involved the designing of work around new mail sorting technology that was implemented nationally. The technology and work processes are still being used today.
Whilst, initially, the Scenarios tool was used mostly within manufacturing industries, in more recent times it has been used in call centre environments. The types of changes desired in call centres are often related to inter-team processes or broader procedures, and so this required more follow-up visits and guidance to help teams implement their ideas.
Impact
The various projects have had a positive effect. Certainly in the short-term, the Scenarios workshops have been well received and have had a positive impact in terms of motivating and empowering employees and helping them to feel ownership of the change process. Our initial evaluations with more recent projects also show positive impact in terms of improved job design, wellbeing and some aspects of performance.
To demonstrate the impact which Scenarios had at the Royal Mail on various projects, the team were sent the following message from former Talent and Succession Planning Manager: "Although we had to spend a number of months slowly introducing the concept of self-organising teams to our people, the introduction of the IWP [Scenarios] to the process provided a much-needed stimulus to the initiative.
"The workshops and subsequent meetings enabled the teams to focus on the practical implications of the changes and how they would embrace the necessary behavioural changes. The rigour of the participative approach enabled our people to identify change opportunities for themselves and own the process through which they would both execute and monitor these changes going forward.
"Coming from an environment where, historically, they had little influence over their working practices, the workshops/meetings gave employees the confidence to address issues, take ownership and have confidence in their own voices."
Academic collaborators:
The Scenarios project is based on a long-running stream of research in the Institute of Work Psychology – involving other members such as including Professor Chris Clegg (Institute of Work Psychology until 2006) and Dr David Holman (IWP 1999-2010) as well as Dr Carolyn Axtell.
Business/Organisation involvement 
Allied Lyons, BUPA, Driving Services Agency, Rolls-Royce, the Royal Mail
Relevant publications:
Axtell, C., Pepper, K., Clegg, C., Wall, T., & Gardner, P. (2001). Designing and evaluating new ways of working: The application of some sociotechnical tools. Human Factors and Ergonomics in Manufacturing, 11, 1–18.
Axtell, C., Wall, T. Stride, C., Pepper, K., Clegg, C., Gardner, P, & Bolden, R. (2002). Familiarity Breeds Content: The Impact of Exposure to Change on Employee Openness and Well-being. Journal of Occupational and Organizational Psychology, 75, 217-232
Clegg, C., Coleman, P., Hornby, P., Maclaren, R., Robson, J, Carey, N., Symon, G., (1996), Tools to incorporate some psychological and organisational issues during the development of computer-based systems. Ergonomics, 39, 3, 482-511.
Holman, D., Axtell, C. M., Sprigg, C. A., Totterdell, P., & Wall, T. D. (2010) The mediating role of job characteristics in job redesign interventions: A serendipitous quasi-experiment. Journal of Organizational Behavior, 31, 84-105.
Waterson, P. E., Gray, M. T. O., & Clegg, C. W. (2002). A sociotechnical method for designing work systems. Human Factors, 44 (3), 376-391.
Flagship institutes
The University's four flagship institutes bring together our key strengths to tackle global issues, turning interdisciplinary and translational research into real-world solutions.