Research themes and centres
Our centres bring together experts to explore our key research themes. Together we are tackling some of the world's most pressing issues and producing research that influences governments, policy makers, and industries across the globe.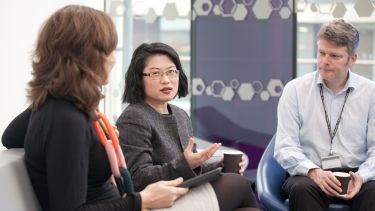 The Advanced Resource Efficiency Centre (AREC) brings together academics, businesses and policy makers to meet the challenge of promoting resource efficency and sustainability across supply chains. The aim of AREC is to create a world leading supply chain resource efficiency and sustainability infrastructure addressing critical resource existentiality and challenges using a combination of method, tool, model, technology, process and system
The Centre for Decent Work (CDW) comprises researchers from across the school and the Faculty of Social Science who have interests relating to work, employment and the labour market. The aim of CDW is to generate and disseminate high-quality research that has the potential to inform and shape academic debates and influence policy and practice. The centre facilitates collaboration between researchers from different academic fields and disciplines and in so doing aims to promote theoretical and methodological innovation, provide fresh analytical insights and strengthen the evidence base. CDW pursues cutting-edge research on labour law violation, employment relations and new forms of work organisation.
An off-shoot of LSCM (Logistics and Supply Chain Management), the Centre for Energy, Environment and Sustainability (CEES) is led by Sheffield University Management School. With members drawn from across the institution, research in this area is advancing the understanding of energy, environment and sustainability for a low-carbon future.
The Centre for Research into Accounting and Finance in Context (CRAFiC), has emerged from the Accounting and Financial Management research group. It seeks to encourage and conduct research into the ways that accounting and finance are constituted and help to constitute the broader context and institutions in which accounting and finance exist, as well as their technical qualities. By encouraging this research, members seek to understand the experience of accounting and finance from the point of view of everyone affected by related decisions - not simply the decision makers. CRAFiC seeks to mobilise accounting and finance scholarship in order to build a fair and sustainable society.
Led by Sheffield University Management School, CREED (Centre for Regional Economic and Enterprise Development) has members from across the institution. Academics in this centre focus on regional economic development, tackling the informal economy and advancing knowledge on the practices of entrepreneurship, especially in marginalised populations
After formal incorporation into Sheffield University Management School in 2008, this previously separate internationally renowned institute undertakes research on human behaviour, cognition and emotions in diverse work contexts. Its highly-acclaimed academics also teach our prestigious MSc Occupational Psychology programme. The aim of the research programme of the Institute of Work Psychology (IWP) is to combine scientific quality with practical relevance; in scientific terms the emphasis is on developing and testing theory about the effects of work on employee well-being and performance, and doing so by using rigorous quantitative and qualitative methods, with particular emphasis being placed on the use of longitudinal and change studies. IWP also advances knowledge on themes such as bullying, sexism and diversity in the workplace.
Led by Sheffield University Management School, much of the research of LSCM (Logistics and Supply Chain Management) goes beyond the boundaries of the University – partnering up with research users in the public and private sector, locally, nationally and internationally, to help them to rethink and develop their models and methods for supply chains to make them more environmentally sustainable.
---
Research Clusters and Groups
BRISTT's research focuses on the impact that consumption, services and technology have on societal wellbeing and the environment.
An offshoot from CREED (Centre for Regional Economic and Enterprise Development), the research of Cluster for Research on the Informal Sector and Policy (CRISP) takes a new approach to research into the informal sector. Rather than focusing on its scale, CRISP research seeks to understand the motives and characteristics of those involved in the informal sector so that policies can be formulated to tackle these issues.
International Business and Strategy Research Group
This group encompasses a large variety of interrelated research from strategies in emerging markets to the importance of cultural interplay.
Flagship institutes
The University's four flagship institutes bring together our key strengths to tackle global issues, turning interdisciplinary and translational research into real-world solutions.