Why choose the Sheffield MBA?
The Sheffield MBA is an intimate learning experience within an internationally ranked, prestigiously triple-accredited, research-oriented Management School.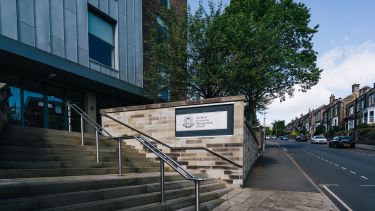 There are many reasons why you should choose The Sheffield MBA. Here are just a few of those reasons.
A Triple Crown accredited MBA and Management School

The Sheffield MBA, as well as Sheffield University Management School, is in the global elite thanks to our Triple Crown accreditation from AACSB, AMBA and EQUIS.

Accredited by two professional bodies

The Sheffield MBA is accredited by CIMA and CMI.

A Russell Group institution

We are a member of the UK's prestigious Russell Group, which only 24 universities are members of. This means that you will be taught by the Management School's high calibre research-active academics and benefit from cutting-edge knowledge.

An international university

Sheffield University Management School is an inspiring global hub in which to study. In 2022, for a third year, the University of Sheffield was recognised as one of the most international universities in the world by The Times Higher Education. The university is ranked 48th worldwide and 14th in the UK, with over 29,000 international students from over 150 countries.

A World Top 100 University

We are part of a world class university. In the 2022 US World University Rankings, we were ranked in top 100 universities in the world. We are 95th in the world, 17th in the UK and second in Yorkshire and the Humber. This reaffirms our position as a leading global university for teaching and research excellence.

Tier 1 in the Global MBA rankings

The Sheffield MBA has been awarded Tier 1 status in the 2022 Global MBA rankings from CEO Magazine.

The Times Higher Education rankings

The Times Higher Education World University Rankings positioned the University of Sheffield in 110th place.

Research Excellence Framework 2021

We are proud that 90 per cent of our research is rated in the highest two categories in the REF 2021, meaning it is classed as world-leading or internationally excellent. Our impact submission is rated 8th nationally, showing our research is instrumental in tackling the greatest challenges of our time and making a real-world difference to organisations and societies around the world.

A tailored experience

Your learning is enhanced through challenge-based activities, working with local and international businesses in and around Sheffield. Your professional development is built on industry experts' input and career and personal development enhancing external engagements, such as company visits, networking events and career opportunity exploration and identification.

Complimentary meals

As a student on the Sheffield MBA, you will receive a complimentary two course lunch when you have a full day of lectures. In addition, you will be able to enjoy a range of complimentary hot beverages.
---
Weekly online events
Attend an online event when it suits you, all year round, as an alternative to an open day.
Every Wednesday, Sheffield Live sessions cover different aspects of University life. You can also meet your department and learn more about studying your subject.