Dr Magnus Anderson
PhD, MEng
Department of Materials Science and Engineering
Lecturer in Metallurgy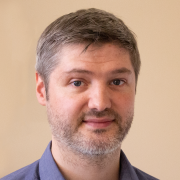 m.j.anderson@sheffield.ac.uk
Sir Robert Hadfield Building
Full contact details
Dr Magnus Anderson
Department of Materials Science and Engineering
Sir Robert Hadfield Building
Mappin Street
Sheffield
S1 3JD

Profile

Magnus Anderson started as a lecturer within the department in 2019, having previously worked as a research fellow within the PRISM2 modelling group, simulating manufacturing processes and material behaviour for applications within the aerospace sector.

He was the first PhD student to graduate from the Advanced Forming Research Centre, University of Strathclyde, and he has an MEng in Product Design Engineering from the same institution.
Research interests

Magnus' research interests include the modelling of microstructure, material properties, and manufacturing processes to better understand materials behaviour and solve industrially challenging engineering problems.

His main activities focus on modelling precipitation kinetics within nickel-based superalloys, utilising CALPHAD to enable the modelling of solid-state phase transformations as a function of alloy composition. The models developed have been coupled within commercial software tools to solve both scientific and engineering problems, following the ICME paradigm.

He has experience in developing and implementing statistical descriptions of microstructure kinetics which have the most impact in ICME based problems, in addition to working on multi-scale models of microstructure evolution.

He has worked on compressor blade forging, creep forming, cogging, disc forging, solid solution treatments, solid-state welding, and additive manufacture.
Publications
Professional activities

Magnus won 1st place for "Best modelling results predicting the phase evolution during residual stress annealing of an as-built IN625 bridge structure" in the AM Benchmark challenge 2018, run by NIST (National Institute of Standards and Technology) and hosted by TMS (The Minerals, Metals & Materials Society).

Magnus has also written code that has passed key technology readiness level stage gate reviews, with the application of the material model providing the industrial partner significant cost savings.