Dr Colleen Mann
MSci, PhD, AMRSC, GradIMMM
Department of Materials Science and Engineering
Henry Royce Institute Research Associate - Nuclear Materials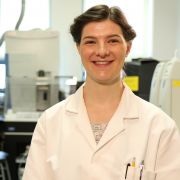 c.mann@sheffield.ac.uk
+44 114 222 4261
Sir Robert Hadfield Building
Full contact details
Dr Colleen Mann
Department of Materials Science and Engineering
Sir Robert Hadfield Building
Mappin Street
Sheffield
S1 3JD

Profile

Colleen Mann joined the team in August 2018, specialising in analytical chemistry and characterisation of nuclear materials. She graduated from Queens University Belfast with a MSci Chemistry in 2013 and joined the Material Science department to pursue a PhD as part of the Department's world-leading NucleUS Immobilisation Science Laboratory research group.
Qualifications

2018: PhD, The University of Sheffield Nuclear FiRST Doctoral Training Centre, Materials Science & Engineering

2017: TUoS Research Associate working on Glass Leaching Assessment for Disposability (GLAD) funded by the US DOE.

2013: MSci Chemistry, Queens University Belfast
Research interests

Colleen's research aims to understand how the evolving geochemical conditions of the engineered barrier affect the long-term durability of nuclear waste glass. The UK has a considerable nuclear waste inventory, which destined for geological disposal. The radiological risk to society depends on the migration of long-lived radionuclides from within a geological disposal facility (GDF) to the biosphere. An essential safety component of the UK GDF is the engineered barrier, which provides a chemical and physical barrier between the waste and the host rock.

The NucleUS research group has teamed up with Royce@Sheffield to improve our nuclear materials characterisation capability. It is challenging to examine radioactive materials, but here at Sheffield, we have developed methodologies to ensure safe practice and excellent scientific results.

Our facilities support world-leading research including; wasteform development; using multiple techniques including vitrification, cold press and sintering & HIPing. Durability studies are essential to understand how nuclear waste will behave in the long term; this information is critical to developing a safety case for the disposal of nuclear waste.
Publications

Journal articles

Conference proceedings papers
Research group

Colleen works across three different research groups in the department;

Neil Hyatt's team focuses on the development of novel waste forms for the immobilisation of nuclear waste.
The research conducted in the geodisposal@NucleUS team lead by Claire Corkhill which underpins the UK's understanding of how nuclear waste will behave in a disposal environment.
As a Royce@Sheffield PDRA, she delivers training on the ICP-MS and Contour Elite and develops methods for the characterisation of radioactive materials using this equipment.
Teaching interests

In Colleen's role as a laboratory supervisor, she is responsible for training others to use the dissolution laboratory and aqueous characterisation suite, which houses equipment such as ICP-OES, ICP-MS IC anion and cation, liquid scintillation counter. Additionally, Colleen delivers training on the Contour Elite K an instrument for 3D optical microscopy.

Each year Colleen supports & co-supervises student research projects, the topics vary from glass dissolution, corrosion of steels and an investigation into 19th-century childhood health using teeth.
Professional activities
Wall of Women

Colleen is one of the outstanding female engineers featured on the Faculty of Engineering's Wall of Women. Here is Colleen's interview:

The Wall of Women profiles were taken over a 4/5 year time period and are a snapshot of what our engineers were doing at that time.