Dr Daniel Suárez Fernández
MEng, MSc, PhD
Department of Materials Science and Engineering
Research Associate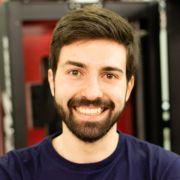 d.suarez@sheffield.ac.uk
Sir Robert Hadfield Building
Full contact details
Dr Daniel Suárez Fernández
Department of Materials Science and Engineering
Sir Robert Hadfield Building
Mappin Street
Sheffield
S1 3JD

Profile

Having completed a 4-year degree in Mechanical Engineering in the University of Oviedo (Spain), Daniel moved to the UK in 2015 to study a MSc in Materials Science and Engineering in the University of Sheffield followed by a PhD in the CDT in Advanced Metallic Systems between the University of Manchester and the University of Sheffield.

His PhD was a research collaboration with Rolls-Royce. This investigation was centred in the forging texture developments and machining effects in the mechanical properties of critical titanium jet components.

Daniel is currently working as a Research Associate between the Materials Science and Engineering department and the Advanced Manufacturing Research Centre as part of the STAR research group in developing new technologies for materials characterisation in industrial environments.

Daniel is passionate about the application of low TRL level technologies into the industrial production processes for a more efficient use of resources through the understanding of Materials Science, enhancing manufacturing efficiency.
Qualifications

2011 - 2015: Mechanical Engineering Degree, University of Oviedo, Asturias, Spain.
2015- 2016: MSc Materials Science and Engineering, The University of Sheffield, UK.
2016-2020: PhD CDT Advanced Metallic Systems, The University of Sheffield / The University of Manchester, UK.
Professional & Transferable Skills Diploma, The University of Sheffield.
Publications

Journal articles

Theses / Dissertations
Teaching activities

Supervision/mentoring/training of PhD students in the Sheffield Titanium Alloy Research group.
Industrial Training Programme technical advisor.
Supervision of 8 final year undergraduate individual research project students.