Dr David Alexander Gregory
PhD, MSc, BSc, BSc, FHEA
Department of Materials Science and Engineering
Postdoctoral Research Associate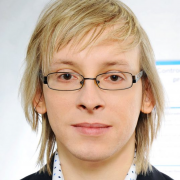 d.a.gregory@sheffield.ac.uk
+44 114 222 7562
Sir Robert Hadfield Building
Full contact details
Dr David Alexander Gregory
Department of Materials Science and Engineering
Sir Robert Hadfield Building
Mappin Street
Sheffield
S1 3JD

Profile

David currently works as senior postdoctoral research associate to Professor Ipsita Roy in the department of Material Science and Engineering. Here his work is focused on the production and characterisation of Polyhydroxyalkanoates via bacterial fermentation and the processing of these biopolymers by methods such as 3D printing and solvent casting for biomedical applications.

He is currently employed on Professor Roy's 3D BIONET grant which involves the development of a 3D cardiac tissue model and includes mathematical modelling in collaboration with the University of Oxford and Imperial College London.

Having completed undergraduate degrees in Physics with Astrophysics and Cosmology at Lancaster University and Biochemistry and Music at Keele University David went on to study a Masters in Bionanotechnology run jointly between the University of Sheffield and Leeds University. He then joined the Department of Chemical and Biological Engineering for his PhD on catalytic micromotors, under the supervision of Dr Ebbens, which he completed in 2016. During this time, he was key in the development of Reactive Inkjet Printing (RIJ) and enzyme powered silk microrockets which gained considerable media interest and resulted in several high-quality publications. Thereafter, he worked as a Postdoctoral Research Associate with Dr Zhao on RIJ of silk materials and also designed, built and developed the software for two different Reactive Inkjet printers.

Additionally, during his undergraduate degrees and whilst waiting for his PhD to start David spent several occasions working in the pharmaceutical industry in various departments including, Chemistry, Enzymology, and Drug formulation development.

David's work in the fields of micromotors and Reactive Inkjet Printing has attracted media attention and has consequently resulted in him being invited to speak at several international conferences.
Qualifications

PhD: "Catalytic Micromotors" (2016); Department of Biological and Chemical Engineering, University of Sheffield, England
MSc in Bionanotechnology (2011); University of Sheffield and Leeds University, England
BSc (Dual Honours) in Biochemistry and Music (2010); Keele University, England
BSc (Honours) in Physics with Astrophysics and Cosmology (2007); Lancaster University, England

Teaching Certificates:

Fellow of The Higher Education Academy (FHEA) (2019)
Research interests

David is interested in Additive manufacturing with particular interests in Reactive Inkjet printing and 3D tissue scaffolds.

He is also interested in self-motile micromotors / active colloids.
Publications

Journal articles

Chapters

Conference proceedings papers

Other

Preprints
Research group

I am currently the senior postdoctoral research associate to Professor Ipsita Roy.
Grants

3D BIONET grant: working on the development of Polyhydroxyalkanoates-based 3D Printed tissue repair patches for cardiac tissue applications.

Previous summer project grants and students include:

Ajay Chandel [SURE project]
Ella Cliff [SURF project]
Mobarakshah Assadi [SURF project]
Teaching activities

Additive Manufacturing / 3D Printing
Reactive Inkjet Printing
Biomaterials
Tissue Engineering
Active colloids / micromotors
Drug delivery
Biosensors
Bioelectronics

Currently teaching on:

BIE103 - Introduction to Bioengineering
Professional activities and memberships

Journal peer reviewer:

Langmuir
Int. J. Nanotech. & Nanomed. Res.
ACS Biomaterials Science & Engineering
MDPI

Awards:

2016    Best poster E-MRS (Symposium: Adv. Materials for Printing) May 2016, Lille (France)
2014     PixeLink SDK camera software sponsored by PixeLink®
2013     PGR conference Sheffield University First Prize for best Poster
2012    Three year PhD EPSRC Stipend at Sheffield University (2012-2015)
2011     One year MSc Studentship at Sheffield University (2010-2011)
Media

Much media interest was gained from my Silk Rocket Micromotor paper in Small in 2016: