EPSRC CDT PhD in Advanced Biomedical Materials
A fully-funded, four-year Centre for Doctoral Training (CDT) PhD in Advanced Biomedical Materials will align you with a leading cohort of interdisciplinary researchers, shaping the future of biomedical materials research in the UK and internationally.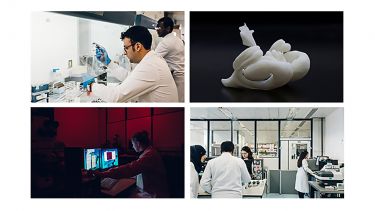 Why undertake a CDT PhD in Advanced Biomedical Materials?
Enhance your employability with transferable skills.
Develop strong links to collaborate worldwide and enhance the future of UK biomedical materials.
Engage with established industry partners and develop new industrial partnerships.
Take part in exciting outreach activities with school children and the general public.
Contribute to improving the quality of life of our rapidly growing and ageing society.
About the programme
As our growing and ageing population creates a greater demand for more effective and cost-effective healthcare, this CDT feeds the UK's need for resource, skills, industrial collaboration and cohort training.
Research focuses on developing and translating smart and responsive biomaterials with a particular emphasis on higher throughput, greater reproducibility of manufacture, and characterisation. Students will undertake clinically-relevant research with industry partners and advanced projects at The University of Manchester and The University of Sheffield, helping to forge the next generation of UK leaders in biomedical materials research.
Training
The CDT focusses on training the next generation of internationally leading postdoctoral engineers, who will enable innovation between industry, clinicians and academics to address areas of need. In addition to the formal academic doctoral training programme, you will be trained in transferable skills such as project management, dissemination and multidisciplinary communication.
Training also encompasses equality, diversity and inclusion, and you'll learn how to conduct research and innovation responsibly, taking account of potential societal impacts.
Students will be trained in:
bioelectronics
fibre technology
additive manufacturing
improved pre-clinical characterisation
manufacturing scale-up
reproducibility
The CDT begins with a Manchester-based three-month taught programme, with a subsequent integrated training programme throughout. Research projects are co-created during the first six months by you, the supervisors and industrial, clinical and patient stakeholders. 
The three-month taught programme includes four 15-credit taught units to provide a foundation in Advanced Biomedical Materials:
Research Methods - taking students through the principles of applying the theory for planning and managing their individual research project.
Clinical Application of Biomaterials - introducing students to examples of biomaterials currently used in the clinic.
Imaging, Characterisation and Key Manufacturing Techniques - delivering bespoke workshops and introducing students to advanced imaging and characterization techniques.
Responsible Research and Innovation (RRI) - RRI will interface with the internationally leading RRI research and good practice programme developed at The University of Manchester, and will be embedded throughout the programme.
All students will have the opportunity to undertake a three-month placement in an industrial or academic setting - either in the UK or overseas - to enhance their CV during this four-year PhD programme.
Students will benefit from an innovative research-training environment, unique in the UK. Through the Henry Royce Institute Manchester, students will have access to £4 million of specialist biomedical materials research equipment in the areas of bioelectronics, fibre technology, additive manufacturing and improved pre-clinical characterisation.
Furthermore, an additional £8 million investment in the same themes will be made by February 2020, including light sheet and in vivo confocal microscopes at the Henry Royce Institute Sheffield, as well as additive manufacture and biomechanics suite and novel fibre technology equipment at Manchester.
How to apply
Applicants should be from the UK/EU. You should have obtained or be about to obtain a First or Upper Second class UK honours degree, or an overseas equivalent. The degree should be in a relevant area of science or engineering.
If you would like to apply for a CDT PhD in Advanced Biomedical Materials and meet the eligibility criteria, please follow this link.
---
Key dates
Applications for 2022 projects are now open.
The closing date for applications is 1 March 2022.
Interviews will take place on 4 and 5 April 2022.
---
Contact us
If you have any queries about the application process, the projects on offer or your eligibility, please contact the programme directors listed below.
Sarah Cartmell - Programme Director
Julie Gough - Deputy Programme Director
Ipsita Roy - Deputy Programme Director