Centre for Doctoral Training in Advanced Metallic Systems
The EPSRC and SFI Centre for Doctoral Training (CDT) in Advanced Metallic Systems is a partnership between three internationally recognised Centres of Excellence in metallic materials and manufacturing: The Universities of Sheffield and Manchester in the United Kingdom and the I-Form Advanced Manufacturing Research Centre based in Ireland.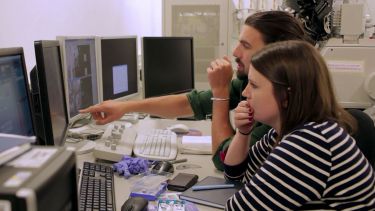 The Advanced Metallic Systems CDT was established in 2009 with a £6.3M investment from the Engineering and Physical Sciences Research Council (EPSRC) with a further £3.2M awarded in 2014. In this period (2009-2018) the Centre was hosted jointly by the Universities of Sheffield and Manchester building on their international reputation in metallic materials science and engineering research. In 2019 a further £5.4M was awarded by the EPSRC in combination with a €4M award from Science Foundation Ireland (SFI) to support I-Form, the SFI Research Centre for Advanced Manufacturing, joining the partnership.
The aim of the AMS CDT are:
To provide a stimulating multidisciplinary training experience
To teach topical courses that balance cutting edge technologies with fundamental principles and core concepts
To develop professional transferable skills in leadership, business and research management
To foster innovative, internationally leading research
To work in partnership with industry to provide industrial experience and maintain relevance
To find out more about opportunities with the AMS CDT, visit the website: www.metallicscdt.co.uk
Find a PhD
Search for PhD opportunities at Sheffield and be part of our world-leading research.