Sorby Centre for Electron Microscopy
The Sorby Centre is a leading facility for electron microscopy in the UK, delivering world-class research through the application of advanced electron and ion beam microscopy.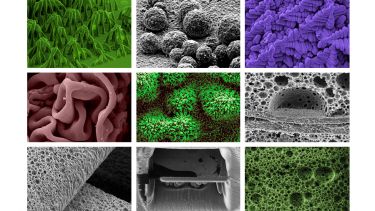 Knowledge of the microstructure and chemistry of materials underpins our understanding of their behaviour, giving us a pathway to innovation and technological advance.
Our research capabilities span a wide range of engineering materials: metals, ceramics, semiconductors, 2D structures as well as polymers and other soft materials.
The centre hosts a range of cutting edge instrumentation offering techniques including Energy Filtered scanning electron microscopy (SEM), Cryo-Focused Ion Beam (FIB)/SEM and Aberration Corrected Transmission and Scanning Transmission Electron Microscopy (TEM/STEM).
The Sorby Centre is proud of its long-established and renowned reputation of excellence. The experience and expertise of the facility and its staff are available to support University researchers as well as wider external collaborators, both academic and industrial. A specialist consultancy service is also available to commercial customers.
How we can help:
Imaging the surface structure of bulk materials at about 1nm resolution (SEM)
Determining the composition of bulk materials (EDX in SEM)
Mapping the distribution of elements near/at the surface of a bulk material (EDX in SEM)
Mapping cathodoluminescence near the surface of bulk materials (CL in SEM)
Sculpting, cutting and shaping materials at a resolution of about 10nm using focused ions (FIB)
Mapping the orientation of crystallites in bulk materials (EBSD)
Crystallite structure determination via electron diffraction (TEM)
Imaging of dislocations, grain boundaries, inclusions, etc (TEM)
Ultra high resolution (0.06nm) transmission imaging (TEM and aberration-corrected TEM) 
Atomic Z-contrast imaging at ultra-high-resolution (aberration-corrected STEM)
Very sensitive (atomic scale) elemental distribution mapping (EELS)
Probing local atomic bonding (EELS)
---
Using the Sorby Centre
For access to the Sorby Centre and its facilities, you are required to register on a short induction module based in Blackboard. To request enrolment on the module, please email: sorbycentre@sheffield.ac.uk providing your full name and University username.
If you do not have a University username (i.e. if you are external to the University of Sheffield) please contact the Facility Manager at i.ross@sheffield.ac.uk and you will be sent the relevant documents and instructions on how to complete.
The Sorby Centre Office (your first point of contact) is in room LG08 in the Kroto Research Institute on the North Campus (ext. 25519).
---
Information downloads:
Click here for the Research Facilities Booking System (Sorby Centre, XRD Research Facility, Micropreparation, Characterisation Research Facility, NanoCharacterisation, Arc Melting.
Top in the Russell Group
We are the top-ranked Russell Group university for Graduate Prospects in Materials Science and Engineering. (The Times Good University Guide 2020)
Find a PhD
Search for PhD opportunities at Sheffield and be part of our world-leading research.