Innovative technology for safe and cost-efficient radioactive waste management
Groundbreaking research from the Department of Materials Science and Engineering has brought about significant changes in how the UK's radioactive waste materials are stored safely and extensively influenced national policy decisions around radioactive waste treatment and disposal.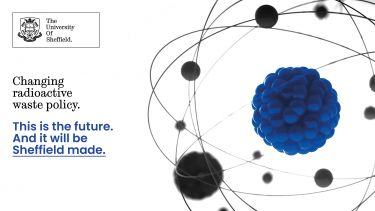 Off
Ever since the UK has been using radioactive materials in significant quantities (particularly across energy and medical applications), it has faced the challenge of safely storing the waste materials which are no longer useful, but remain hazardous to human health and the environment.
For decades, the approach to managing plutonium contaminated waste has been to package it in PVC bags, place these in steel drums which are super-compacted, stacked in larger containers and encapsulated in cement. There are, however, non-compactable waste materials which pose greater difficulties, due to the need to immobilise long-lived radioisotopes.
Furthermore, there has, historically, been resistance to innovation in radioactive waste treatment processes and the acceptance of the products for geological disposal.
However, research carried out within the Department of Materials Science and Engineering at the University of Sheffield has resulted in a change of attitude in the consideration of alternative methods of radioactive waste treatment, storage, and disposal.
The team of scientists in the Immobilisation Science Laboratory, led by Professor Neil Hyatt, have spent several years developing and validating a new method of immobilising radioactive waste so that it can be stored and disposed more safely. The new thermal treatment, or vitrification, methods are favoured by industry because of the reduced volume, improved passive safety, and superior long term stability, of the vitrified wasteform products. The implementation of this technology could lead to significant cost savings in waste management and disposal and will enable safe management of previously intractable radioactive wastes.
These developments have enabled Sellafield Ltd to commit to building a £240M Plutonium Contaminated Material thermal treatment plant for the efficient treatment of large volumes of radioactive waste material generated over several decades. The Business and Technology Manager at Sellafield Ltd. commented, "Sheffield's research is of national importance and has allowed Sellafield Ltd. to develop a new treatment and disposal strategy based around thermal treatment technologies."
In addition to the development of new processes and changing attitudes to waste treatment and disposal, the research has directly influenced government policy on the processing and handling of radioactive waste, with Professor Hyatt and Professor Claire Corkhill appointed to the Department of Business, Energy and Industrial Strategy's Committee on Radioactive Waste Management, where they formally advise the UK government and the devolved administrations on the subject.
Nuclear Waste Services (NWS), formerly Radioactive Waste Management, is the implementer of UK Government policy for the geological disposal of high activity radioactive waste and is leading a multi-generational, multi- billion-pound project to safely dispose of the UK's 70 year legacy of radioactive waste, including that generated at Sellafield. NWS has applied Sheffield's research to support the delivery of the UK's radioactive waste strategy.
The Head of Research and Environment at NWS, commented: "Overall, the research from the Immobilisation Science Laboratory is regarded as particularly impactful to stimulate positive understanding and acceptance of a long-term solution to nuclear waste disposal"
The new methodology has been advanced in collaboration with Costain and the UK Ministry of Defence (MoD). New materials and methods have been developed to evaluate the potential of thermal treatment methods to treat intermediate level radioactive waste arising from the UK's fleet of 20 obsolete nuclear submarines. Costain's project Director said that this work "has undoubtedly enabled the MOD to de-risk technology options for submarine radioactive waste." 
Following long-term durability assessment of thermally treated radioactive waste relevant to the US radioactive waste disposal programme, Sheffield's research has been adopted by the US Department of Energy. This work, led by Professor Claire Corkhill and Professor Russell Hand, resulted in a change of policy in the vitrification process for low-activity radioactive wastes at the Hanford nuclear facility, the most contaminated nuclear site in the USA with projected clean-up costs (2019) between $323bn - $677bn. 
Sheffield's research on thermal treatment technologies for nuclear waste has also been extensively promoted to the public through more than 20 radio and television interviews, over 30 published news articles, online media and a documentary. This has significantly enhanced awareness of the necessity to manage all types of radioactive waste appropriately and resulted in engagement with the identification of a final disposal facility.
Top in the Russell Group
We are the top-ranked Russell Group university for Graduate Prospects in Materials Science and Engineering. (The Times Good University Guide 2020)
Flagship institutes
The University's four flagship institutes bring together our key strengths to tackle global issues, turning interdisciplinary and translational research into real-world solutions.