Dr Inna M. Gitman
BSc, MSc, PhD, FHEA
Department of Mechanical Engineering
Senior Lecturer
ERASMUS and Year Abroad Coordinator
Programme Director of "Mechanical Engineering with a Semester in China"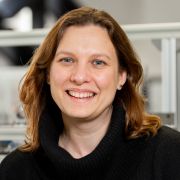 i.gitman@sheffield.ac.uk
+44 114 222 7728
Sir Frederick Mappin Building
Full contact details
Dr Inna M. Gitman
Department of Mechanical Engineering
Sir Frederick Mappin Building
Mappin Street
Sheffield
S1 3JD

Profile

I graduated from Perm State Technical University (Russia) in 2002, where I studied Mathematical Modelling of Systems and Processes. In 2006, I was awarded my PhD degree in Computational Mechanics from Delft University of Technology (the Netherlands). Following postdoctoral positions at the University of Manchester and the University of Sheffield, I joined the Department of Mechanical Engineering as a Lecturer in 2009 and was promoted to Senior Lecturer in 2018.
Research interests

My main research interests are in the modelling of solid and bio-materials. My work is mostly computational. If I were to describe my research in one sentence, it would be "understanding, controlling and optimising the behaviour of a material by understanding, controlling and optimising its micro-structure". I also love uncertainty: realising that in the world around us most natural and man-made materials are far from being strictly deterministic and ordered, in my research I aim to incorporate this disorder and stochasticity into our models.

I work within a range of applications from man-made materials, such as concrete, composites and metals, to bio-materials, such as bones and teeth. 

My two main research themes are:

Mechanics of Materials

Modelling material behaviour within a multi-scale modelling framework using concepts of homogenisation and Representative Volume Element.
Development and implementation of microstructurally-driven gradient-enriched continuum theories.
Modelling wave propagation through materials with periodic and random microstructure.

Computational analysis

Finite Element analysis within frameworks of multi-scale modelling and gradient-enriched continua.
Statistical analysis and stochastic characterisation of materials, Fuzzy Set models and stochastic stability analysis.
Publications

Books

Journal articles

Chapters

Conference proceedings papers

Theses / Dissertations
Research group

Current and completed PhD students

Iwo Slodczyk: "Solid mechanics and AI hybrid approach to mitigation of climate change driven railway track buckling"
Ruixuan Tu: "Methodology to estimate macroscopic strength properties of a material based on a microstructural and microdamage analysis"
Sinan Eraslan: "Wave propagation in elasto-electromagnetic materials"
Zakaria Alshkmak: "Patient-specific tools evaluating teeth decay"
Philip Sharples: "Rail Axle Corrosion Maintenance Strategy"
Pascal Gadoury: "Optimal design and manufacturing of orthotropic structures"
Yilang Song (successfully completed in 2015): "The influence of random microstructure on wave propagation through heterogeneous media"
Ioannis Ioannou (successfully completed in 2014): "A Study on the Numerical Characterisation of Short Fibre Composites"
Grants

Research Projects

2020: "Solid mechanics and AI hybrid approach to mitigation of climate change driven railway track buckling", funded by Network Rail Limited £29,545 (co-investigator).
2019: "Modelling size-dependent electro-magneto-mechanical coupling", funded by Royal Society, International Exchanges Cost Share Programme  with the National Natural Science Foundation of China, £9,120 (co-investigator). 
2018: "Setting the Verification Standard for Adhesion Forecasting Case Studies: Stagecoach Supertram and Arriva Rail North", funded by Railway Safety and Standards Board, £54,148 (co-investigator).  
2018: "AFP Curvilinear Variable Stiffness Laminate Optimisation", funded by AMRC (UK) & NRC (Canada) £68,544 & C$100,000 (co-investigator).
2017: "FRAMED – Fracture across Scales and Materials, Processes and Disciplines", funded by EC Horizon 2020, €900,000 (co-investigator).
2011: "Adaptive Gradient Elasticity and Mechanical Stimulation in Bone Remodelling", funded by EPSRC, £123,199 (principal investigator).
2010: "The influence of microstructure on wave and front propagation through heterogeneous media", funded by the Leverhulme Trust, £228,721 (co-investigator).
2009: "Computational multi-scale modelling of mechanical stimulation of bone", funded by the Wellcome Trust, £68,301 (principal investigator).
Teaching activities

I am a module leader for MEC102 Materials under Stress which is the core module offered in year one in Mechanical Engineering Department and in BioEngineering Department. I formerly taught fourth year module Solid Biomechanics (MEC6430 and MEC325).