Schools and colleges outreach
Our outreach offer for schools extends to activities bookable by teachers, careers advisers and students themselves. We are engaged in several targeted activities to encourage and support students who may not ordinarily consider a university course or career in Medicine, Dentistry or Health.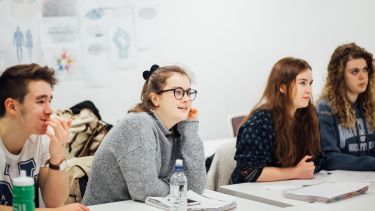 For teachers and advisers to book
Subject talks

Date: October - December 2020 - ADHOC
Location: Online
Who: Year 12 &13, Access to HE Students

A 40-60 minute virtual introduction into one of the following courses, for sixth forms and colleges in South Yorkshire. Followed by a Q&A

Adult Nursing
Health & Human Sciences
Speech & Language Therapy
Orthoptics

The session is led by a member of staff and student ambassadors and is delivered online.

The students in the class must be one of the following:

50% male
studying an alternative qualification (BTEC, Access to HE etc)
50% POLAR 4 quintile 1 or 2
a mix of the above

Please contact Emma Parr e.parr@sheffield.ac.uk for more information.

Medicine & Health Professions Roadshow

Dates:
Wednesday 25th November 1-2pm
Wednesday 2nd December 10-11am
Tuesday 8th December 2-3pm
Thursday 4th March 10-11am
Thursday 11th March 1-2pm
Friday 19th March 1-2pm

Location: Online
Who: Year 12, 13 and Access to HE students

An opportunity for year 12 and 13 students to discover a variety of health courses available to study at The University of Sheffield. Four health professions students from different courses will share their experiences of applying and transitioning to university. Following this there will be a Q&A, where your students can ask questions such as how to get work experience, what the difference is between school and university, or what placement is like. This session is online, and lasts for between 60 and 90 minutes. Please let us know if you would like us to be flexible with the start and finish times.

Health Professions students will be from a mix of the following courses (dependent on availability of suitability to your students: Medicine, Dental Surgery, Dental Hygiene & Therapy, Adult Nursing, Orthoptics, Speech & Language Therapy, Health & Human Sciences, Biomedical Science + more.

The students in your class must be one, or a mix of the following:

50% male
studying an alternative qualification (BTEC, Access to HE etc)
50% POLAR 4 quintile 1 or 2 (an area where few people progress to University)
A HEPPSY target school
For students to book
Interview Skills Day (Medicine, Orthoptics & Adult Nursing)

Date: Friday 30th October
Time: 10:00-11:30am, followed by a 15 minute mock interview between 12:30-4:30pm.
Location: Online
Who: Year 13 students

In the morning you will attend the interview skills lesson, where you will receive useful and practical advice for university interviews. This session will be delivered by friendly staff, with support from current students studying in the health professions. In the afternoon, you will experience what it's like to attend a virtual interview. You'll get to test out your skills and gain valuable feedback. 

This event is aimed at developing your interview skills, with a specific focus on making a good first impression. It does not form part of the formal selection process. We are unable to discuss the questions used at the actual interview (we do not know what the questions will be) nor can we discuss your application status. The day is run by outreach staff and student ambassadors, independent of those involved with admissions decisions. 

The University of Sheffield's Interview Skills Day Eligibility Criteria

Students applying for a place on this scheme must meet all of the following:

Be applying to study medicine, orthoptics or adult nursing at The University of Sheffield for 2021 entry.
Be on track to meet the academic entry requirements for the course.
Attend a state school.

Students applying for a place on the scheme must also meet one or more of the following criteria:

Live in an area where few people progress to Higher Education
Live in an area of socio-economic deprivation
A Looked After Child, Young Adult Carer or an Estranged student
A student with a declared disability
In the first generation of their family to enter Higher Education (other than siblings, or parents who attended as a mature student)

Please do not apply if you are on the Discover Medicine, or Discover Dental Professions schemes, as Becky is providing her own interview support for you. 

Closing Date: Thursday 22nd October at 12pm. All applicants will be notified of the outcome shortly after.

Discover Dentistry

An entertaining and illuminating online course for everyone to explore the impact dentistry has on our lives.

Observe GP

Aspiring medics aged 16+ are required to develop an understanding of medicine when applying to medical school. Work experience is one way to gain insights into medicine, the RCGP have created another. Observe GP provides is a free, online interactive video platform providing insights into general practice.
Get involved
To get in touch about any of these opportunities, or for a discussion about how the faculty can help you to engage your students, please contact Emma Parr at e.parr@sheffield.ac.uk for more details.
A world-class university – a unique student experience
Sheffield is a research university with a global reputation for excellence. We're a member of the Russell Group: one of the 24 leading UK universities for research and teaching.