Schools and Colleges Outreach
We offer a range of tailored activities and events for schools, colleges and individuals. We are committed to improving access to our courses for students who are under-represented both in higher education and within the field of Medicine, Dentistry and Health.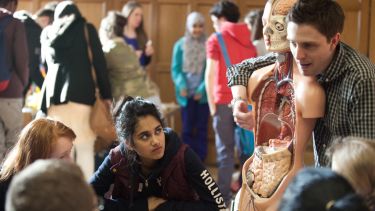 For students to book
UCAT 2022 Online Course

A free course for year 12 students applying to Medicine or Dentistry. Interviews for these courses are offered to applicants with the highest UCAT scores; therefore your UCAT test is a crucial component of your application. This course introduces the skills and techniques you need to improve your score and provides guided practice on each of the five parts of the test. Additionally, you will be given feedback on your answers by our student ambassadors who will help you to improve and answer any questions you may have about the exam.

Course dates: 25th July - 26th August 2022

Time commitment: 10 hours over 5 weeks. Please note that this course is designed to be taken in addition to your own individual study. Students who get the highest scores on the UCAT generally spend 25-30 hours preparing for the exam in total.

Course structure

Each week the course will cover a different subtest of the UCAT exam and include one online lesson with practice activities plus a timed mock test. You must complete these within the week they are released in order to receive feedback on your work, but they may be done at any time within that week at your own pace. You will also have access to discussion forums, where you can ask questions and discuss topics about the UCAT with current and aspiring medical and dental students.

Week 1: Verbal Reasoning

Week 2: Decision Making

Week 3: Quantitative Reasoning

Week 4: Abstract Reasoning

Week 5: Situational Judgement

Eligibility criteria:

Places are limited and will be only offered to students who are:

in Year 12 at a state school or college

In the event that there are more applications than available places on the course, applicants meeting one or more of the following criteria will be prioritised:

Students living in an area with low participation in Higher Education. You can check this by searching for your postcode on the Office For Students website. If your POLAR3 or POLAR4 ranking is Quintile 1 or 2, you're eligible for the course. 
Students receiving or entitled to discretionary learner payments, 16–19 bursary or free school meals (FSM) at college or secondary school.
Students who attended a school achieving below national average at GCSE Check your school's Progress 8 score 
Students with a declared disability
Students from under-represented ethnic groups
Mature students
Carers
Care leavers
Students who are living independently from their families
Students who are in the first generation of their immediate family to enter higher education before the age of 21.

Students on the Discover Medicine, or Discover Dental Professions programmes are guaranteed a place subject to completion of the application form and permission of a parent or guardian.

The UCAT online course is run by outreach staff and student ambassadors and is independent of staff involved with admissions decisions at the University of Sheffield. 

Applications open on 6th June and close on 11th July 2022.

2 year programmes for year 12 students

Additional Resources
For schools to book
We can offer tailored events and activities to schools and colleges for year 12 and 13 students online or face-to-face including:
Subject talks featuring taster activities and a Q&A with current students:

Study for a Career in Healthcare (including Adult Nursing, Speech & Language Therapy and Orthoptics)
Medicine
Dentistry
Bio-dental science and technology
Dental Hygiene and Therapy
Health & Human Sciences

Fees and funding information
Making successful applications (including personal statements, work experience, introduction to UCAT exam preparation, interviews)
To get in touch about any of these opportunities, or for a discussion about how the faculty can help you to engage your students, please contact lynsey.jefferies@sheffield.ac.uk  or complete this brief form.
A world-class university – a unique student experience
Sheffield is a research university with a global reputation for excellence. We're a member of the Russell Group: one of the 24 leading UK universities for research and teaching.