The Athena SWAN charter recognises excellence in HE employment in the STEMM subjects; Science, Technology, Engineering, Maths and Medicine, and specifically promotes gender equality.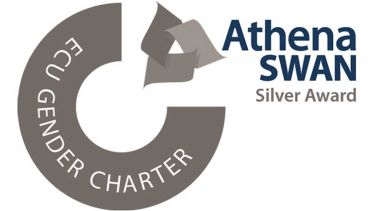 The University of Sheffield is a member of the charter, currently holding an Athena SWAN Bronze award which acknowledges our University-wide commitment to good practice in these areas. In order to extend this commitment to an equitable working environment, 23 departments across STEMM at the university are going for individual awards.
The Medical School was successful in achieving a silver award for its achievement and hard work promoting gender equality. In order to achieve a silver award, we have worked with colleagues to identify particular challenges, and have taken action to respond to these, which has had a demonstrable impact on the Medical School.
We also have a number of planned activities to ensure we continue to push this agenda forward. Securing this award is an important process and involves engaging staff in all the Medical School departments. As a result of the process, action is being taken to promote truly innovative working environments that allow both men and women to thrive. The award is valid until April 2020.
Dr Andy Chantry is a Senior Clinical Lecturer within the Department of Oncology and Metabolism and an honorary consultant Haematologist in the Dept. of Haematology, Sheffield Teaching Hospitals NHS Foundation Trust. He stepped up to help drive the Athena SWAN Self-Assessment Team forward in the hope of submitting a successful Gold Award submission in November 2020.
---
I am thrilled to be leading the Medical School Athena SWAN Self-Assessment Team. I am keen to demonstrate the Impact of our continued efforts and achievements and ensure that the charter recognises just how flexible and accommodating the department can be in terms of gender and equality.

Dr Andy Chantry

Senior Clinical Lecturer, Department of Oncology and Metabolism
---
Why is this important for the Medical School?

The Medical School strives for excellence in all areas of teaching and research and we are committed to improving our working practices. One particular research focus is funding from NIHR for BRUs and BRCs and the Silver award for Athena SWAN Charter for Women in Science is now required for these University/NHS partnerships.

About the Charter

All Athena SWAN members sign up to the principles of the charter:

To recognise talents for all
To advance gender equality
To recognise disciplinary differences
To tackle the gender pay gap
To remove obstacles faced by women, particular, at major points of career development
To address the negative consequences of short-term contracts
To tackle discrimination against trans people
To demonstrate senior commitment
To make structural and cultural changes to advance gender equality
To consider intersectionality

Self-Assessment Team

The Medical School Athena SWAN self-assessment team was convened in September 2012 and membership ensures that all staff and student categories are represented. The following staff and students are members of the Medical School self-assessment team:

Dr Andrew Chantry (Chair) - Consultant Haematologist.
Professor Angie Cox - Professor of Cancer Genetic Epidemiology, Oncology & Metabolism.
Professor Sheila Francis - Professor of Cardiovascular Biology.
Dr Andrea King - Business & Strategy Manager, Infection, Immunity & Cardiovascular Disease.
Dr Lucy Lee - Researcher Development Manager, Think Ahead Programme.
Mrs Yvonne Stephenson - Lead Development Technician, Infection, Immunity & Cardiovascular Disease. 
Mr Russell Metcalfe - Department Manager, Oncology & Metabolism.
Dr Munitta Muthana - Non-clinical Lecturer, Infection, Immunity & Cardiovascular Disease.
Dr Fran Oldale - Phase 2 and BMedSci Phase Administrator, Medical School.
Dr Julie Simpson - Lecturer in Translational Neuropathology, Neuroscience.
Ms Kate Montague-Helen - Research Nurse, Oncology & Metabolism.
Dr Carolyn Staton - Non-clinical Lecturer, Oncology & Metabolism.
Miss Poppy Turner (Administrative Support) - Phase 2 Curriculum Support Officer, Medical School. 
Mrs Camilla Tosney - HR Adviser.
Mrs Karen Smith - HR Adviser. 
Professor Ian Sabroe - Professor of Inflammation Biology, Infection, Immunity & Cardiovascular Disease. 
Miss Hannah Roberts - PhD Student, Oncology & Metabolism. 
Professor Chris Newman - Professor of Clinical Cardiology and Honorary Consultant Cardiologist, Infection, Immunity & Cardiovascular Disease. 
Miss Grace Elliott - BMedSci Undergraduate Student, Medical School. 
Professor Lynda Wyld -  Professor of Surgical Oncology and Honorary Consultant Breast Surgeon, Oncology & Metabolism. 
Mr Mohammed Bilal - Leadership Fellow to the Athena SWAN NHS Project, Sheffield Teaching Hospitals. 
Professor Dame Pamela Shaw - Vice President and Head of Faculty, Professor of Neurology, Consultant Neurologist, Sheffield Institute for translational Neuroscience
Professor Allan Pacey - Head of Department, Professor of Andrology, Oncology & Metabolism. 
Dr Julian Burton - Senior Teaching Fellow, Academic Unit of Medical Education 

Medical School Self-Assessment Team: Terms of Reference

For further information about what is happening for women across STEMM and the University contact Julie Campbell on j.l.campbell@sheffield.ac.uk or 0114 222 1499.

For further information about what is happening for the Athena SWAN Self-Assessment Team in the Medical School contact Poppy Turner on poppy.turner@sheffield.ac.uk or 0114 215 7038.
Our Athena SWAN Initiatives
Dame Pamela Shaw Awards

The Dame Pamela Shaw Awards were formally announced on Thursday 8th March 2018 in support of International Women's Day 2018 and the Athena SWAN Charter. An Awards initiative created by the Medical School Athena SWAN Self-Assessment Team gives students and staff members the opportunity to apply for small awards in-line with the goals Athena SWAN have set out to achieve. 

Please see the criteria brief document to find out if you are eligible to apply for this award. Submit an application, then your application will be reviewed by three members of the Athena SWAN Panel. We aim to be in touch with a decision as soon as possible. 

For any enquiries, please email medicalschool-athenaswan@sheffield.ac.uk 

Please note: Following recent research into University policies, we are unfortunately unable to offer awards to cover the cost of childcare due to financial tax regulations. 

---

The DPS award was an enormous help to me as it helped me to work a condensed week. Being able to work slightly longer days 4 days a week means that I am able to run my lab, supervise two PhD students and two masters students whilst not missing out on the lives of my children. Thanks to this, I am ahead of schedule with regards to my 5 year research plan and have written 2 grant applications for extra funding in this time, both of which I have been shortlisted for.

Dr Ruth Thompson

Royal Society Dorothy Hodgkin Research Fellow

---

The Dame Pamela Shaw Award has enabled me to pursue a research direction that is particularly close to my heart and has importance for all female surgeons. We are looking at the barriers faced by women in surgical training in an attempt to address these and work towards gender equality in this currently very male-dominated field of medicine.

Dr Jenna Morgan

Clinical Lecturer

---

I received a DPS award to help supplement travel expenses associated with attending the AIMM-ASBMR John Haddad Young Investigator Meeting in Snowmass, Colorado. The meeting provides an excellent opportunity for me to reconnect with the bone research community after returning from maternity leave, by presenting my work in a relaxed environment and by building my collaborative network to facilitate my career advancement.

Dr Leni Green

Postdoctoral Research Associate

Whyte Payments

One of the major challenges for researchers taking a period of family leave is how to keep in touch with ongoing developments in their own laboratory and more widely in their scientific field of interest. We devised a way of providing an additional salary/allowance payment that is the equivalent to the cost of one day's childcare as a way of giving researchers some flexibility to keep in touch with their lab group, by attending regular lab meetings and also lectures of particular interest. I hope very much that the payment will assist people in this way, contributing to excellence and diversity in medical science.

Professor Moira Whyte OBE

BSc PhD FRCP (London) FMedSci

---

Where did it come from? 

As part of our ongoing Athena SWAN driven work, we investigated the low take-up of Keeping In Touch (KIT) Days, and found that only 25% of people use five or more of these days, and that the cost of childcare is seen as a barrier to using them. We were keen to address this and included an action to 'encourage the use of KIT days by providing funding for childcare' in our Athena SWAN action plan.

Since then, we've been working closely with Human Resources and Finance Colleagues to devise a simple and straightforward process that enables us to provide an additional salary/allowance payment out of the departmental budget equivalent to the cost of one day's childcare. Our aim was to ensure it was an easy process for both managers and the individual, and that it would result in people continuing to feel connected to the Medical School whilst on family leave.

How can KIT days be used?

The following examples of how KIT days may be used are not exhaustive:

Undertaking a specific project or task;
Attending training courses;
Attending meetings (i.e. team meetings, project meetings; departmental away day);
Attending SRDS Review/Objective Setting (if the timing is appropriate)
Acting as a interview panel member for departmental appointment;
Handing over work in preparation for returning;
Gaining updates in relation to any ongoing projects/activity e.g. if applicable liaising with any replacement cover for a research project enabling the staff member to ensure that they remain updated as to how the project is progressing against any action plan agreed before commencing the leave;
As part of the staff (or student) member's re-induction back to work.

How does it work? 

The Whyte payment is a fixed contribution from the department of £75 means that, after the appropriate deductions for Income Tax and National Insurance, an individual will receive a net additional payment of circa £50. Please note that this is not a payment of expenses, just a contribution, and it will be taxable and subject to National Insurance. Postgraduate students are exempt from tax and NI and will receive a one off payment of £50. Furthermore, it is not a payment for the KIT day – you will still be able to take an extra day as time in lieu as per the maternity policy. This lump sum payment will be paid in the next possible payroll month after your return to work, following receipt of the Whyte Payment form by the Payroll and Expenses team. Please note that it cannot be paid while on maternity leave as it will affect your eligibility for SMP.

How do I access it?

Please fill out the relevant form for staff or PGR students in full and ask your line manager to sign to confirm that you have used the keep in touch day.

Women Academic Returners Programme (WARP)

The Women Academic Returners' Programme (WARP) provides additional support if needed, either during maternity leave or upon return to work, to minimise the impact of extended leave on research activities. This programme is open to women academics and researchers across all faculties at the University of Sheffield. 

Through maternity cover and WARP, the University aims to create a working environment which encourages all women academics and researchers to flourish professionally, thus benefitting the performance of the individual, the department and the University. This contributes to the University's target of improving the representation of women at professional level. 

Through WARP, women are able to request up to £10,000 funding to support an additional post, or up to £5,000 to support other research-related activity (to a maximum total of £10,000). 

To find out all information regarding WARP, please visit the university's HR web pages.

For any queries relating to the WARP Programme, please contact medicalschool-athenaswan@sheffield.ac.uk or warp@sheffield.ac.uk

Medical School Athena SWAN/Breastfeeding Rooms

The Athena SWAN Breastfeeding Room (CU18a), Medical School Cafe, C Floor (Main Reception), Medical School

This room is available to book as a regular meeting room (via the Medical School Reception) and has capacity for four people. However, priority is given for breastfeeding and expression between 12:00 and 14:00 each day. You are also able to book the room as required for these purposes at the Medical School Reception. Either pop down to see Hannah or give her a call on 0114 222 5522. The room has the following available for use:

Dimmed lighting
Lockable door for privacy
Breastfeeding chair and footrest
Sofas
Lockable fridge (key available from reception) to store breast milk
A play mat and books
Useful resources for mums in the local area
Baby wipes, hand sanitiser, tissues, closed lid bin and mirror

The Simulated Home room on the 3rd Floor of Samuel Fox House at the Northern General Hospital 

The Simulated home room also offers useful items as below:

Sofas for comfort
Breastfeeding pillow
Fridge to store breast milk
Mirror
Play mat for babies
Bin
Muslin squares
Hand sanitiser and baby wipes

The above spaces are created and fitted with the facilities required to accommodate our staff, students and visitors when they are in the Medical School and need to breastfeed or express milk. If you have any queries relating to these rooms, please contact the appropriate staff member as below:

Medical School - Poppy Turner

Northern General - Emma Hudson

Both rooms are now also stocked with organic sanitary towels should any member of staff, student or visitor require these, please feel free to pop into the room and take one. Please note that these are available to take as a helpful gesture and are not intended to be used as a constant supply.
A world top-100 university
We're a world top-100 university renowned for the excellence, impact and distinctiveness of our research-led learning and teaching.