Academic Unit of Medical Education projects
Intercalated BSc Medical Sciences Research available projects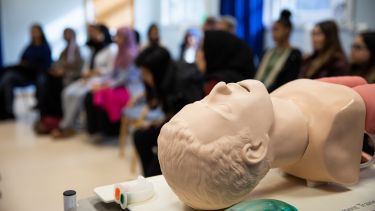 Projects: 
Exploring patient's views of receiving supported self-management of asthma in general practices implemented as part of the UK-wide IMP2ART Cluster Randomised Trial

Main Supervisor

Mrs Brigitte Delaney (b.delaney@sheffield.ac.uk)

Second Supervisor

Dr Atena Barat (a.barat@qmul.ac.uk)

Aim and Objectives

To explore patients experience of their asthma reviews in general practices that have been randomised to the implementation arm of the IMP2ART Cluster RCT.
 

Research Methodology

Background literature review and synthesis
A literature review of current relevant literature in this topic area will be undertaken. The literature review will guide the development of topic guide questions and prompts and refine the attached guide.

Qualitative study
The study will be informed by a review of the literature and consultation with IMP2ART's PPI panel. Informed by the review, a priority service user group will be selected, taking into account patient and practice characteristics. The student will purposively recruit up to 15 patients (male and female) who are on the active asthma list from a small sample of General Practices who are randomised to the implementation arm of the IMP2ART study, and have had an asthma review during the trial period.
 

Expected Outcome

To incorporate the findings into the nested Process Evaluation which is being carried out to explore the feasibility/acceptability of the IMP2ART implementation strategy in primary care. The findings from this project will add the patient experience to those data which are being collected from a number of randomised practices in the IMP2ART trial. There will be an opportunity to publish the work (with other members of the team). The student will also gain the experience of working under the umbrella of a NIHR-funded Programme Grant

Type of Project

Qualitative Project/non-lab based - primarily using qualitative methods

Additional Training

Support and supervision will be provided for students so that they develop the skills to carry out background literature work, recruit participants, undertake qualitative interviews, transcribe and analysis the data.

Qualitative study of the impact of different levels of health literacy on consultations within a Symptoms Clinic.

Main Supervisor

Professor Christopher Burton (chris.burton@sheffield.ac.uk)

Second Supervisor

Dr Catie Nagel (c.nagel@sheffield.ac.uk)

Third Supervisor

Professor Gill Rowlands (Newcastle University)

Aim and Objectives

Aim: to understand the way that complex consultations reflect / adapt to / are limited by different levels of health literacy.

Objectives:
1. transcribe a selected set of consultation transcripts from a special clinic for people with multiple persistent physical symptoms (already recorded)
2. Apply a framework of health literacy (the ability to access, understand, evaluate and implement information to take more control of ones health) to the transcripts.
3. Describe how clinicians adapt to different levels of health literacy in consultations
4. Identify particular problems or successes in consultations reflecting this
 

Research Methodology

Materials: consultation recordings (some transcribed) will be made available from Multiple Symptoms Study 3, a trial of extended role GP consultations. Trial participants completed a measure of health literacy at enrolment and this will be used to select cases for analysis,
Data preparation: you will transcribe some of the consultations (others will be ready-transcribed)
Analysis: you will conduct a qualitative analysis of the consultation content. The specific approach is still to be decided.

Expected Outcome

1. Literature review specifically focusing on health literacy in relation to persistent physical symptoms.
2. Project report describing the qualitative analysis
3. A conference poster (probably regional academic primary care, possibly the year after BSc)
4. There should be sufficient material (review or analysis) to write a peer reviewed publication following the BSc. You will have the option of this as first author but will be fully supported to publication.
5. You will understand the principles of qualitative research, and be able to critically appraise qualitative research.

Type of Project

Qualitative Project/non-lab based - primarily using qualitative methods

Additional Training

You will learn and use qualitative research skills through a combination of guided reading and practical supervision.
We will provide expert input relating to the concept of health literacy.
Explore the University
Discover what sets Sheffield apart at our next on-campus open day.