Academic Unit of Medical Education projects
Intercalated BSc Medical Sciences Research available projects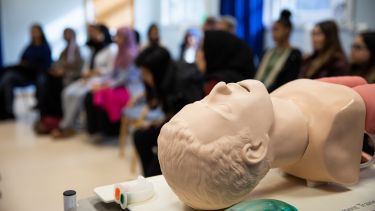 Projects: 
Patient perceptions of "safety net" advice in urgent or emergency care

Main Supervisor:

Professor Chris Burton

chris.burton@sheffield.ac.uk

Second Supervisor:

Dr to be confirmed .

to be confirmed

Type of Project:

Clinical project - based in the clinical environment with patients/including service evaluation

Aims and Objectives:

To examine how patients vary in their recall of safety netting advice in urgent or emergency care

Research Methodology:

Questionnaire survey of patients / parents / carers attending either a GPOOH service or an Emergency Department.

The survey will involve both pre and post consultation items. The student will be involved in refining the survey, collecting data and statistical analysis.

This study will involve data collection in clinical areas and will involve some out of hours data collection (evenings / weekends) in order to sample periods of high demand and more limited service capacity.

Expected Outcome:       

Your literature review will examine "safety netting" - the provision of "what to do if..." information in urgent or emergency care and its possible role in relation to increasing attendance.

The survey will build on previous work suggesting that patient perceptions of capacity to self manage influence the safety netting advice they recall. This will link with other work on clinical risk in emergency care

Additional Training:

We will provide specific training on all aspects of the project.

In addition you will be expected to join the peer learning set in the Academic Unit of Primary Care which runs for each group of BMedSci students and covers key applied health research techniques.

Ethical Approval:

Original research involving human tissues/human participants and/or patient details and information - UREC or NHS REC ethics approval needed.

Are most Fitness to Practise cases failure to discharge Ethical obligations?

Main Supervisor:

Dr Pirashanthie Vivekananda-Schmidt

p.vivekananda-schmidt@sheffield.ac.uk

Type of Project:

Qualitative Project/non-lab based - primarily using qualitative methods

Aims and Objectives:

The General Medical Council recommends that ethics education is a core part of undergraduate medical training (GMC outcomes for doctors). But there are continuing challenges to engagement and effective delivery of medical ethics and law training (Brooks and Bell, 2017; Haughton and Johnston, 2007). This project proposes an analysis of General Medical Council Fitness to practise cases within the last ten years (cases will be selected using random sampling and saturation principles will be applied). The analysis will focus on particular questions such as What is the case about? Why did it get to the FtP stage? Does the focus have an ethics aspect? Could ethics education have helped (using the content available)? It is hypothesised that most fitness to practise cases are a result of compromises in discharging moral and ethical obligations and that ethics education can help with this.

Research Methodology:

We plan to treat each fitness to practise case as a single case study and during the first stage will apply a multiple case study/document analysis approach. In case study analysis each case is treated as an experiment and the conclusions are drawn for each case (Baxter and Jack, 2008). During the second stage we will be applying thematic analysis (Miles and Huberman, 1994) to synthesise the results of the multiple case studies and identify overarching key findings/themes. The last stage, stage 3 will be informed by these key themes. The third stage will be data collection by interview to understand how the emerging themes are best responded to. The interviews will be with ethics and medical education experts and may take the form of a phone call or face to face interview.

Expected Outcome:       

We anticipate that this project will add significantly to aid understanding of why doctors get into fitness to practise difficulties. This in turn will tell medical educators how to better support current and future doctors. We also anticipate that the project will add to developing medical ethics education. Furthermore, with increasing concerns about stress and mental health issues amongst doctors, this project will add insight into how to better support doctors.

Additional Training:

What Skills will be gained? Skills in qualitative research methods, specifically interviewing, data analysis and document analysis; literature review skills, and skills in writing up for publication.

Ethical Approval:

Medical School Ethics Approval required.
Course search
Explore. Challenge. Influence. Find the right course for you.