MRes Healthy Musculoskeletal Ageing course structure information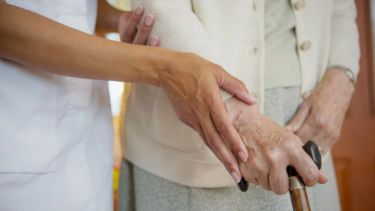 Overview
Musculoskeletal ageing is one of the key medical and socio-economic issues facing every country in the world this century. The MRes Healthy Musculoskeletal Ageing provides students from a range of disciplines (biological/biomedical scientists; medicine; allied health professionals; sports scientists; veterinary science) with a multi-disciplinary perspective on the science, research, physical and nutritional therapeutic and preventative interventions related to health and well-being.  The programme will support the personalised skills development, especially in critical analysis, written and oral communication, team-working and independent research, needed to pursue careers in e.g. biomedical research, medicine and allied health professions, veterinary science, teaching, scientific writing.
Our one-year programme takes a blended learning approach (online and face to face): online taught modules in Semester 1, and a single research project (including placement opportunities) covering semesters 2 and 3.  The taught modules include material on:
Biology of ageing 
Research methods and approaches for studying musculoskeletal ageing 
Physical and nutritional interventions 
Modules are delivered using a mixture of online learning materials, live tutorials and discussions, 1 to 1 mentoring, reflective blogs and directed reading.  The research projects are discussed with the students on arrival in order to match students with projects suitable to individual career ambitions. There is an opportunity during the project to undertake a 3-week placement, usually (but not exclusively) at one of the other CIMA organisations.
Options are now available to also conduct the research project online.
The programme is delivered collaboratively by scientists, clinicians, veterinary scientists and other experts from the University of Liverpool, University of Sheffield and Newcastle University I.e. the three Universities that make up the Centre for Integrated Research into Musculoskeletal Ageing (CIMA). CIMA is a collaborative research centre that researches how age-related decline of the musculoskeletal tissues and age-related clinical disorders (such as osteoporosis, sarcopenia and arthritis) can be ameliorated or prevented.  Students become key members of this collaborative centre, as a consequence they have a unique opportunity to attend the CIMA annual conference and workshops, participate in public engagement activities and access to state-of-the-art equipment.  The programme is career-focused, with regular 1 to 1 meetings taking place throughout the year, to discuss and plan personalised, career-orientated, self-development. 
The programme aims to equip students with:
advanced knowledge and critical understanding of the biology of ageing and how it relates to health, disease and therapeutic interventions in the musculoskeletal system
the skills to enable oral and written communication with professional and lay audiences
the expertise and confidence to pursue a range of science, clinical and related career pathways
a network of peers, researchers and professionals to build capacity within musculoskeletal ageing research
Career prospects
MRes graduates will be well equipped to embark on a wide range of career options, including clinical or veterinary practice, allied health professions, sports science, biomedical research in academia and commercial/private sector. Previous graduates' careers include medicine, veterinary science, dentistry, biomedical research, teaching, pharmaceutical industry, scientific writing.
The programme provides an ideal foundation for continuation of studies at doctoral level.
Entry requirements
Undergraduate first, or upper second, class honours degree (or equivalent) in a relevant biological sciences subject, sport science, clinical or allied health profession e.g. physiotherapy, nutrition. 
Intercalating medical and veterinary students are welcome to apply.
Ageing in the integrated musculoskeletal system (20 credits)

This module focuses on the biology of musculoskeletal (muscle, tendon, bone and joint) ageing and methods of studying ageing within the integrated musculoskeletal system.  The module employs a variety of learning approaches including directed and enquiry-led learning (Curriculum 2021 hallmarks).  It is delivered via online lectures, directed-reading, tutorial discussions, self-directed, and reflection.  Learning is facilitated by research-focused tutors and individual grant mentors. Students will develop a critical approach to current understanding of the biology of musculoskeletal ageing and current theories of ageing.  In addition to a broad knowledge of appropriate techniques and approaches for studying musculoskeletal ageing, within the context of the integrated musculoskeletal system, approaches for current and emerging treatment will also be addressed.  Knowledge is consolidated and practically applied in the identification of a research question and submission of a simulated application to the Medical Research Council, thereby providing the student with the skills and knowledge to draft a grant proposal to Research Council specifications.

Biology of ageing (20 credits)

This module aims to provides an overview on current thinking on why ageing is observed in almost all organisms, what factors influence the rate of ageing and the key mechanisms of ageing. The module will include an introduction to the role of intrinsic and extrinsic stresses in generating molecular damage within cells, the broad principles defining the network of cellular defences against stress-induced damage, and the current understanding of the molecular and cellular mechanisms of ageing. As ageing involves multiple biochemical and cellular mechanisms affecting multiple tissues, the emphasis will be on building a thorough understanding of why adopting an integrative, systems approach is essential. The module aims to provide a critical platform to judge the efficacy of potential interventions which may include pharmacological, nutritional and physical.

Nutrition, physical activity and lifestyle interventions for Healthy Ageing (20 credits)

This module aims to:

a) introduce students to the basic principles of nutrition and the relevance of nutrition to healthy ageing.  The module covers dietary constituents, energy & nutrient handling, assessment of nutritional status, energy balance and the dietary determinants of disease.  All material will be taught with an emphasis on ageing.   

b) equip students with the key theoretical and practical knowledge and skills that underpin successful exercise prescription in order to optimise musculoskeletal health. Students will critically review theoretical perspectives in terms of physiology and exercise science in light of exercise prescription across a range of lifestyle and disease states and physical activity promotion/policy. This module will also enable students to reflect upon your own delivery and current climate within exercise science and prescription.              

The module is delivered through lectures accessed through e-learning, tutorials and directed independent study.
Empirical Research Project (includes skills training) (120 credits)
The module takes place over several months which allows students to develop and conduct an in-depth empirical research project on a specific aspect musculoskeletal (muscle, tendon, bone and joint) ageing relevant to their own area of interest.  The teaching approach relies upon research-led and enquiry-based learning with authentic assessments in the form of scientific reports, oral and poster presentations, and a reflective skills portfolio (hallmarks of Curriculum 2021). Students will become full members of a research group and take advantage of first-class facilities and active research environment available in the Department of Musculoskeletal Biology and Ageing in the Institute of Life Course and Medical Sciences. The opportunity to undertake a placement allows students to widen their network and gain additional experience of techniques and applications not available in the University. Workshops, individual Training Needs Analyses and skills portfolio and opportunities to personalise skill progression and support the development of employability and research skills.
Examples of project approaches include cell culture models of inflammation and ageing; molecular and genetic analyses e.g. miRNA as therapeutic targets; computer modelling; intervention studies e.g. role of vitamin D; impact of mechanical loading; gait and locomotor ability; epigenetics and ageing; bioinformatics.
---
See full course information on our Prospectus
The content of our courses is reviewed annually to make sure it is up-to-date and relevant. Individual modules are occasionally updated or withdrawn. This is in response to discoveries through our world-leading research, funding changes, professional accreditation requirements, student or employer feedback, outcomes of reviews, and variations in staff or student numbers. In the event of any change we'll consult and inform students in good time and take reasonable steps to minimise disruption.
Information last updated: 6 January 2021
---
Postgraduate taught scholarships
Explore scholarships for postgraduate taught courses starting in 2021, including:
100+ scholarships worth £10,000 each for home fee paying students
150 scholarships worth 25 per cent of the tuition fee for international students