Dr David Randall
PhD, MPhys, MSc
Department of Infection, Immunity and Cardiovascular Disease
Research Associate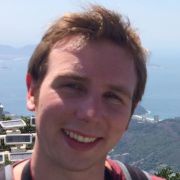 DRandall1@sheffield.ac.uk
+44 114 215 9564
Room OU149, O Floor, The Medical School
Full contact details
Dr David Randall
Department of Infection, Immunity and Cardiovascular Disease
Room OU149, O Floor
The Medical School
Beech Hill Road
Sheffield
S10 2RX

Profile

I am a medical physicist with interests in X-ray physics, radiation protection and applications of VR in medicine. I did an MSc in Medical Physics at Leeds University in 2009 and an MPhys at The University of York in 2008. I obtained a PhD at the University of Sheffield in 2017 in medical physics and image processing. From 2016 onwards David has focused on applying VR technology to meet medical needs, including a virtual reality colonoscopy, 3D medical data visualisation and simulation and therapy for different eye conditions such as nystagmus. I currently hold two part-time positions: as a clinical scientist in Diagnostic Radiology at Sheffield Teaching Hospitals and as a BRET funded postdoctoral researcher at the University.
Research interests

There are many potential applications of VR in medicine and my position in the University permits freedom to explore any avenue that shows potential for translation into medical practice. My main interests are currently focused on three specific areas of work.

VR X-ray Simulation for Education - The X-ray Simulation project aims to provide a teaching programme for x-ray physics aided by a suite of novel resources. The programme aims to address an absence of simulation training resources for a wide audience of practitioners involved in X-ray system operation, as identified by new legislation (IRMER 2018). The suite of complementary educational tools also includes interactive 3D PDF models, a 2D smartphone app allowing the user to explore the effects of x-ray exposure settings on image quality and an interactive virtual reality x-ray room incorporating x-ray physics, placing the student in an environment which mirrors a real x-ray system.
3D Medical Data Visualisation - This aims to produce a VR interface for viewing and interacting with medical data across a wide range of clinical disciplines. This area is being developed in collaboration with the 3D Lab in Sheffield Teaching Hospitals.
Orthoptics and Ophthalmology - The potential applications of VR to orthoptics are numerous. Specific examples include simulation of nystagmus (a condition where the eyes move involuntarily) in VR and a VR treatment tool for double vision. The former has been packaged as a freely available app on Android Play and App Store.

Workstreams

VR in Medicine.
VR for Training and Education.
Publications
Projects

Current projects

2019-2021 - Applications of VR in Medicine (BRET - Bardhan Research and Education Trust of Rotherham).
2020 - "Run for your Life!" a VR public engagement activity to raise awareness of cardiac health (Public Engagement Fund).

Past projects

2019-2020 - Retinal image stabilisation in VR for individuals suffering from oscillopsia (a symptom of the world moving due to involuntary eye movement) [Fight for Sight and Nystagmus Network].
2018-2020 - Production of a VR X-ray Simulation for education and training of radiologists, radiographers and medical physicists [Health Education England].
2017 - Simulation of Nystagmus in VR, development of a VR app for smartphones to allow individuals a visual experience of what it is like to live with the condition [Sheffield Hospitals Charity].