Mr João Gonçalo Ramalho de Almeida e Sousa
MSc
Department of Infection, Immunity and Cardiovascular Disease
Research Software Engineer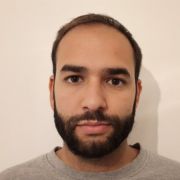 j.g.sousa@sheffield.ac.uk
+44 114 215 9150
Polaris
Full contact details
Mr João Gonçalo Ramalho de Almeida e Sousa
Department of Infection, Immunity and Cardiovascular Disease
Polaris
18 Claremont Crescent
Sheffield
S10 2TA

Profile

I completed the Integrated MSc in Biomedical Engineering at the Physics Department at the University of Coimbra, Portugal, in September 2015. My Master's degree specialization was in Image Processing and Analysis, Radiation, Bioinformatics and Biostatistics.

Between 2016 and 2019 I worked as an Image Analyst at Bioxydyn Ltd. (Manchester, UK) which started as a spin-off company from the University of Manchester. My roles involved checking image quality of MRI scans (Quality Control) and processing them in order to extract stats and biomarkers in a context of clinical trials sponsored by pharmaceutical companies. I also made some contributions to the improvement of the company's analysis pipelines.

I am currently working as a Research Software Engineer at the University of Sheffield, after moving in July 2020 from the University of Leeds.
Research interests

My research interests are in Medical Image Processing and Analysis, more specifically in designing and developing software that involves quantitative imaging biomarkers and applications in clinical practice.

Workstreams:
Publications
Current projects

UK Renal Imaging Network (UKRIN): MRI Acquisition and Processing Standardisation (MAPS). Funded by Medical Research Council Partnership grant MR/R02264X/1.