Dr Annica K.B. Gad
PhD
Department of Oncology and Metabolism
Lecturer in Cancer Biology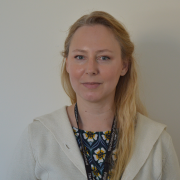 Profile

For enquiries, please contact - iicd-om-operational@sheffield.ac.uk

Annica K.B. Gad obtained her PhD in 2005 at the Karolinska Institutet in Stockholm, Sweden, studying "Cell Cycle Control by Components of Cell Anchorage" with Staffan Strömblad as her supervisor. Her postdoctoral work started with Mario Gimona at the Consorzio Mario Negri Sud Research Institute, Italy, focussing on the cytoskeletal crosslinking that underlies podosome formation. She then joined Pontus Aspenström at the Ludwig Institute for Cancer Research in Uppsala, Sweden, and also back at the Karolinska Institutet in Stockholm, where she worked on the biology of the Rho GTPases.

In 2012, Dr Gad obtained a position as a Senior Researcher at the Karolinska Institute for her studies of the molecular mechanisms that control the mechanical properties of single cells, particularly in relation to cancer. Then in 2017, Dr Gad was recruited to the University of Madeira in Portugal, where she continued to study the mechanical properties of cells as a Senior Researcher.

In 2019, she moved to a Lecturer position at the University of Sheffield.
Research interests

Dr Gad's research is aimed at the identification of the molecular mechanisms that govern cancer cell metastasis and the cancer-promoting ability of cancer-associated fibroblasts. Her approach is via the control of the mechanical properties of cells, with the further aim being the development of drugs against cancer metastasis. As such drugs will be based only on cell mechanics, they will represent a previously unknown, mechano-based, class of drugs. Her research is thus focussed on how regulators of the cytoskeleton control cellular contractile forces and cellular stiffness, through approaches that include bioengineering, biochemistry and advanced microscopy, such as super-resolution fluorescence microscopy, collodial probe atomic force microscopy, and traction force microscopy. Studies of the mechanical properties of cells require advanced equipment and expertise from different research fields, and therefore, by its very nature, her research is highly interdisciplinary. As tumour cell invasion and metastasis is the number one cause of cancer deaths, the identification of a previously unknown, mechano-based, class of target proteins for the development of drugs that block cell invasion has great promise to provide significantly improved prevention of human deaths due to cancers.

Current projects:

The Molecular Control of the Mechanical Properties of Human Cells and Cancer.

PhD project directory

https://www.sheffield.ac.uk/postgraduate/phd/scholarships/projects

Treating cancer by targeting the mechanical properties of cells

Department of Oncology and Metabolism PhD Research Project, Self Funded

Dr A Gad

Application Deadline: Applications accepted all year round.
Publications
Professional activities

1. ASPIC - The Portuguese Association for Cancer Research
2. EACR - European Association for Cancer Research. EACR Ambassador since 2018.
3. COST action CA 15214, an Integrative Action for Multidisciplinary Studies on Cellular Structural Networks, Working Group number 4: "Mechanobiological principles of rare and common diseases"