Dr Aymen I Idris
MSc, PhD
Department of Oncology and Metabolism
Senior Lecturer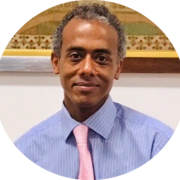 Profile

For enquiries, please contact - iicd-om-operational@sheffield.ac.uk

I am pharmacologist by training, and basic science researcher interested in the design, preclinical testing and commercialisation of novel, inexpensive anti-inflammatory drugs. 

My interest in the field of inflammation began in 2000 at the laboratory of Professor S. H. Ralston at the University of Aberdeen and University of Edinburgh (Scotland, UK), where I obtained a Ph.D. in Medicine, and underwent my early postdoctoral training. During this period, I carried out significant research examining the therapeutic (and harmful) effects of plant-derived and synthetic anti-inflammatory substances, which culminated in first- and last-author publications in a number of prestigious scientific journals including Nature Medicine, Cell Metabolism and Ageing Cell, and the foundation of OsteoRX Ltd. - a start-up company established to develop novel anti-rheumatic drugs. As principal investigator, at the Edinburgh Cancer Research Centre (Scotland, UK, 2010-14) and University of Sheffield (England, UK, 2014 - present), my pharmacological research led to the design and preclinical testing of a novel class of small-molecule inhibitors of NFκB and the foundation of arthElix Ltd. 

Outside the laboratory, my academic and research interests varied. These are some of the ongoing projects.

I am a data science enthusiast. In 2021, I founded the Africa in Science (AiS) think-tank that monitors the scientific output of Africa-based institutes, with the aim to uncover under-researched and neglected topics in Africa.

I am an avid supporter of issues and needs of early-career researchers. In 2019, I founded and served as Editor-in-Chief of HubLE.org, the IFMRS Learning and Sharing Environment. 

I have been especially interested in positive ethnic discrimination in science, as a result of personal experience. 
Research interests

The primary interest of my group is pharmacology of inflammation. The specific aims of our research are to:

uncover novel druggable pro-inflammatory transduction pathways essential for the regulation of cancer – immune - bone cell interactions, and guided by these studies
design and test novel therapeutic agents - alone or in combination with drugs in clinical practice - for the treatment of chronic inflammation associated with bone diseases and cancer.

---

Current Projects

Targeting of IKK-Epsilon alone or in combination with chemotherapeutic drugs for breast cancer treatment.
Regulation of adipocyte – cancer cell crosstalk by NFkB signalling.
Role of TRAFs/NFkB signalling in inflammation associated with metastatic cancer.
Role of RANK/NFkB signalling in cancer cell behaviour in bone.
Regulation of bone – immune – malignant cell interactions by the Endocannabinoid/NFkB axis.
Publications

Show: Featured publications All publications

Featured publications

Books

Journal articles

Chapters

All publications

Books

Journal articles

Chapters

Conference proceedings papers

Patents

Other

Preprints
Teaching interests

Supervise undergraduates, MSc and PhD students in my laboratory
Teach a module on hypothesis testing and experimental design in medical research
Teach and run tutorials on research skills to PhD students
Act as lead tutor to postgraduate students
Act as personal academic tutor to medical, MSc and PhD students
Professional activities and memberships

Chairman, Data Scientist and Founder at AiS Think-Tank (2021 - present).
Founder of the cloud-based software PubFund.
Editor, Springer Bone Research Protocols, 3rd edition (2019)
Editor-in-Chief and Founder, HubLE - The IFMRS Learning Environment (2019-21)
Associated editor at BoneKEy Reports (2013 - 2017)
Member of editorial board of Calcified Tissue International
Editor, Cancer and Bone, Calcified Tissue International (February, 2018)
Member of British Pharmacological Society (BPS), European Calcified Tissue Society (ECTS), International Bone and Mineral Society (IBMS) and American Society for Bone and Mineral Research (ASBMR).
Ad hoc reviewer for a number of national and international science journals and research charities.
Board member of the Calcified Tissue International Society (ECTS, 2010 – 2013).
Founder of the ECTS Postdoc Gathering and co-founder of ECTS New Investigator Seminar.
Co-founder and chair of the ECTS New Investigator Committee (2010 – 2013).

---

Startup Companies

PF SYSTEM Ltd - Founder of PF System Ltd. (Registration No: 11983932), a company established to develop the cloud-based software, PubFund in collaboration with a team of independent software engineers.
ArthElix Ltd - Founder and shareholder of ArthElix Ltd. (Registration No: 10597512), a company established in 2017 to develop and test novel TRAF/NFkB inhibitors as a novel class of anti-rheumatic and anti-metastatic drugs.
OSTEORX LIMITED - Co-founder and shareholder of OSTEORX LIMITED (Registration No: SC288265), a company established in 2005 to develop biphenyl-carboxylic acid compounds and their non-hydrolysable derivatives as a novel class of anti-rheumatic drugs. OSTEORX LIMITED and Modern Biosciences plc. have recently entered into an R&D alliance and global option and licence agreement with Janssen Biotech, Inc.

---

Awards

Young investigator award (ECTS, 2007)
AMGEN/ECTS Bone Biology Fellowship
Young investigator award (ECTS, 2006)
IBMS Young investigator award (ECTS, 2005)
Young investigator award (ECTS, 2004)
Frontiers of Skeletal Biology Young investigator award (2002)