Dr Ning Wang
BSc, MSc, MRes, PhD, FHEA
Department of Oncology and Metabolism
Principal Investigator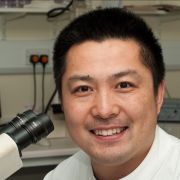 n.wang@sheffield.ac.uk
+44 114 215 9216
DU30, D Floor, The Medical School
Full contact details
Dr Ning Wang
Department of Oncology and Metabolism
DU30, D Floor
The Medical School
Beech Hill Road
Sheffield
S10 2RX

Profile

For enquiries, please contact - iicd-om-operational@sheffield.ac.uk

I undertook my undergraduate (BSc) and postgraduate (MRes) training in biology at Ocean University of China. After moving to the UK in 2004, I studied the trend of Biotech-industry development at Loughborough University and gained my MSc in Management the following year.

I then joined Professor Alison Gartland's group in Sheffield and was awarded my PhD in 2010 after completing my PhD project in investigating the roles of purinergic signalling in osteoporosis. I was subsequently appointed as a Post-doctoral Research Associate in Dr Colby Eaton's lab and developed the models used in the identification of dormant metastasis initiating tumour cells in a Cancer Research UK programme grant.

I was then employed as a Senior Post-doctoral Research Associate in Professor Tim Skerry's group within the Department of Oncology & Metabolism and worked on the Wellcome Trust sponsored programme in development of novel agents for the treatment of pancreatic cancer.

I am currently a Principal Investigator in the Cancer theme in the Department of Oncology & Metabolism.
Research interests

My research interests are focused on bone oncology and bone biology. My current autonomous research is to determine how exercise-induced cellular changes affect cancer bone metastasis.

I am also interested in characterizing metastasis initiating cells and investigating interactions between these cells and bone microenvironment, as continuous development of a Cancer Research UK sponsored research programme. In addition, investigating the role of purinergic signalling in other musculoskeletal diseases such as osteoporosis and osteoarthritis is also in my research interests.

Current projects

Determining the impact of mechanical loading induced bone remodelling on the initiation and progression of prostate cancer skeletal metastasis (Prostate Cancer UK Research Innovation Award)
Determining the impact of exercise on the initiation of breast cancer skeletal metastasis using pre-clinical models (Weston Park Cancer Charity Large Grant)
Defining the role of P2X7 receptor in the prostate cancer metastasizing into the skeleton (The Royal Society International Exchange Scheme)
Publications
Research group

PhD students

Hector M Arredondo
Jiepei He
Grants

Sponsors
Teaching interests

My teaching interests are mainly supervising research projects for both postgraduates (PhD and MSc) and undergraduate (BMedSci and SSC). I also teach cancer and bone biology related lectures on the MSc in Human Nutrition, MSc in Molecular Medicine, and the CIMA MRes Musculoskeletal Ageing.
Professional activities

I am currently a member of the ECTS (European Calcified Tissue Society) Academy (2019-2024). I regularly review research articles for a number of international journals, such as Nature Communication, Journal of Bone and Mineral Research, International Journal of Cancer, Calcified Tissue International, as well as grant applications for external funding bodies, such as Molecular & Cellular Medicine Board (MCMB), MRC.