Dr William English
BSc, PhD
Department of Oncology and Metabolism
Research Fellow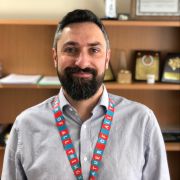 Profile

For enquiries, please contact - om-operational@sheffield.ac.uk

I completed my PhD in biochemistry in 1996 with Professor Robert Freedman at the University of Kent and the Protein Engineering Department at the Institute of Food Research, Reading, before working in the European Molecular Biology Laboratory, Heidelberg with Professor Tom Creighton.

I joined the group of Professor Gillian Murphy in 1997 and remained with the Murphy group until 2010. During this period I worked first within Strangeways Laboratory, Cambridge followed by the University of East Anglia and then on to the Cambridge Institute for Medical Research in 2002 where I was awarded a British Heart Foundation Intermediate Research Fellowship. In 2007 I moved to the newly formed Cancer Research UK Cambridge Research Institute as part of the Proteases and Tumour Microenvironment Group.

I joined the Tumour Microcirculation Group led by Prof Gillian Tozer at the University of Sheffield in 2011 to continue my research interests in vascular biology and the tumour microenvironment, becoming a permanent academic member of staff as Research Fellow in 2013.
Research interests

My team's research is focused on understanding how the tumour microenvironment regulates cancer biology. My projects use an interdisciplinary approach, combining bioinformatics analysis with in vitro and in vivo models of cancer to understand how the tumour microenvironment regulates response and resistance to therapy, and in turn how this impacts on metastasis.

I am particularly interested in how the Vascular Endothelial Growth Factor (VEGF) family of ligands and receptors influence the tumour microenvironment, cancer cell migration and metastasis. Although there has been significant interest in how these ligands and receptors regulate tumour vascular biology, less is known about their function within the cancer cells themselves or in non-vascular stromal cells within the tumour microenvironment.

I also collaborate with the Department of Materials Science in the Faculty of Engineering to develop synthetic vascular constructs to support tissue engineering applications and the development of artificial tumour microenvironments.

Current projects include:

Bioinformatics analysis of data across multiple cancers to identify links between survival and VEGF – VEGFR gene family expression to identify biomarkers and novel co-therapies.
Development of ovarian and colorectal cancer cell lines via CRISPR/Cas9 and ZFN based gene editing to understand how VEGF – VEGFR signalling influences response and resistance to therapy.
Characterisation of VEGF – VEGFR signalling within the tumour microenvironment of soft-tissue sarcoma and its influence on sarcoma metastasis.
Understanding the role of sarcoma-associated fibroblasts in soft-tissue sarcoma biology and response to therapy.
Characterisation of novel 3D printed surfaces for the isolation of metastatic cells.

I would like to thank the following for supporting my groups research:

Yorkshire Cancer Research
Weston Park Cancer Charity
FIDERH
CONACYT
Publications
Research group

Current Group Members

Brenda Agüero (PhD student)
Claudia Madrigal (PhD student)
Nada Al Shaaili (PhD student)
Yu-Chin Lee (PhD Student)
Teaching interests

I contribute to teaching on the MSc(Res) in Translational Oncology, the MSc(Res) in Molecular Medicine and the MSc(Res) in Genomic Medicine. I am also deputy module leader of module 1 on the MSc(Res) in Translational Oncology. I supervise research projects on MSc(Res) degrees and the intercalated BMedSci degree.