PhD with Integrated Translational Neuroscience
This PhD with integrated MSc combines a one-year specialised taught MSc programme in Translational Neuroscience with a three-year individual research PhD.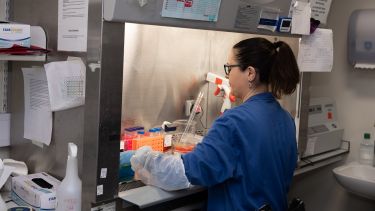 We recommend this option for applicants who are specifically seeking a four-year PhD programme and/or those wishing to acquire more relevant specialist knowledge and skills before commencing a PhD research project.
Enhanced PhD skills
In addition to a standard PhD research project, the course is designed to provide students with generic research and personal development skills, together with a thorough grounding in Translational Neuroscience theory and practice. This culminates in a PhD research project allowing students to acquire in depth research expertise in their chosen field.
Generic skills are acquired through the University's Doctoral Development Programme (DDP), while the School's Translational Neuroscience MSc course provides the core scientific grounding, through a series of taught modules and a 5 month research project. For those whose first language is not English, we also offer the option of an intensive English Language refresher course prior to the start of the course.
Successful completion of the course will result in the award of an MSc in Translational Neuroscience (after the first year) and finally, a PhD in Integrated Studies. This combination of enhanced personal, theoretical and research skills gives graduates a significant advantage upon graduation.
Programme content
Year 1
July-September
Optional intensive English Language training
September-March
Core MSc modules which introduce fundamental neuroscience, as well as neurodegenerative and neuropsychiatric diseases.
March-September
MSc: Research Project and Dissertation
Years 2-3
Taught DDP modules to further enhance generic skills as well as general and specific scientific skills.
PhD research project
Presentation of work at annual 1st year PhD symposium and 2nd year PhD research poster day
Year 4
Completion of research project
Presentation at annual 3rd year PhD symposium
Thesis write up and oral examination
Programme assessment
All of the compulsory Masters and DDP modules are assessed by coursework or examination. Research theses will be written up independently although there may be some overlap in topics. Assessment of the doctoral thesis is by oral examination.
Please note that students may not be permitted to continue on the PhD course if they fail to make satisfactory progress on the Masters´ course.
Entry requirements
Applicants must hold a good honours degree in an appropriate area such as biosciences, medicine etc and an IELTS score (or equivalent) of 7.0 or above, including a score of at least 7.0 in listening.
Fees
Please contact the programme leader for the current fees.
How to apply
This is done by completing the online application form. Applicants should state 'Medical School' as the department in which they wish to study. Please also include all relevant educational and research experience and the reasons why you wish to be considered for the PhD with Integrated Translational Neuroscience MSc programme.
Programme Leader
Academic Neurology Unit
Department of Neuroscience
Sheffield Institute of Translational Neuroscience
University of Sheffield
Room B28
385a Glossop Road
Sheffield
S10 2HQ
Telephone: +44 114 22 22243
Email: J.D.Wood1@sheffield.ac.uk
Find a PhD
Search for PhD opportunities at Sheffield and be part of our world-leading research.