Biodiversity in European chickens
This project aims to assess the genetic diversity among different breeds and strains of chickens.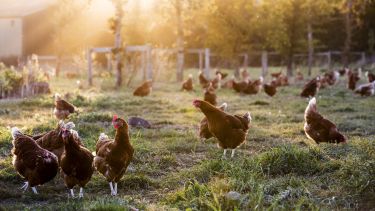 Off
Variation in these populations occurs as a result of domestication and regional conditions (such as climate, diseases and feeding). This genetic variation may have been lost in modern commercial egg-layer and broiler lines due to the extreme selection processes under which they are produced.
Traditional and rare breeds and wild populations may therefore provide a pool of genetic variability potentially of importance to the improvement and future development of commercial lines. However, the population sizes of many of these local breeds have been severely reduced.
Information from this study will determine how much variation is unique to various breeds and provide an important baseline for the development of conservation initiatives to preserve these resources.
A total of 50 chicken strains have been sampled, varying from a semi-wild population of Red Jungle Fowl (the presumed ancestor of all chickens) to pedigree birds such as the Dorking, and highly selected commercial lines. Two main methods are being used to resolve differences between these populations:
Microsatellite typing, which will allow us to assess the number and frequency of different alleles within each population.
Analysis of DNA sequences to identify mutations within and between populations. This will allow us to determine how closely related the different breeds are to each other and their relative degree of inbreeding.
Personnel
Dr. Pippa Thomson (1999-2000)
Collaborators
This project is funded by an EC grant to eight collaborating laboratories

Dr. S. Weigend, Institute for Small Animal Research, Celle/Merbitz, Denmark
Dr. K. Wimmers, Institute for Animal Breeding and Animal Behaviour, University of Bonn, Germany
Dr. Martien Groenen, Wageningen Institute of Animal Sciences, Netherlands
Dr. M. Tixier-Boichard, INRA, Jouy-en-Josas, France
Dr. A. Vignal, INRA, Toulouse, France
Dr. A. Maki-Tanila,The Agricultural Research Centre (MTT), Finland
Dr. J. Hillel, Hebrew University of Jerusalem, Israel
Associated links
The Hebrew University of Jerusalem
Wageningen Institute of Animal Sciences Animal Breeding and Genetics group
Flagship institutes
The University's four flagship institutes bring together our key strengths to tackle global issues, turning interdisciplinary and translational research into real-world solutions.