Effects of genetic impoverishment on plant community structure and diversity
The contribution of genetic diversity to the maintenance of species-richness in communities remains uncertain.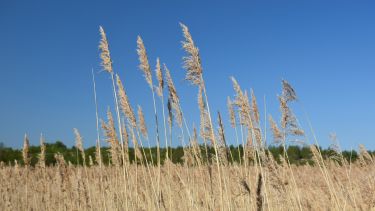 Off
To address this problem, an intensive programme of vegetative propagation has been conducted on 11 co-existing, long-lived, out breeding grasses, sedges and forbs removed at random from a small area of ancient, species-rich pasture in Cressbrookdale NNR, North Derbyshire.
In 1997, the resulting stocks of genetically-identical materials were used to create, for the first time anywhere in the world, plant communities identical in species composition (11 species, 16 individuals per species) but differing in the level of genetic diversity in all component populations.
For the past two years we have examined the consequences of genetic impoverishment by comparing the structure and dynamics of replicated communities in which species are represented by 16 genotypes/4 genotypes or 1 genotype only.
Already, in the second growing season, distinctive effects of impoverishment have been detected in five component species in which genotype-dependent expansions, contractions or pathogen attacks have occurred in the communities lacking genetic diversity.
Stocks of each genotype have been maintained and will be available for comparative studies and competition experiments, designed to identify the traits responsible for the differences in response between genetic individuals.
Genetic markers (AFLP's or microsatellites) will be developed allowing detailed study of the architecture and time-course of the collapse of species diversity in genetically-impoverished communities in particular through the identification of genetically-identical individuals.
This project will provide training in community ecology, genetics, molecular techniques, physiological ecology and conservation biology.
Personnel
Supervisors
Professor Terry Burke (t.a.burke@sheffield.ac.uk)
Professor J Philip Grime (j.p.grime@sheffield.ac.uk)
This project is funded by a studentship from the Natural Environment Research Council (http://www.nerc.ac.uk/).
A global reputation
Sheffield is a research university with a global reputation for excellence. We're a member of the Russell Group: one of the 24 leading UK universities for research and teaching.