Gene mapping in Soay sheep by linkage and linkage disequilibrium analysis
We are investigating the genetic architecture of fitness-related traits in a free-living population of Soay sheep on the remote Scottish archipelago of St. Kilda.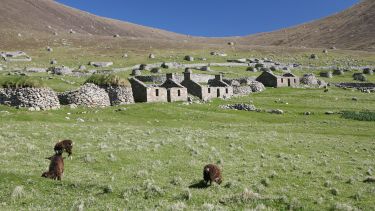 Off
The team is split between the Institute of Cell, Animal and Population Biology at the University of Edinburgh and the Department of Animal and Plant Sciences, University of Sheffield.
The main aim of this component of the project is to identify, type and analyse single nucleotide polymorphisms (SNPs) in various regions of the Soay sheep genome. Genomic regions of interest will include:
regions known to be segregating for quantitative trait loci (QTL) for fitness-related traits, and
genes known to cause variation in fecundity and growth in domestic sheep.
Collaborators in Edinburgh will be using microsatellites to linkage map QTL for fitness traits in the study population.
Personnel
Dr Jake Gratten (2003-2006) - Postdoctoral Researcher
Dr Philine Feulner (2007-2009) - Postdoctoral Researcher
Susan Johnston (2006-2011) - Postgraduate Student
Supervisors
Professor Jon Slate, Co-Investigator
Email: j.slate@sheffield.ac.uk
Josephine Pemberton, Principal Investigator (Edinburgh)
Peter Visscher, Co-Investigator (Edinburgh)
Other personnel involved in the project
Dario Beraldi (Graduate RA, Edinburgh)
Links
St Kilda (includes St Kilda Soay Sheep Project). St Kilda is in the care of the National Trust for Scotland.
The National Trust for Scotland
This project is funded by the Natural Environmental Research Council under the Environmental Genomics Thematic program.
Flagship institutes
The University's four flagship institutes bring together our key strengths to tackle global issues, turning interdisciplinary and translational research into real-world solutions.