Undergraduate course modules
Following a firm grounding across the breadth of our curriculum in first year, our students are free to range across our seven subject areas according to their own musical strengths and passions.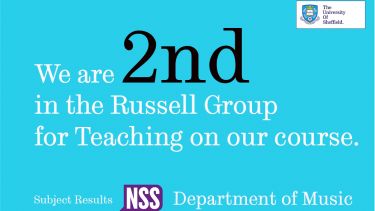 With the support of a personal tutor, you will take advantage of our impressive array of module choices, most of which are assessed through projects, performances and coursework.
Dual Honours programmes are very flexible. The music modules for Combined Honours students are the same as those for BMus students except that there are no compulsory modules. You can choose to split your 120 credits per year equally 60:60 between your two subjects, or you can choose a 'major/minor' split of 80:40.
The part-time degree requires students to take 60 credits per year. The first year includes 40 credits of compulsory modules, followed by 30 credits in the second year. 
Teaching and learning changes for 2020-21
Due to the coronavirus pandemic we have made some changes to teaching and learning for some courses in the 2020-21 academic year.
Find out about teaching and learning changes
These pages will be updated regularly, so please check back for the latest information about your course.
Please be aware that due to coronavirus pandemic developments, there might be unforeseen changes to some of the modules on offer for 2021 entry. 
Modules
Select 120 credits from the following options (* = compulsory module for BMus):
History of Western Music* (20 credits)
This module considers key moments in western music from Middle Ages to the present. Taking individual composers and works it will introduce you to different approaches to music history, the development of particular genres and the impact of cultural, historical and geographical context, as well as to the critical use of sources.
Music of the World* (20 credits)
A survey of significant examples of music from around the world, including traditional, popular and classical genres. After an initial focus on the concept of music itself, each lecture considers the role of one form of music in its cultural context.
The Materials of Music* (10 credits)
Aims to introduce, develop and refine ways of thinking, listening and writing about classical music. You will learn to listen to and write critically about music in performance and to analyze harmonic, tonal, motivic, thematic, melodic, rhythmic, textural and formal features of western music.
Harmony and Counterpoint* (10 credits)
An introduction to the writing and analysis of 18th-century 'common practice' harmony and counterpoint, covering Bach chorales but also improvisation techniques learned by music students in 18th-century conservatoires.
Technologies for Music* (10 credits)
Nowadays, most forms of music-related study involve music technologies. This module introduces students to a range of pertinent technologies, focussing upon four key areas: sound recording, editing, transformation and representation. In each case, students experience some of the many ways in which specific technologies serve the many different music disciplines. They go on to learn the essential principals of those technologies, before learning how they work in practice. By the end of the module, students will be versed in the basics of digital audio, microphone choices and placement, sound recording techniques, wave-editing, MIDI, sound effects and plugins, file types and formats, digital transcription and scoring, and visual representations of sound.
Composition (20 credits)
This module is concerned with the foundations of original composition; you are encouraged to develop an open-minded approach to contemporary methods in composition. Pieces written for assessment may be performed by other members of the group.
Performance (20 credits)
Instrumental lessons are offered throughout both semesters. In Semester 2 performance classes are held with the Director of Performance. The course aims to develop the musical and intellectual abilities necessary for solo performance. Particular attention is paid to stylistic interpretation and communication in performance.
Folk Music Participation (10 credits)
This module develops your general knowledge of traditional musics of the British Isles and neighbouring regions. It also encourages students to analyse the connections and distinctions between repertoires and consider how they relate to their participatory contexts of sessions and folk clubs. It develops important practical musicianship skills (such as learning and teaching orally/aurally), and the ability to reflect critically on the social act of participation in this ostensibly inclusive genre of music-making.
Composing Electronic Music (10 credits)
This module aims to equip students with the knowledge and skills necessary to compose various forms of electronic music. It introduces students to some of key figures within the field, surveys some of numerous musical genres and traditions that feed into this diverse form of artistic practice, and surveys a number of technologies and techniques typically used in the creation of electronic music. Students will learn how to process and develop a range of recorded and synthetic sound materials, before considering some of the various ways in which those materials may be used to compose electronic pieces.
Popular Music Studies (10 credits)
As an introduction to the subject, the changing definitions of 'popular music' are studied in relation to their socio-cultural contexts, and major issues and debates in popular music are investigated. Classes involve lectures, group discussions and in-class tasks.
Introduction to Music Psychology (10 credits)
This module aims to give musicians an awareness of the characteristics of scientific explanations and the problems and benefits of approaching music from a scientific perspective. It explores scientific approaches to music through selected topics in music psychology, such as psychoacoustics and music perception, music's evolutionary origins, and considers the benefits and value of music making and listening. Teaching and learning takes the form of lectures, demonstrations, collaborative learning, group-working in written and spoken forms.
Ensemble Participation (10 credits) 2021 Entry Only
This module is based upon participation in and preparation for rehearsals and performances of the ensembles hosted by the Department of Music: the University of Sheffield Symphony Orchestra, Wind Orchestra, Chamber Orchestra and Chamber Choir. Through intensive preparation of challenging repertoire, students will develop their understanding of the demands and pleasures of large ensemble performance and their knowledge of the repertoire concerned, and be encouraged to reflect upon the roles and responsibilities of individual performers within the group. They will also be required to attend a professional ensemble concert or concerts within the university concert series.
Up to 40 credits can be taken in other departments through the Interdisciplinary Programmes Office, or through Languages for All.
Select 120 credits in each year.
Optional modules across our seven areas of expertise are available to students in Years 2 and 3. These modules are taught on a two-year rotation, with the exception of the seven specialist subject area modules, which run on an annual basis.
In Year 2 BMus students must select at least 60 credits from the subject area modules, which develop deeper understanding of key methods and concepts. For students on dual programmes all modules are optional.
In Year 3 BMus students must take one 40-credit Final Year Project module. Students on dual programmes must take at least 20 credits from among the Final Year Project modules. Optionally, students can also take a second Final Year Project module at 20 or 40 credits.
Up to 20 credits in each year can be taken in other departments, through the Interdisciplinary Programmes Office, or through Languages for All.
Performance

Intermediate Performance (Annual Module; 20 credits)

Develops students' understanding of issues and techniques related to performance. Students take individual instrumental/vocal lessons, which run alongside lectures throughout the academic year.

Practical Musicianship (Rotational; 20 credits)

Using classical, jazz and contemporary improvisation as its starting point, this module will introduce students to skills and techniques related to practical musicianship. By learning a range of skills related to realising and developing scores, students will learn how to become more flexible and sensitive as performers.

Ensemble Performance Skills (Rotational; 20 credits)

This module will enable students with appropriate instrumental or vocal skills to develop ensemble playing, and will present students with the opportunity to interact with other musicians in a supervised situation.

Composition

Intermediate Composition (Annual Module; 20 credits)

Students will be guided in the development of an individual composition practice. Emphasis will be on crafting pieces of extended duration and writing skillfully for instrumental and vocal ensembles. Some formative analytical work will be set and students will explore relevant repertoire through listening, score study and attendance at concerts.

Orchestral Technique (Rotational; 20 credits)

Aims to acquaint students with the principal orchestral techniques used by composers from the Classical period to the present, with the historical and stylistic context of those techniques, with the capabilities and limitations of individual orchestral instruments, and with their effect in combination.

Sound and Moving Image (Rotational; 20 credits)

Will give students the opportunity to create sound to picture and familiarise themselves with a variety of software. Students will be responsible for the entire project from the ideas stage through the creation of all audio materials. A range of existing movies, visual musical works and relevant literary texts will be studied; students are expected to use these to inform their own work.

Musicology

Musicology (Annual Module; 20 credits)

Introduces the discipline of musicology, outlining its nature, scope and history, and developing research skills and methods in three core areas: 1. music analysis; 2. archival research and editorial techniques (i.e. dealing with historical documents relating to music); and 3. 'critical musicology', engaging with recent and contemporary debates in the discipline.

Music in Renaissance Europe (Rotational; 20 credits)

Offers an accessible introduction to European repertoire dating from ca.1400-1600. Students will learn to evaluate and describe features of style and technique in Renaissance music, and to recognise the impact of contextual factors, such as technologies, ideologies and patrons.

Baroque Music (Rotational; 20 credits)

Gives students the opportunity to research vocal and instrumental music dating from ca.1600 to ca.1750, covering context, analysis, editorial techniques, and performance practice.

Mozart in Vienna, 1781-91 (Rotational; 20 credits)

Examines Mozart's career as performer and composer in Vienna (1781-91), looking at the environments and circumstances in which he worked and the aesthetic contexts in which he thrived.

The Broadway Musical (Rotational; 20 credits)

This module will examine the development of the musical from Kern's Show Boat to the present day. As well as considering the subject matter, lyrics and music of Broadway musicals, the course will also explore the nature of the collaborative process between composer, lyricist, choreographer and book writer.

Music Psychology

Psychology of Music: Methods and Applications (Annual Module; 20 credits)

Lays the foundation for students to be able to research a music psychological topic using psychological research methods and consider its relevance for the music profession. Teaching is problem-based, meaning that students work on research design and data collection methods to tackle an issue or problem that may be encountered in musical contexts.

Music and Wellbeing (Rotational; 20 credits)

This module will provide students with knowledge of how music interventions are designed and actioned in order to support health and wellbeing challenges. Teaching sessions will feature input from music therapists as well as community care projects.

Music Psychology in Everyday Life (Rotational; 20 credits)

Students will look into diverse uses of music in different everyday situations including commercial settings, therapeutic and clinical settings and at home, the reasons for the use of music in these situations and possible explanations of music's ability to support social, emotional and therapeutic functions.

Musical Industries

Music Promotions (Annual Module; 20 credits)

This practical module, running across two semesters, provides an introduction to key concepts and methods essential to effective music promotion. Students work in groups to plan and implement a promotion strategy for an event or music product release, applying theoretical principles of music promotion into practice.

Music Placements (Rotational; 20 credits)

This practical module, running across two semesters, provides an introduction to key concepts and methods essential to effective music promotion. Students work in groups to plan and implement a promotion strategy for an event or music product release, applying theoretical principles of music promotion into practice.

Community, Music and Education (Rotational; 20 credits)

This module provides a theoretical and practical introduction to music in education and community settings, and aims to give students an awareness of musical learning in its broadest sense, from the formal classroom setting and instrumental studio to the work done by community support groups and in health care units, to more recreational musical practice in the community. Students taking this module must have a satisfactory DBS check in place.

Music Technology

Creative Applications of Music Technology (Annual Module; 20 credits)

Focuses upon the creative use of computers to produce sonic art and provides an opportunity for students to realise their own compositions, from initial source recordings, transformation and mixing through to the production of a work.

Sound Recording Practice (Rotational; 20 credits)

Examines the fundamental theories of recording, providing an opportunity for students to realise their own recordings, overseeing production from an initial planning stage through to semi-commercial production.

Ethnomusicology

Ethnomusicology (Annual Module; 20 credits)

Provides an introduction to ethnomusicology, the study of any music in relation to the culture and values of its users. Emphasis is placed on learning ethnomusicological theory and method. Assessment is through a sustained individual fieldwork project.

Traditional Music in the Modern World (Rotational; 20 credits)

Provides an introduction to the study of traditional music, focussing on traditional music cultures in contemporary societies. A range of approaches are used to consider the traditional identities these music cultures construct, and how they relate to their modern, economic, political and technological contexts.

Topics in Popular Music (Rotational; 20 credits)

This module explores in depth a range of models, case studies and themes for the study of Popular Music. Students are introduced to varying analytical and critical approaches to the study of popular musics in global perspective. As well as developing a factual knowledge of the genres covered in the module, students will develop a critical awareness of research methods and discursive themes in the field of popular music studies.

World Music Performance (Rotational; 20 credits)

Students acquire a practice-based understanding of one world music tradition (selected in advance by the course tutor), improving their musical performance skills and experiencing first-hand the modes of transmission that are part of the tradition.

Final Year Projects

Recital (20 or 40 credits)

Composition Folio (20 or 40 credits)

Dissertation (20 or 40 credits)

Special Project (20 or 40 credits)
The content of our courses is reviewed annually to make sure it is up-to-date and relevant. Individual modules are occasionally updated or withdrawn. This is in response to discoveries through our world-leading research, funding changes, professional accreditation requirements, student or employer feedback, outcomes of reviews, and variations in staff or student numbers. In the event of any change we'll consult and inform students in good time and take reasonable steps to minimise disruption.
Information last updated: 21 September 2020
---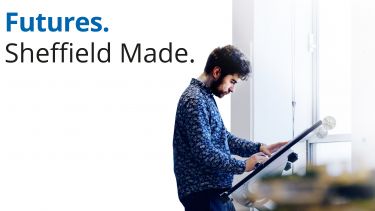 Undergraduate online open days
We're number one in the north for graduate employment. Find out why at our online open day on ​​​Saturday 17 October.