3D-printed guides can help restore function in damaged nerves
Scientists at the University of Sheffield have succeeded in using a 3D printed guide to help nerves damaged in traumatic incidents repair themselves.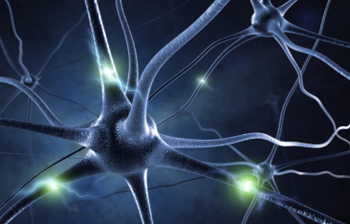 The team used the device to repair nerve damage in animal models and say the method could help treat many types of traumatic injury.
The device, called a nerve guidance conduit (NGC), is a framework of tiny tubes, which guide the damaged nerve ends towards each other so that they can repair naturally.
Patients with nerve injuries can suffer complete loss of sensation in the damaged area, which can be extremely debilitating. Current methods of repairing nerve damage require surgery to suture or graft the nerve endings, a practice which often yields imperfect results.
Although some NGCs are currently used in surgery, they can only be made using a limited range of materials and designs, making them suitable only for certain types of injury.
The technique, developed in Sheffield's Faculty of Engineering, uses Computer Aided Design (CAD) to design the devices, which are then fabricated using laser direct writing, a form of 3D printing. The advantage of this is that it can be adapted for any type of nerve damage or even tailored to an individual patient.
Researchers used the 3D printed guides to repair nerve injuries using a novel mouse model developed in Sheffield's Faculty of Medicine, Dentistry and Health to measure nerve regrowth. They were able to demonstrate successful repair over an injury gap of 3mm, in a 21-day period.
"The advantage of 3D printing is that NGCs can be made to the precise shapes required by clinicians," says John Haycock, Professor of Bioengineering at Sheffield. "We've shown that this works in animal models, so the next step is to take this technique towards the clinic".
The Sheffield team used a material called polyethylene glycol, which is already cleared for clinical use and is also suitable for use in 3D printing. "Further work is already underway to investigate device manufacture using biodegradable materials, and also making devices that can work across larger injuries" says Dr Frederik Claeyssens, Senior Lecturer in Biomaterials at Sheffield.
"Now we need to confirm that the devices work over larger gaps and address the regulatory requirements," says Fiona Boissonade, Professor of Neuroscience at Sheffield.
The research, published in the journal Biomaterials, was funded by the Engineering and Physical Sciences Research Council and the Medical Research Council.
Additional information
Nerve Guides Manufactured from Photocurable Polymers to aid Peripheral Nerve Repair by Christopher Pateman, Adam Harding, Adam Glen, Caroline Taylor, Claire Christmas, Peter Robinson, Steve Rimmer, Fiona Boissonade, Frederik Claeyssens and John W Haycock is published in Biomaterials. http://authors.elsevier.com/sd/article/S0142961215000721
A video on the research is available at: https://www.youtube.com/watch?v=w9lqn-MMs4g
Engineering in Sheffield
The Faculty of Engineering at the University of Sheffield is one of the biggest in the UK. With seven departments and two interdisciplinary programmes covering all the engineering disciplines, 4,300 students, 950 staff and £50M annual research-related income from government, industry and charity, it is one of the best institutions in the world to study or do research in engineering.
The Faculty has a long tradition of working with industry including Rolls-Royce, Network Rail and Siemens. Its industrial successes are exemplified by the award-winning Advanced Manufacturing Research Centre (AMRC), the £25 million Nuclear Advanced Manufacturing Research Centre (NAMRC) and – jointly with Boeing – the new £43M Factory 2050, the UK's first fully reconfigurable digital factory.
www.shef.ac.uk/faculty/engineering/
The University of Sheffield
With almost 26,000 of the brightest students from around 120 countries, learning alongside over 1,200 of the best academics from across the globe, the University of Sheffield is one of the world's leading universities.
A member of the UK's prestigious Russell Group of leading research-led institutions, Sheffield offers world-class teaching and research excellence across a wide range of disciplines.
Unified by the power of discovery and understanding, staff and students at the university are committed to finding new ways to transform the world we live in.
In 2014 it was voted number one university in the UK for Student Satisfaction by Times Higher Education and in the last decade has won four Queen's Anniversary Prizes in recognition of the outstanding contribution to the United Kingdom's intellectual, economic, cultural and social life.
Sheffield has five Nobel Prize winners among former staff and students and its alumni go on to hold positions of great responsibility and influence all over the world, making significant contributions in their chosen fields.
Global research partners and clients include Boeing, Rolls-Royce, Unilever, AstraZeneca, Glaxo SmithKline, Siemens and Airbus, as well as many UK and overseas government agencies and charitable foundations.
For further information, please visit www.sheffield.ac.uk
Contact
For further information please contact: 
Shemina Davis
Media Relations Manager
University of Sheffield
0114 222 5339
shemina.davis@sheffield.ac.uk