Titanium Powder used to 3D print automotive parts
A double world-first breakthrough in metal manufacturing
University uses 3D printer to make parts for aerospace and automobiles
Low-cost titanium powders have made it possible to 3D print automotive parts for the very first time
To date, the 3D printing revolution has focused on the use of plastics – cheap printers' feedstock and high throughput. Until now 3D printing with metal has been prohibitively expensive because of the cost of titanium powders which currently sell for $200-$400 per kilogram.
Rotherham based company Metalysis have developed a new way of producing low-lost titanium powder, which heralds a new era in additive layer manufacture, and will see greater use of titanium in components across the automotive, aerospace and defence industries.
The Renishaw 3D printer, which is based at the Mercury Centre within the Department of Materials at the University of Sheffield, made the parts, demonstrating the feasibility of producing titanium components using additive layer manufacturing.
The Metalysis process is radically cheaper and environmentally benign compared with existing titanium production methods, such as the energy-intensive and toxic Kroll process. Currently, the manufacture of titanium powder involves taking the metal sponge produced by the Kroll process, which is then processed into ingot billets, melted into bar form and finally atomised into powder – a costly and labour-intensive four-step process.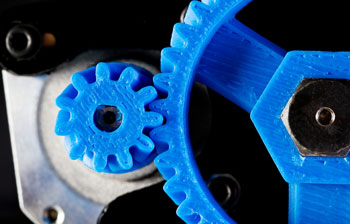 Metalysis takes rutile and transforms it directly into powdered titanium using electrolysis, which is cost-effective and thus essential to the supply chain; the low-cost titanium powder can be used in a variety of new applications whereas previously the metal has been excessively expensive for use in mass production of lower value items.
3D printing brings further cost benefits by reducing waste because the current means of production is subtractive, as components are shaped out of metal billets, which wastes a huge amount of material. Metalysis' low-cost titanium powder enables additive manufacturing with its metal powder, thereby reducing the quantity of material required.
"Professor Iain Todd, Director of the Mercury Centre explained: "There are significant challenges to overcome in taking emerging technologies like metallic 3D printing from the lab to production, not least of which is material cost. The step-change in terms of process economics that this material breakthrough provides takes us ever closer to the time when 3D Printing of metals such as titanium is considered the norm rather than exceptional."
In a further development, the titanium powder used to manufacture the automotive parts is also a world-first, as Metalysis has created titanium from rutile sand, a naturally occurring titanium ore present in beach sands, in one single step. The use of this inexpensive and plentiful feedstock for titanium manufacture will dramatically reduce the cost of titanium production, allowing its increased use.
University of Sheffield Vice-Chancellor, Professor Sir Keith Burnett, said: "We are delighted that this innovative work is being undertaken in the University of Sheffield's world-leading Faculty of Engineering.
"Most people associate 3D printing with plastic parts, but, with Metalysis' titanium powder, we have for the first time demonstrated its potential in the manufacturing of metal parts. This is potentially a significant breakthrough for the many sectors which can benefit from its low-cost production. We look forward to continuing working with Metalysis as they develop this ground-breaking technology."
In addition to titanium, Metalysis is developing tantalum powder and will use its technology to produce a wide range of specialist metals (including rare earths). Furthermore, innovative alloys can be produced using Metalysis' technology because the process is conducted in the solid state, hence metals with significantly different densities or melting points can be alloyed. Metal powders created by the Metalysis process can be engineered to get particle size and distribution correct for a range of PM applications.
Dion Vaughan, CEO of Metalysis added: "Metalysis' rutile-derived titanium powder is produced at lower cost and is suitable for 3D printing so that manufacturing metal components becomes more economical.
"The Metalysis process could reduce the price of titanium by as much as 75 per cent, making titanium almost as cheap as specialty steels. We believe that titanium made by the Metalysis process could replace the current use of aluminium and steel in many products. This world-first for a titanium 3D printed component brings us a step closer to making this a reality."
Additional information

The Mercury Centre
The Mercury Centre project is part financed by the Yorkshire and Humber ERDF Programme 2007-13 European Regional Development Fund Programme 2007 to 2013. The Department for Communities and Local Government is the managing authority for the European Regional Development Fund Programme, which is one of the funds established by the European Commission to help local areas stimulate their economic development by investing in projects which will support local businesses and create jobs. For more information visit www.gov.uk/browse/business/funding-debt/european-regional-development-funding

The University of Sheffield
With nearly 25,000 of the brightest students from 117 countries coming to learn alongside 1,209 of the world's best academics, it is clear why the University of Sheffield is one of the UK's leading universities. Staff and students at Sheffield are committed to helping discover and understand the causes of things - and propose solutions that have the power to transform the world we live in.
A member of the Russell Group, the University of Sheffield has a reputation for world-class teaching and research excellence across a wide range of disciplines. The University of Sheffield has been named University of the Year in the Times Higher Education Awards 2011 for its exceptional performance in research, teaching, access and business performance. In addition, the University has won four Queen's Anniversary Prizes (1998, 2000, 2002, 2007), recognising the outstanding contribution by universities and colleges to the United Kingdom's intellectual, economic, cultural and social life.
One of the markers of a leading university is the quality of its alumni and Sheffield boasts five Nobel Prize winners among former staff and students. Its alumni have gone on to hold positions of great responsibility and influence all over the world, making significant contributions in their chosen fields.
Research partners and clients include Boeing, Rolls-Royce, Unilever, Boots, AstraZeneca, GSK, Siemens, Yorkshire Water and many more household names, as well as UK and overseas government agencies and charitable foundations.
The University has well-established partnerships with a number of universities and major corporations, both in the UK and abroad. The White Rose University Consortium (White Rose) a strategic partnership between three of the UK's leading research universities of Leeds, Sheffield and York. Since its creation in 1997 White Rose has secured more than £100M into the Universities.
Contact
For further information please contact:
Amy Pullan
Media Relations Officer
University of Sheffield
0114 222 9859
a.l.pullan@sheffield.ac.uk