ABC singer takes centre stage in honorary degree ceremonies
Pop star and former ABC singer Martin Fry will be made an honorary Doctor of Music at the University of Sheffield before his daughter takes to the stage to receive her own degree this month (16-20 July 2012).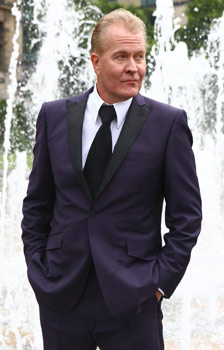 More than 30 years after the legendary songwriter graduated from the University with a degree in English Literature, Martin Fry will receive the award for his contribution to music on Thursday 19 July 2012 at noon.
The Look of Love and Poison Arrow singer will be joined by his family, including his Sheffield born wife Julie, in the University's Octagon Centre before returning the following day as a proud father to watch his daughter Nancy receive her degree from the Department of Sociological Studies.
Stockport born Martin formed ABC in Sheffield in the 1970s when he joined a rock band called Vice Versa - who he met while writing his own city cultural scene fanzine - said: "It's a great honour, this is very special to me.
"It really came out of the blue, I wasn't expecting anything like this at all and I'll carry it with me everywhere I go. The memories and experiences of my time at the University come with me too. I was recently at a radio station in Berlin and they had a paternoster which reminded of Sheffield. I would love to play on top of the Arts Tower.
"Being at the University was a big inspiration and 33 years on it's great to see the shape the University is in, it's gone from strength to strength and remains so active in the community. For me to come back is very exciting and I'm very proud of my daughter too, she's done all the hard work."
All the ceremonies throughout the week are being live streamed in high definition in a UK first offering offering exceptionally clear, crisp pictures with vivid colours and up to five times more detail.
To view the live stream visit www.sheffield.ac.uk/eventsteam/watch and for images taken during the week visit www.shef.ac.uk/eventsteam/gigapixel.
The events will also see the Prime Minister of Luxembourg Jean-Claude Juncker, the longest-serving democratically elected current head of any government in the world and leading economic expert made a Doctor of Letters for his work.
Emeritus Professor Gillian Gehring OBE – only the second ever female professor of Physics in the UK – will receive a Doctor of Science at the awards for her services to the subject and inspiration to many, especially engaging children.
Following a long and distinguished career in the region, Dr Jim Goulding will be awarded a Doctor of Engineering alongside Dr H Peter Jost CBE who pioneered a whole area of study called tribology, focussing on friction, wear and lubrication.
As one of America's most highly respected money managers and financial analysts, alumnus and philanthropist Jeremy Grantham will become a Doctor of Science.
Professor Sir Michael Rawlins, the first chairman of the National Institute of Health and Clinical Excellence (NICE), will be made a Doctor of Medicine.
Medical graduate of the University Professor Stephen Tomlinson CBE will be made a Doctor of Science.
Professor Robert Upton CBE, and a Examining Inspector of Her Majesty's Planning Inspectorate, will become a Doctor of Letters.
Ms Frances Murphy, a law graduate from the University, will receive a Doctor of Laws, as will Professor Paul Wiles.
Additional information
The University of Sheffield
With nearly 25,000 students from 125 countries, the University of Sheffield is one of the UK's leading and largest universities. A member of the Russell Group, it has a reputation for world-class teaching and research excellence across a wide range of disciplines. The University of Sheffield has been named University of the Year in the Times Higher Education Awards for its exceptional performance in research, teaching, access and business performance. In addition, the University has won four Queen's Anniversary Prizes (1998, 2000, 2002, and 2007).
These prestigious awards recognise outstanding contributions by universities and colleges to the United Kingdom's intellectual, economic, cultural and social life. Sheffield also boasts five Nobel Prize winners among former staff and students and many of its alumni have gone on to hold positions of great responsibility and influence around the world. The University's research partners and clients include Boeing, Rolls Royce, Unilever, Boots, AstraZeneca, GSK, ICI, Slazenger, and many more household names, as well as UK and overseas government agencies and charitable foundations.
The University has well-established partnerships with a number of universities and major corporations, both in the UK and abroad. Its partnership with Leeds and York Universities in the White Rose Consortium has a combined research power greater than that of either Oxford or Cambridge.
Contact
For further information please contact:
Paul Mannion
Media Relations Officer
The University of Sheffield
0114 222 9851
p.f.mannion@sheffield.ac.uk