UK approach to advanced apprenticeships sparks international interest as George Osborne begins talks between 'partners in growth'
George Osborne says tens of thousands of British jobs depend on Chinese firms
Unique apprenticeships at the University of Sheffield's Advanced Manufacturing Research Centre seen as model for enhancing productivity from China to the US
Vice-Chancellor calls for the establishment of a Royal College of Apprentices to set a new global standard in advanced manufacturing education
Rolls-Royce director praises quality of university's apprenticeships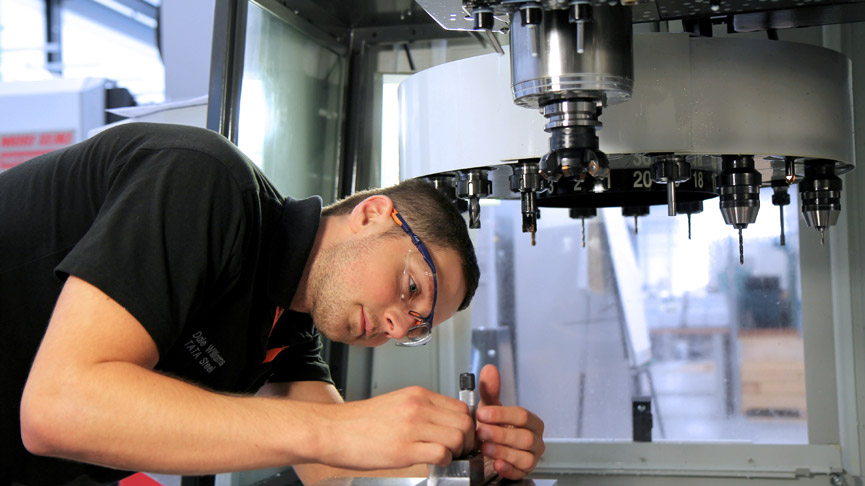 The University of Sheffield's unique approach to advanced manufacturing apprenticeships is gaining significant interest in other advanced manufacturing nations, according to the University's Vice-Chancellor Professor Sir Keith Burnett (22 September 2015).
Sir Keith is currently visiting China with a high-level ministerial delegation led by Chancellor George Osborne focused on commercial partnerships, infrastructure and potential industrial links to the emerging Northern Powerhouse, particularly in advanced manufacturing:
"What we are witnessing in China is a clear interest, not only in the advanced manufacturing research capabilities of the United Kingdom, but in the way our Advanced Manufacturing Research Centre (AMRC) has developed the very highest quality manufacturing engineering training using an apprentice model.
I would like to see the UK not only exporting products, but also understanding the tremendous advantage of sharing the best in apprentice education and creating a global gold standard, ideally through the establishment of a Royal College of Apprentices.

Professor Sir Keith Burnett
"The UK is rightly known around the world for its excellent academic programmes in science and engineering, but all advanced manufacturing economies also need engineers and technicians who have a deep understanding of the high-value manufacturing process and understand how productivity really works in a research-led industrial setting.
"This is what our industrial partners told us they wanted in Sheffield, and we responded to that need. We now have 600 advanced apprentices and a first cohort going into advanced manufacturing degrees which continue this balance between vocational experience and the highest quality engineering education. Moreover, these young people are already employed by the best engineering firms and so they are not accruing student debt. It is a brand new approach to developing a different kind of engineer."
The AMRC approach to apprentices has been endorsed by the Director of Global Manufacturing for Rolls-Royce, Hamid Mughal. He said: "If I had a hundred choices about where to become an engineer, I would choose this. In the future, when people ask what the AMRC produced, they will say it made a new kind of engineer."
Sponsoring companies such as Boeing have also acknowledged the unique way that the AMRC embeds apprentice training in the very latest research environment.
Speaking today, Sir Keith said: "What is clear from Beijing to Boston is that there is a greater need beyond the need for scientists and engineers with conventional training. We also need the superb technicians who can make and repair our mass spectrometers, or the engineers who will be able to translate concepts and research into designs which work in a factory setting. Our partner universities here in China are telling me that this kind of advanced technical education is a priority for them as it sits well with China's ambitions in advanced manufacturing.
"The government is rightly placing more emphasis on apprentices, but we need to get the quality right. I would like to see the UK not only exporting products, but also understanding the tremendous advantage of sharing the best in apprentice education and creating a global gold standard, ideally through the establishment of a Royal College of Apprentices."
Additional information
Sir Keith Burnett FRS is Vice-Chancellor of The University of Sheffield and a member of the Prime-Minister's Advisory Council on Science and Technology. He is also the author of a major report into Advanced Vocational Education with Sir Nigel Thrift, Vice-Chancellor of the University of Warwick: The Future of Higher Vocational Education.
The University of Sheffield is home to two of the UK's national translational research centres - the Advanced Manufacturing Research Centre (AMRC) and the Nuclear AMRC. With over 100 member companies, the AMRC also includes the AMRC Training Centre which is so far home to 600 advanced apprentices, each sponsored by advanced manufacturing companies.
The University of Sheffield is the first UK research-led university to offer full advanced manufacturing degrees as part of an apprentice route - a pilot programme it has developed with the support of the Higher Education Finding Council for England (HEFCE).
On 19 October, Sir Keith will be speaking alongside the Business Secretary Sajid Javid MP on the subject of advanced vocational education and UK productivity. The event will also include a case study of current apprentices, including Russell Fox - University of Sheffield AMRC apprentice and Boeing Apprentice of the Year.
Vice-Chancellor Professor Sir Keith Burnett is a senior advisor to China on language and culture and the Chair of the Sheffield Model Confucius Institute. He is a regular contributor to the UK China debate on innovation and partnership in education, industry and health.
To find out more about our relationship with China visit: www.sheffield.ac.uk/sheffieldinternational/china
The University of Sheffield
With almost 26,000 of the brightest students from around 120 countries, learning alongside over 1,200 of the best academics from across the globe, the University of Sheffield is one of the world's leading universities.
A member of the UK's prestigious Russell Group of leading research-led institutions, Sheffield offers world-class teaching and research excellence across a wide range of disciplines.
Unified by the power of discovery and understanding, staff and students at the university are committed to finding new ways to transform the world we live in.
In 2014 it was voted number one university in the UK for Student Satisfaction by Times Higher Education and in the last decade has won four Queen's Anniversary Prizes in recognition of the outstanding contribution to the United Kingdom's intellectual, economic, cultural and social life.
Sheffield has five Nobel Prize winners among former staff and students and its alumni go on to hold positions of great responsibility and influence all over the world, making significant contributions in their chosen fields.
Global research partners and clients include Boeing, Rolls-Royce, Unilever, AstraZeneca, Glaxo SmithKline, Siemens and Airbus, as well as many UK and overseas government agencies and charitable foundations.
Contact
For further information please contact:
Clare Parkin
Media Relations Officer
University of Sheffield
0114 222 1046
clare.parkin@sheffield.ac.uk