Sheffield University backs plans to create the UK's Advanced Manufacturing Innovation District
The University of Sheffield backs plans to create the UK's first Advanced Manufacturing Innovation District
The Innovation District will centre around the Sheffield-Rotherham corridor, home to the University of Sheffield's Advanced Manufacturing Research Centre (AMRC)
Innovation Districts combine research institutions, innovative firms and business incubators with the benefits of urban living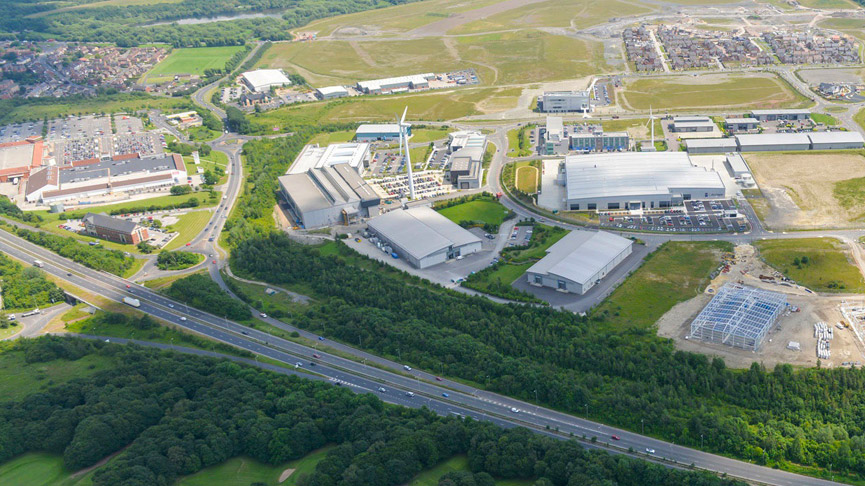 The University of Sheffield is backing an ambitious plan to create the first Advanced Manufacturing Innovation District in the UK.
Europe's largest research-led Advanced Manufacturing cluster, centred around the Sheffield-Rotherham corridor, is already home to the University of Sheffield's Advanced Manufacturing Research Centre (AMRC), the wider Advanced Manufacturing Park (AMP) at Waverley, and the AMRC's Factory 2050 project currently under construction at Sheffield Business Park.
Supporting the announcement the University of Sheffield's Vice Chancellor, Professor Sir Keith Burnett said: "The Sheffield city region has a tremendous opportunity in manufacturing innovation, not only in relation to our own local companies and employment but for the UK as a whole, including to support the UK as an exporter.
"The University of Sheffield's vision to further develop its relationship with industry to produce major infrastructure in energy and transport is a focus of international partnership from China and Brazil, and seen as a having the potential to rebalance the UK's manufacturing economy by the UK government.
"This work also builds on the exceptional talent which we are fortunate enough to have within our university, at the AMRC and in the region's world-leading companies. This asset of experience and vision means our leadership on Science and Innovation is also attracting the support of senior international figures from Boeing, Rolls-Royce, Microsoft and Battelle to deliver this potential."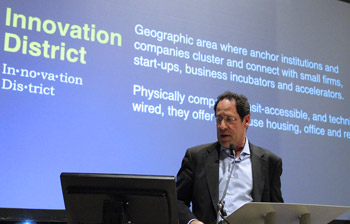 The announcement comes during a three-day visit from Bruce Katz, Vice President of the Washington DC-based Brookings Institution and author of "The Rise of Innovation Districts" who is visiting the University's world-renowned Advanced Manufacturing Research Centres, and considering exciting plans for their development.
He is also spending time in discussions with senior partners from the University and region, supporting the new forms of partnership needed to deliver an integrated vision for development, economic regeneration and its associated benefits.
Innovation Districts combine research institutions, innovative firms and business incubators with the benefits of urban living. Unlike traditional science parks, these districts cluster cutting-edge research in geographic areas that are liveable, walkable, bike-able, and transit connected. For the past 50 years, the global landscape of innovation has been dominated by places like Silicon Valley - spatially isolated corporate campuses, accessible only by car, with little emphasis on the quality of life or on integrating work, housing and recreation. The Innovation district planned around the M1 corridor is proposed to become a high-quality, research- and production-centred focus of advanced manufacturing for the whole of the UK.
During his visit to Sheffield City Region, Mr Katz visited not only the University's Advanced Manufacturing Research Centre but also companies including Forgemasters, the Tata Proving Factory at Newburgh Precision Engineering and Alcoa, which completed the acquisition of Firth Rixson, a global leader in aerospace jet engine components, in November 2014. These companies work in close partnership with the University on the Advanced Manufacturing Park, including sponsoring the next generation of highly-skilled staff through the AMRC Training Centre apprenticeships programme.
Mr Katz also delivered a public lecture in partnership with the University of Sheffield at Sheffield's recently-restored historic Cathedral, entitled "The Rise of Innovation Districts", which attracted more than 400 guests.
Professor Keith Ridgway, CBE, Executive Dean of the AMRC with Boeing, said: "Bruce Katz is a global expert on the development of Innovation Districts, which bring economic growth and help to create clusters of companies ranging from original equipment manufacturers to smaller suppliers and start-ups.
"Construction of the AMRC's Factory 2050, the UK's first, totally reconfigurable, digital factory, on Sheffield Business Park, together with the existing facilities on the Advanced Manufacturing Park give this region a significant opportunity to develop its own Advanced Manufacturing Innovation District.
"Bruce Katz is in a position to provide crucial advice on how this region can achieve that aim and further reinforce its status as the heart of advanced manufacturing in the UK."
Professor Richard Jones, Pro-Vice Chancellor for research and innovation at the University of Sheffield, added: "We're committed as a university to working with the city, region and private sector partners to help revitalise our economy through innovation and skills.
"Our AMRC is recognised internationally for its work with both global and local companies; with the new Apprentice Training Centre in operation, Factory 2050 under construction, and Sheffield's outstandingly innovative companies, we're seeing the rise, in our city, of a powerful innovation cluster for high value manufacturing.
"We're thrilled that Bruce Katz was able to visit Sheffield to give us the benefit of his experience, unrivalled in the world, of how other cities have been able to transform their economies through innovation, and we look forward to putting his insights into practice."
The new Advanced Manufacturing Innovation District will be important not just for Sheffield City Region and the wider Northern powerhouse, but for the UK as a whole, as the region's unique capability in manufacturing technology and engineering is vital to the country's economy through supply to industries such as aerospace, civil nuclear, oil and gas, healthcare technologies and transportation.
Additional information
With almost 25,000 of the brightest students from around 120 countries, learning alongside over 1,200 of the best academics from across the globe, the University of Sheffield is one of the world's leading universities.
A member of the UK's prestigious Russell Group of leading research-led institutions, Sheffield offers world-class teaching and research excellence across a wide range of disciplines.
Unified by the power of discovery and understanding, staff and students at the university are committed to finding new ways to transform the world we live in.
In 2011 it was named University of the Year in the Times Higher Education Awards and in the last decade has won four Queen's Anniversary Prizes in recognition of the outstanding contribution to the United Kingdom's intellectual, economic, cultural and social life.
Sheffield has five Nobel Prize winners among former staff and students and its alumni go on to hold positions of great responsibility and influence all over the world, making significant contributions in their chosen fields.
Global research partners and clients include Boeing, Rolls-Royce, Unilever, AstraZeneca, Glaxo SmithKline and Siemens, as well as many UK and overseas government agencies and charitable foundations.