Nine out of 10 people don't link alcohol and cancer
Almost 90 per cent of people in England don't associate drinking alcohol with an increased risk of cancer, according to a new report* published today (Friday 1 April 2016).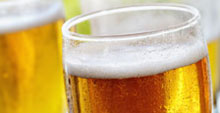 The study, commissioned by Cancer Research UK and led by researchers from the University of Sheffield, found that just 13 per cent of adults mentioned cancer when asked "which, if any, health conditions can result from drinking too much alcohol?"
Drinking alcohol is linked to an increased risk of seven different cancers - liver, breast, bowel, mouth, throat, oesophageal (food pipe), laryngeal (voice box) but the survey highlighted a lack of understanding of the link between drinking alcohol and certain types of the disease.
When prompted by asking about seven different cancer types, 80 per cent said they thought alcohol caused liver cancer but only 18 per cent were aware of the link with breast cancer. In contrast alcohol causes 3,200 breast cancer cases each year compared to 400 cases of liver cancer.
The report, produced by researchers at the University's School of Health and Related Research (ScHARR), comes ahead of the consultation closing on how well new drinking guidelines** proposed by the UK's Chief Medical Officers in January 2016, are communicated.
These drew attention to the link between alcohol and cancer, and highlighted the need for greater public awareness of this risk.
The findings are based on a nationally representative online survey of 2,100** people conducted in July 2015.
The study also showed that only one in five people could correctly identify the previous recommended maximum number of units that should not be exceeded in a day, as recommended at that time in 2015.
Among drinkers, as few as one in 10 men (10.8 per cent) and one in seven women (15.2 per cent) correctly identified these recommended limits and used them to track their drinking habits.
Dr Penny Buykx, a senior research fellow at The University of Sheffield and lead-author of the report, said: "We've shown that public awareness of the increased cancer risk from drinking alcohol remains worryingly low.
"People link drinking and liver cancer, but most still don't realise that cancers including breast cancer, mouth and throat cancers and bowel cancer are also linked with alcohol, and that risks for some cancers go up even by drinking a small amount."
Alison Cox, Cancer Research UK's director of cancer prevention, said: "The link between alcohol and cancer is now well established, and it's not just heavy drinkers who are at risk. This is reflected in the new guidelines issued by the UK's Chief Medical Officers that stated that the risk of developing a range of illnesses, including cancer, increased with any amount of alcohol you drink.
"As the consultation closes on how clear and understandable the new guidelines are, it's concerning that so few people know that alcohol increases the risk of seven types of cancer. If the new guidelines are to make a difference and change drinking habits in the UK national health campaigns are needed to provide clear information about the health risks of drinking alcohol."
Sir Ian Gilmore, Chair of the Alcohol Health Alliance, said: "The lack of public awareness of the link between alcohol consumption and cancer is extremely concerning. Up-to-date research demonstrates the clear link between alcohol and seven types of cancer, and it is not just heavy drinkers who are at risk – any amount increases the risk.
"The Chief Medical Officers have been clear in their new alcohol guideline that there is no level of drinking which can be considered 'safe' from these risks. As the CMOs emphasise, the public have a right to know about the link between alcohol and cancer and other health risks, so that they can make an informed choice about their drinking habits. The Chief Medical Officers are also clear in stating that the government has a responsibility to ensure this information is provided for citizens.
"Consumers have the right to know the health risks of the products they purchase and consume. The Alcohol Health Alliance is calling for health warnings on product labels, along with mass media information campaigns, both strongly supported by the public, to empower informed choice about drinking."
Additional information
*The report – 'An investigation of public knowledge of the link between alcohol and cancer' - is available upon request from the Cancer Research UK press office.
** The new alcohol guidelines can be found here: https://www.gov.uk/government/consultations/health-risks-from-alcohol-new-guidelines
The Alcohol Health Alliance UK (AHA) is a group of 46 organisations including the Royal College of Physicians, Royal College of GPs, British Medical Association, Alcohol Concern and the Institute of Alcohol Studies. The AHA works together to:
Highlight the rising levels of alcohol-related health harm
Propose evidence-based solutions to reduce this harm
Influence decision makers to take positive action to address the damage caused by alcohol misuse
The AHA's National Alcohol Behaviour and Attitudes Survey 2015:
To what extent do you agree or disagree with the following statement: It is important that people know about how alcohol can affect health?
Strongly agree or Agree 87%
To what extent would you support or object to all alcohol labels including information on how alcohol can affect health?
Strongly support or support: 81%

Cancer Research UK
 Cancer Research UK is the world's leading cancer charity dedicated to saving lives through research.
Cancer Research UK's pioneering work into the prevention, diagnosis and treatment of cancer has helped save millions of lives.
Cancer Research UK receives no government funding for its life-saving research. Every step it makes towards beating cancer relies on every pound donated.
Cancer Research UK has been at the heart of the progress that has already seen survival in the UK double in the last forty years.
Today, 2 in 4 people survive their cancer for at least 10 years. Cancer Research UK's ambition is to accelerate progress so that 3 in 4 people will survive their cancer for at least 10 years within the next 20 years.
Cancer Research UK supports research into all aspects of cancer through the work of over 4,000 scientists, doctors and nurses.
Together with its partners and supporters, Cancer Research UK's vision is to bring forward the day when all cancers are cured.
The University of Sheffield
With almost 27,000 of the brightest students from over 140 countries, learning alongside over 1,200 of the best academics from across the globe, the University of Sheffield is one of the world's leading universities. A member of the UK's prestigious Russell Group of leading research-led institutions, Sheffield offers world-class teaching and research excellence across a wide range of disciplines. Unified by the power of discovery and understanding, staff and students at the university are committed to finding new ways to transform the world we live in. Sheffield is the only university to feature in The Sunday Times 100 Best Not-For-Profit Organisations to Work. For 2016 and was voted number one university in the UK for Student Satisfaction by Times Higher Education in 2014. In the last decade it has won four Queen's Anniversary Prizes in recognition of the outstanding contribution to the United Kingdom's intellectual, economic, cultural and social life. Sheffield has five Nobel Prize winners among former staff and students and its alumni go on to hold positions of great responsibility and influence all over the world, making significant contributions in their chosen fields. Global research partners and clients include Boeing, Rolls-Royce, Unilever, AstraZeneca, Glaxo SmithKline, Siemens and Airbus, as well as many UK and overseas government agencies and charitable foundations.
Contact
For further information please contact:
Amy Pullan
Media Relations Officer
University of Sheffield
0114 222 9859
a.l.pullan@sheffield.ac.uk