University Alumni recognised in New Year honours
Sporting alumni, Jess Ennis-Hill and Hollie Webb honoured with titles
Vernon Gibson, alumnus and former Chief Scientific Advisor recognised with Order of the Bath
Sheffield graduates Jess Ennis-Hill and Hollie Webb have been recognised for their outstanding achievements in sport in the Queen's New Year honours.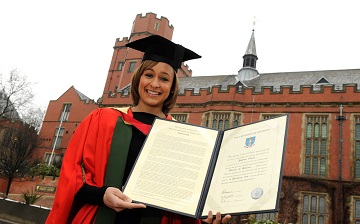 World heptathlon champion Jessica Ennis-Hill is honoured by a Damehood after she claimed silver in the 2016 Rio Olympics, defending her Olympic title she won at the London 2012 Olympic Games.
The 30 year-old, who studied Psychology at the University before graduating in 2007, recently announced her retirement from the sport.
Jessica received an honorary degree from the University of Sheffield in January 2010 and was patron of the University's Elite Sports Performance Scheme (ESPS). She was also awarded the University's Chancellor's Medal in 2008 in recognition of her outstanding athletic achievements.
Economics alumna Hollie Webb, 26, is awarded an MBE after she helped Great Britain's women's hockey team win gold in the final against the Netherlands.
Hollie was a recipient of the University's Elite Sports Performance Scheme (ESPS) during her time at the University of Sheffield. The scheme was launched in 2009 to provide financial and non-financial support to talented student athletes at the University.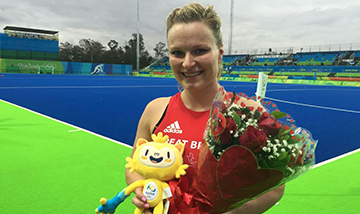 Alumnus Vernon Gibson, former Chief Scientific Advisor to the Ministry of the Defence, has been awarded Order of the Bath. Since graduating in 1980 with a degree in Chemistry, Vernon continues his strong links with the University of Sheffield.
Nick Lowles, Founder of Hope Not Hate, the UK's largest anti-racism and anti-extremism movement, has been awarded an MBE. An alumnus of the University, Nick served as Campaigns Secretary of the Students' Union in 1990.
Professor Sir Keith Burnett says: "Our University is hugely proud of our alumni who continue to be outstanding leaders in their fields and who are an inspiration to current students, whether through exceptional achievement in sport, through a lifelong scientific career or striving for tolerance and acceptance in our society."
"We would also like to add our warm congratulations to Stan Shaw, Sheffield master craftsman and knife maker, who has been awarded an BEM.
"Stan Shaw is still making handmade bespoke knives at the age of 90 and is a longstanding friend and supporter of the University's Advanced Manufacturing Research Centre. He began his career at the age of 14 and his knives, which are of the highest quality, are in demand from customers all over the world."
Additional Information
The University of Sheffield
With almost 27,000 of the brightest students from over 140 countries, learning alongside over 1,200 of the best academics from across the globe, the University of Sheffield is one of the world's leading universities.
A member of the UK's prestigious Russell Group of leading research-led institutions, Sheffield offers world-class teaching and research excellence across a wide range of disciplines.
Unified by the power of discovery and understanding, staff and students at the university are committed to finding new ways to transform the world we live in.
Sheffield is the only university to feature in The Sunday Times 100 Best Not-For-Profit Organisations to Work For 2016 and was voted number one university in the UK for Student Satisfaction by Times Higher Education in 2014. In the last decade it has won four Queen's Anniversary Prizes in recognition of the outstanding contribution to the United Kingdom's intellectual, economic, cultural and social life.
Sheffield has six Nobel Prize winners among former staff and students and its alumni go on to hold positions of great responsibility and influence all over the world, making significant contributions in their chosen fields.
Global research partners and clients include Boeing, Rolls-Royce, Unilever, AstraZeneca, Glaxo SmithKline, Siemens and Airbus, as well as many UK and overseas government agencies and charitable foundations.