Boeing sponsors first UK University-led Apprentice of the Year awards
University of Sheffield hosts first company-sponsored University advanced apprentice awards
Eleven awards include the Boeing Apprentice of the Year presented by the Managing Director of Boeing UK
University of Sheffield AMRC apprentices accepted first cohort of 250 advanced apprentices in 2014, with 400 apprentices now working within the University
Event coincides with National Apprentice Week and the launch of a new report on the Future of Vocational Education in the UK by University of Sheffield Vice-Chancellor Professor Sir Keith Burnett
The UK's first ever University-based Apprentice Awards event was held last night (11 March 2015) at the University of Sheffield.
Sponsored by Boeing, and drawing guests from a number of companies, the prestigious awards dinner recognised the achievements of talented apprentices at the Advanced Manufacturing Training Centre.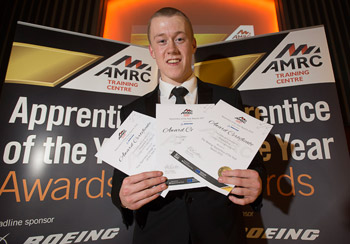 The black tie event, attended by 200 guests, celebrated the Centre's 400-strong apprentice cohort, honouring the best of the best with 11 awards.
The top award of the night, presented by the Managing Director of Boeing UK, went to 17-year-old apprentice Russell Fox from Sheffield-based automotive tools specialist Eldon Tools who was named the AMRC Training Centre's Boeing Apprentice of the Year. Russell wins the trip of a lifetime to Boeing's headquarters in Seattle, where he will see the aerospace giant's new Dreamliner being made.
Russell applied for an apprenticeship at the AMRC Training Centre after completing his GCSEs.
He said: "I have really enjoyed the freedom to learn that the Training Centre has given me. This has been reflected in my academic achievements this year. I am now keen to progress on to a foundation degree."
A total of 11 awards from industry sponsors were presented at the celebration dinner, held at Firth Hall, where Yorkshire-born David Pitchforth, Managing Director of Boeing Defence UK, was keynote speaker.
Mr Pitchforth told apprentices and guests: "As a former apprentice myself, I am delighted to be here today; the values, skills and knowledge that you learn here will – believe me – stand you in good stead for the rest of your lives.
"Tonight we are recognising achievement, innovation, fresh thinking, raising standards and awareness, values that all of us at Boeing hold dear to our hearts."
According to the Vice-Chancellor Professor Sir Keith Burnett, the awards event is far more than simply a celebration of the achievements of young people.
"I am deeply proud of the achievements of our apprentices and those who train and mentor them. The UK desperately needs skilled engineers to help create productivity and growth. Companies are constantly reminding us that the biggest barrier they face to investment or expansion is ensuring that there are adequate skills.
"There is a lot of talk about 'quality' apprenticeships and this really is the gold standard. Our AMRC advanced apprentices work in the leading manufacturing research environment in the UK. They are part of a university but also cutting-edge industrial practises. We have seen for ourselves how they are thriving, and we are now extending apprentice-level study into a world-class manufacturing engineering degree which retains the same deep level of industrial partnership for which our University and AMRC are rightly famous."
Additional information
About the AMRC Training Centre
Since its creation in 2001, the AMRC's model is based on working with industry to provide solutions for their needs, whether that is for improved products, processes or in the case of the AMRC Training Centre for appropriately-skilled and experienced engineering staff.
The apprentices, aged from 16, come from a wide range of manufacturers with operations in the Sheffield city region, including Tata Steel, Rolls-Royce, Sheffield Forgemasters, AESSEAL, MTL Group and Newburgh Engineering, in addition to the AMRC group itself.
All apprentices are fully sponsored by companies and pay no tuition fees and will not incur student debt.
New report
Professor Burnett is a member of the Prime-Minister's Council of Science and Technology and the co-author with Professor Sir Nigel Thrift, Vice-Chancellor of Warwick University, of a new report released this week, The Future of Higher Vocational Education (PDF, 943KB)
The report was released to coincide with National Apprenticeship Week 2015.
Contact
For further information please contact:
Hannah Postles
Media Relations Officer
University of Sheffield
0114 222 1046
h.postles@sheffield.ac.uk