The app a day which could keep the doctor at bay for MND patients
Weekly app updates could prevent unnecessary trips to the doctor
New technology will make a huge difference to patients and their carers
An innovative telehealth system and web resource developed by world-leading Motor Neurone Disease (MND) experts from the University of Sheffield with the help of patients and carers could revolutionise access to care and support for people with the devastating disease.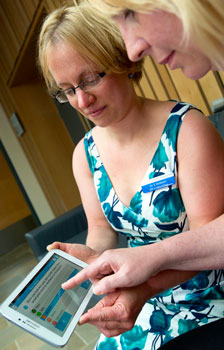 The TiM (telehealth in motor neurone disease) system, is provided in the form of an app on a tablet computer. Weekly updates on mobility and general well-being are sent to the patient's specialist MND care team to swiftly identify problems and points for action.
Consultant Neurologist and MND specialist Dr Chris McDermott, mastermind behind the telehealth project, said: "We hope that the telehealth system will improve the care and support we can offer patients and their carers by enabling us to respond to problems as they arise."
An initial trial with 40 patients will now start at the Sheffield MND Care Centre funded by a National Institute for Health Research (NIHR) fellowship to trial manager Dr Esther Hobson.
This pilot study will assess how well the telehealth system works and if successful, a larger trial will follow with the aim to make this technology widely available to MND patients.
Dr Hobson said: "Patients travel from all over Yorkshire to the Sheffield MND Care Centre to receive care from specialist doctors, nurses and therapists.
"For many of our patients, travelling to these appointments becomes more difficult and eventually impossible, as they become more unwell."
Emily Goodall whose father suffered from MND said: "This app has the potential to make a huge difference to people with MND, particularly those living in rural areas where travelling to hospital is very difficult and you can feel very isolated."
Patients were also closely involved in the new web resource which provides essential guidance on the use of vital breathing support for people with MND. Non-invasive ventilation (NIV) has been shown to prolong life and improve the quality of life of MND patients whose breathing is affected. NIV delivers slightly pressured air into the lungs through a face mask to supplement patients' own breathing.
Dr McDermott added: "Although NIV is an effective treatment, up to forty per cent of patients can struggle to use it. Our research identified that a group of people gave up early on because of practical issues and not fully being aware of the potential benefits of persevering.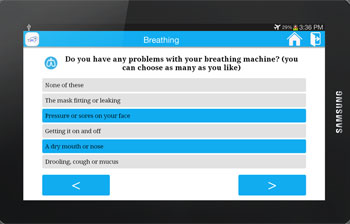 "We invited members of the public with experience of MND and NIV to work with web designers and film makers to create a new information resource, myNIV. The idea being that they could create something that contained all the things they wished they had known about NIV at the start to make it easier to use."
MND is a progressive and debilitating condition that causes paralysis of muscles in the body leading to difficulties walking, moving, talking, swallowing, breathing and eventually death.
While there are no effective treatments for MND, the challenge for doctors and carers is to improve the quality of life of people affected by the disease and to ensure they get access to specialist care and support when they need it.
The University of Sheffield is leading the way in developing technologies for patients with long-term conditions through pioneering initiatives by SITraN, Telehealth & Care Technologies (TaCT) for Long Term Conditions and Devices for Dignity Healthcare Technology Co-operative (D4D) who have all collaborated to develop the TiM system in partnership with Abbott Healthcare Products.
Funding for these projects was provided by Westfield Health, the MND Association and the Research for Patient Benefit Programme, as well as a Doctoral Fellowship Award by the National Institute for Health Research supporting Dr Esther Hobson.
Additional information
For more information about myNIV visit http://niv.mymnd.org.uk/
For further information on these resources and the TiM pilot study please contact: Dr Esther Hobson, 0114 222 2260, email e.hobson@sheffield.ac.uk or visit the TiM web pages.
National Institute for Health Research (NIHR)
The NIHR is funded by the Department of Health to improve the health and wealth of the nation through research. Since its establishment in April 2006, the NIHR has transformed research in the NHS. It has increased the volume of applied health research for the benefit of patients and the public, driven faster translation of basic science discoveries into tangible benefits for patients and the economy, and developed and supported the people who conduct and contribute to applied health research. The NIHR plays a key role in the Government's strategy for economic growth, attracting investment by the life-sciences industries through its world-class infrastructure for health research. Together, the NIHR people, programmes, centres of excellence and systems represent the most integrated health research system in the world.
NIHR
Motor Neurone Disease (MND)
The Motor Neurone Disease Association is the only national charity in England, Wales and Northern Ireland focused on MND care, research and campaigning.
MND Assocation
Westfield Health
The Westfield Health Charitable Trust has a long history of supporting people, communities and charities.
Westfield
Sheffield Institute for Translational Neuroscience (SITraN)
SITraN is the only entre in the UK purpose-built and dedicated to research into motor neurone disease.
SITraN
The University of Sheffield
With almost 26,000 of the brightest students from around 120 countries, learning alongside over 1,200 of the best academics from across the globe, the University of Sheffield is one of the world's leading universities.
A member of the UK's prestigious Russell Group of leading research-led institutions, Sheffield offers world-class teaching and research excellence across a wide range of disciplines.
Unified by the power of discovery and understanding, staff and students at the university are committed to finding new ways to transform the world we live in.
In 2014 it was voted number one university in the UK for Student Satisfaction by Times Higher Education and in the last decade has won four Queen's Anniversary Prizes in recognition of the outstanding contribution to the United Kingdom's intellectual, economic, cultural and social life.
Sheffield has five Nobel Prize winners among former staff and students and its alumni go on to hold positions of great responsibility and influence all over the world, making significant contributions in their chosen fields.
Global research partners and clients include Boeing, Rolls-Royce, Unilever, AstraZeneca, Glaxo SmithKline, Siemens and Airbus, as well as many UK and overseas government agencies and charitable foundations.