Sheffield helps launch parliamentary inquiry into sustainable future for international students in the UK
University of Sheffield's President and Vice-Chancellor gives evidence to All Party Parliamentary Group for International Students inquiry
Sir Keith Burnett gave evidence of the fundamental connection between international students and the UK's ability to continue to thrive in areas such as science and innovation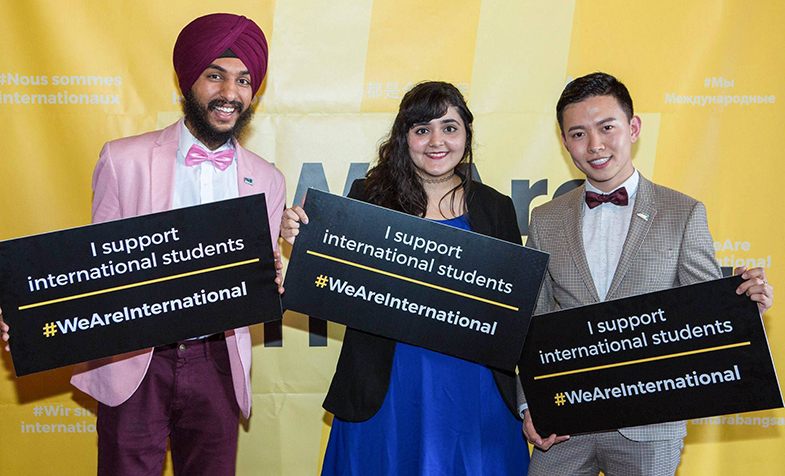 University of Sheffield President and Vice-Chancellor Professor Sir Keith Burnett gave evidence to a new inquiry into the opportunities and challenges in building a sustainable future for international students in the UK.
The University of Sheffield, together with its students, founded the nationwide #WeAreInternational campaign, now supported by 200 universities and business organisations, which has long lobbied for a more welcoming environment and visa system for students travelling to the UK from across the world.
The launch of the All Party Parliamentary Group (APPG) for International Students Inquiry was held in parliament on 3 July 2018 and was attended by experts from education, business, trade and local communities. The APPG will also host two oral evidence sessions in July and September to hear more detailed evidence, including from UK and international students. This first-ever inquiry for the APPG will run throughout the summer, reporting in October.
The inquiry will focus on:
the impact of international students on the educational experience of international students, including building a global perspective across teaching and learning;
international students and local communities;
international students and regional benefits, including economic investment, cultural vibrancy, entrepreneurship and skills;
research, trade and soft power.
Sir Keith gave evidence of the fundamental connection between international students and the UK's ability to continue to thrive in areas such as science and innovation.
He said: "UK research and innovation is underpinned by international students who bring talent, capacity and investment. There are very few research groups in vital areas of medicine and for the UK's future as an economy dependent on innovation which don't include talented international postgraduates or young researchers who first came to the UK as students.
"Simply put, Britain's industrial strategy itself leans heavily on universities and will not thrive unless we as a nation ensure we have the policies and practices which welcome international students and staff in a globally competitive environment. Universities are doing their best to welcome these students in every way they can, but we need the government to move on key issues to be globally competitive, especially in light of Brexit. Without urgently needed measures on post-study work, home students, communities, regions and the UK economy will all suffer."
He also noted the wide ranging economic, educational and social benefits of international students, as well as the positive impact of students on the NHS through placements of medical and dentistry students.
Coordination of the University of Sheffield's response to the APPG will be led by Director of Public Affairs, Ruth Arnold, who will work with supporters of the #WeAreInternational campaign across the UK to provide evidence to this far-reaching inquiry.
"The APPG offers a unique opportunity for universities, students, businesses, schools and colleges to come together and express to the government just how crucial international students are to the UK and to our own areas of expertise," she said.
"We are proud to already be working closely with organisations such as UUK International, the British Council and the NUS, as well as business organisations, but the APPG takes this lobbying further at a time when there is a cross-party consensus that we urgently need change on this issue."
Written evidence will be submitted to the APPG from 3 July to 3 September 2018. The inquiry will then host two oral evidence sessions on 17 July and 11 September and report in October 2018.
Additional information
There are over 500,000 international students in primary, secondary and tertiary education, and over 580,000 students learning English, each year in the UK.
Sheffield is the constituency in the UK with proportionately the highest economic benefit from international students in the UK
The University of Sheffield
With almost 29,000 of the brightest students from over 140 countries, learning alongside over 1,200 of the best academics from across the globe, the University of Sheffield is one of the world's leading universities.
A member of the UK's prestigious Russell Group of leading research-led institutions, Sheffield offers world-class teaching and research excellence across a wide range of disciplines.
Unified by the power of discovery and understanding, staff and students at the university are committed to finding new ways to transform the world we live in.
Sheffield is the only university to feature in The Sunday Times 100 Best Not-For-Profit Organisations to Work For 2018 and for the last eight years has been ranked in the top five UK universities for Student Satisfaction by Times Higher Education.
Sheffield has six Nobel Prize winners among former staff and students and its alumni go on to hold positions of great responsibility and influence all over the world, making significant contributions in their chosen fields.
Global research partners and clients include Boeing, Rolls-Royce, Unilever, AstraZeneca, Glaxo SmithKline, Siemens and Airbus, as well as many UK and overseas government agencies and charitable foundations.
Contact
For further information please contact:
Hannah Postles
Media Relations Officer
University of Sheffield
0114 222 1046
h.postles@sheffield.ac.uk