New arts wellbeing network set to improve lives in Sheffield
The Sheffield Arts and Wellbeing Network launches next week (Friday 2 November 2012) and is set to improve lives through developing new projects and promoting existing arts and wellbeing initiatives in the city.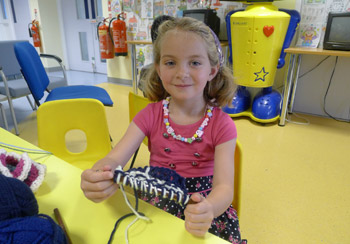 Dr Brendan Stone from the University of Sheffield's School of English said: "The network will bring people together to share ideas and resources as well as celebrating the fantastic work already going on across the city in this area."
The new network, set up by Sheffield Health and Social Care Trust (SHSC) working alongside the Breakthrough Art in Health charity, Sheffield City Council and the University of Sheffield, is inviting the public to help shape the future of the service at the launch event, which will take place at the Tony Currie Conference suite at Sheffield United Football Club on Friday 2 November 8.30am-4pm.
The event will include keynote speeches from Dan Jarvis MBE, Shadow Minister for Arts and Culture and Alex Coulter, Chair of the National Alliance for Arts and Wellbeing. There will also be workshops, live art, an exhibition, networking sessions, and much more.
Places like St Matthews House on Carver Street, Sheffield are central to the new network. After a fundraising campaign from the congregation of St Matthews Church and a European grant of £740,000, the required total of £1.5million has almost been raised to transform the property into the new Sheffield Centre for Arts, Creativity and Wellbeing.
This will be one of the key locations for activities and projects connected through the network to take place, explained Graham Duncan, part of the campaign group: "It has been a hidden gem at the heart of Sheffield for over 150 years. It was built to serve the densely populated slums and 'mesters' workshops which made up the area, providing a school and social welfare for local people living in abject poverty.
"When it has been refurbished it will serve the needs of people in the 21st century, and will contain a café, community pottery, high quality meeting space and art workshops, providing a place where everyone can be renewed by the therapeutic and social magic of art."
An initiative involved in the new network is Artfelt, funded by The Children's Hospital Charity. Cat Powell, Artfelt Manager, explained: "Surroundings have a powerful effect on how we feel, and that's especially important in hospital, where the environment can influence wellbeing and comfort for our patients, visitors and staff. Art brightens our hospital walls, makes our children smile and engages them in creative workshops, whether they are here long term, or for just for a few hours.
"These workshops – which are a great way to get children socialising, expressing and enjoying themselves – are a valuable way to make hospital feel better, and the work they create is enjoyed by others too.
"Artfelt is also constantly collaborating with artists and designers to work directly on improving our space – they create photography, graphics, art and decoration especially for us, working sensitively and creatively to address the needs of each space and its users. These activities help create a welcoming, warm hospital environment through colour, art, music, imagery and poetry."
CAST (Creative Arts Steering Team) Sheffield is another project which will form part of the network to connect people with arts activities to benefit wellbeing. Kay Aitch, a member of CAST, said: "CAST is a group of mental health service users, volunteers and workers who are passionate about arts for mental health and wellbeing. We run regular workshops, live music and poetry gatherings, and also hold art exhibitions.
"We aim to promote the artwork of service users and to support them in their development as artists and people." CAST artist gatherings take place on the first Thursday of every month, 5.30pm – 7.30pm at the Harland Café, John Street, S2 4QU.
Additional information
Sheffield Arts and Wellbeing Network:
Storying Sheffield
The launch event is intended to ignite the momentum of this new network and to celebrate local projects and work. We would like you to be part of this event. But if you can't make it, we still want you to join the network.
There are many different ways you can be involved:
• Register details of your organisation, group/projects or practice with the network to be included on the Sheffield Arts & Wellbeing Network website, promoting your work. Download a form here.
• Showcase your work at the launch event
• Have a stall/information stand at the event
• Become an active member of the network and disseminate information via your own networks
For more information please contact: reflectionsart@hotmail.co.uk
Or call 07885 9002567 / 07970 178302
To book a place at the launch event please follow this link: www.artsandwellbeingsheffield.eventbrite.co.uk

To join the Arts and Wellbeing Network complete the form which you can download at http://www.storyingsheffield.com/2012/10/sheffield-arts-wellbeing-launch/
The Sheffield Arts and Wellbeing Network website will be live at this address soon: www.artsandwellbeingsheffield.co.uk
The University of Sheffield
With nearly 25,000 students from 125 countries, the University of Sheffield is one of the UK´s leading and largest universities. A member of the Russell Group, it has a reputation for world-class teaching and research excellence across a wide range of disciplines.
The University of Sheffield has been named University of the Year in the Times Higher Education Awards for its exceptional performance in research, teaching, access and business performance. In addition, the University has won four Queen´s Anniversary Prizes (1998, 2000, 2002, 2007). These prestigious awards recognise outstanding contributions by universities and colleges to the United Kingdom´s intellectual, economic, cultural and social life. Sheffield also boasts five Nobel Prize winners among former staff and students and many of its alumni have gone on to hold positions of great responsibility and influence around the world.
The University´s research partners and clients include Boeing, Rolls-Royce, Unilever, Boots, AstraZeneca, GSK, ICI, Slazenger, and many more household names, as well as UK and overseas government agencies and charitable foundations.
The University has well-established partnerships with a number of universities and major corporations, both in the UK and abroad. Its partnership with Leeds and York Universities in the White Rose Consortium has a combined research power greater than that of either Oxford or Cambridge.
Contact
For further information please contact:
Amy Stone
Media Relations Officer
The University of Sheffield
0114 222 1046
a.f.stone@sheffield.ac.uk