Asylum seeker students find sanctuary in Sheffield
Six new students who are asylum seekers from around the world have found sanctuary in Sheffield this year, thanks to scholarships provided by the University of Sheffield.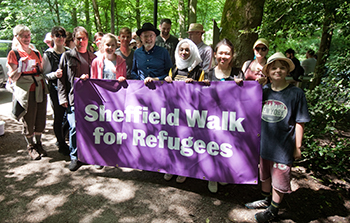 The students, from countries including Syria, Iran and Sri Lanka, have made Sheffield their home after being forced to flee their own countries due to war or persecution. The University has provided fully-funded scholarships for four undergraduate and two postgraduate students.
The scholarships have been partly funded by the University's Big Walk fundraising events, which took place over the summer. Dozens of staff and students were joined by hundreds of Sheffield residents on the walks, which included a week-long coast-to-coast challenge and the Sheffield Walk for Refugees. Together with other fundraising activities across the University, these events raised over £50,000.
Professor Sir Keith Burnett, Vice-Chancellor of the University of Sheffield, said: "This year the world has seen the biggest displacement of people since the Second World War. Thousands of refugees are currently making the long walk from countries where they fear for their lives to places they hope to build a new life for them and their families.
"I'm proud that our staff, students, and the people of Sheffield have got behind our efforts to provide a place of sanctuary here in Sheffield for some of these people. We want our University to be a safe place for students and academics to rebuild their lives and go on to make a difference to the world through their studies and research."
The University is also committed to supporting academics who are in danger or exile by giving them financial and practical help to continue their careers in a place of safety, and is working in partnerships with the Council for At Risk Academics (CARA) and other similar international organisations.
The University has a long-standing tradition and commitment of welcoming refugees as both students and academics to Sheffield, which was the UK's first City of Sanctuary. Hans Krebs is just one person who came as a refugee from Nazi Germany. He came to Sheffield and established a group that worked on aspects of biochemistry that have been important to the world. His discovery of the Krebs cycle saw him awarded a Nobel Prize, but he has also left a legacy in Sheffield which continues to inspire future generations.
Additional information
The University of Sheffield

With almost 27,000 of the brightest students from over 140 countries, learning alongside over 1,200 of the best academics from across the globe, the University of Sheffield is one of the world's leading universities.
A member of the UK's prestigious Russell Group of leading research-led institutions, Sheffield offers world-class teaching and research excellence across a wide range of disciplines.
Unified by the power of discovery and understanding, staff and students at the university are committed to finding new ways to transform the world we live in.
Sheffield is the only university to feature in The Sunday Times 100 Best Not-For-Profit Organisations to Work For 2016 and was voted number one university in the UK for Student Satisfaction by Times Higher Education in 2014. In the last decade it has won four Queen's Anniversary Prizes in recognition of the outstanding contribution to the United Kingdom's intellectual, economic, cultural and social life.
Sheffield has six Nobel Prize winners among former staff and students and its alumni go on to hold positions of great responsibility and influence all over the world, making significant contributions in their chosen fields.
Global research partners and clients include Boeing, Rolls-Royce, Unilever, AstraZeneca, Glaxo SmithKline, Siemens and Airbus, as well as many UK and overseas government agencies and charitable foundations.
Contact
For further information please contact:
Hannah Postles
Media Relations Officer
University of Sheffield
0114 222 1046
h.postles@sheffield.ac.uk