Aylan Kurdi: How a single image transformed the debate on immigration
Report shows how a single image of Aylan Kurdi drowned on a beach spread to 20 million screens around the world in just 12 hours
Data shows the image changed the language used on social media around immigration, with more uses of the word 'refugee' than 'migrant'
However, aftermath of Paris attacks may affect public mood
Image framed one of the biggest stories of 2015 - the flight of Syrian refugees to Europe
A detailed investigation into how pictures of three-year-old refugee Aylan Kurdi galvanised the global conscience reveals how social media platforms such as Twitter and Facebook, and searching on Google, can suddenly change the very language of the debate on immigration.
Researchers at the University of Sheffield's Visual Social Media Lab have analysed close to 3 million social media posts which followed the recovery of the young refugee's body from a beach in Turkey on 2 September 2015 to unravel the mystery of how a deeply personal tragedy born out of the civil conflict in Syria became one of the most iconic image-led news stories of our time.
In addition, Google's News Lab data journalism team in California analysed millions of searches around the death of Aylan Kurdi to show how, when and where the world started searching and what they were looking for.
Dr Farida Vis, Director of the Visual Social Media Lab, said: "As soon as we saw the image and the response we felt that something extraordinary was happening. Given our research expertise and that of fellow researchers who joined this effort, we felt we should do something to better understand this terrible event. Somehow this image of this child made the refugee crisis really visible. We wanted to understand why this was the case."
Dr Vis added: "We also wanted to better understand how these images had spread so quickly between the local, national and global media but also between social media and the mainstream media. We wanted to measure the impact these images have had on the wider public debate about the status of migrants and refugees. Our analysis clearly shows that this story not only engaged a global audience, but that it changed the way social media users talked about the issue of immigration."
The report shows how social media transported images of Aylan from a beach in Turkey to the screens of almost 20 million people across the world in the space of just 12 hours.
"We show how a handful of tweets by journalists on the ground grew into a staggering 53,000 tweets per hour as interest in the story went viral," said Dr Vis.
Using data provided and analysed by the Lab's private sector partner, Pulsar, Dr Vis and her team were able to identify a sudden and unexpected shift in the way people were talking about the issue of migration on social media.
Dr Francesco D'Orazio, co-founder of the Visual Social Media Lab, VP Product & Research at Pulsar and co-author of the report, said: "For most of 2015, the use of the words migrants and refugees was head to head in public conversation, accounting for pretty much the same volume over nine months – 5.2 million tweets versus 5.3 million tweets. From September 2 onward this radically flipped. The numbers swing dramatically towards a clear focus on refugees – 2.9 million tweets and 6.5 million tweets."
---
---
However, this legacy may have been affected following terror attacks in Paris on 13 November 2015, when it was reported that a passport belonging to a Syrian refugee was found at the scene.
Dr Vis said: "This prompted many UK newspapers to run a headline that swayed the rhetoric once again towards 'defence of the borders'. Indeed, it looks more likely that the softening of attitudes to refugees which the image of Aylan Kurdi gave rise to will be to a greater or lesser extent undone."
The study uses powerful visualisations to track the key moments in the evolution of the story from a few hundred tweets, with limited geographical spread, to its expansion into wider Middle Eastern audiences. It is at this point that the story goes viral and global.
In his contribution to the study, Dr D'Orazio writes: "So far the pictures had been shared on Twitter less than 500 times in two hours (3 per cent of the total diffusion of the images at the end of day one) and have reached an audience of half a million Twitter users across 100 countries. That's when, at 12.49 PM, Washington Post Beirut Bureau Chief, Liz Sly (@Lizsly) weighs in, sharing a tweet that will end up being retweeted 7,421 times, becoming the most viral post in the dataset. Liz Sly changes the scale of the diffusion, generating in the first 30 minutes of her post the same amount of tweets that had been generated in the previous two hours."
The journey of these images also shows the key role Twitter played in spreading the story.
Dr D'Orazio added: "Twitter's ability to act as a catalyst has connected emerging stories and relevant people, helping to develop and connect those audiences on a global scale and make a story go mainstream before the international press has even started to officially cover it. But we shouldn't forget that it was the journalists on the ground that broke the story on Twitter and through the social platform put it in front of the right audience, facilitating a very effective and optimized diffusion dynamic."
Google search data shows how the world's news agenda was shaped by the spread of the images.
Simon Rogers, data editor at Google's News Lab said the earliest identifiable search interest in Aylan's case actually came before the significant volume of tweets, as people started to search for background on the case. Immediately afterwards, it spread across the globe.
He added: "Google data is the world's biggest publicly available journalistic dataset. In this case it shows how the world was desperate to find out more about Aylan, what had happened to him and what had forced his family to flee their home."
Dr Olga Goriunova, co-founder of the Visual Social Media Lab, based at Royal Holloway and co-editor of 'The Iconic Image on Social Media: A Rapid Research Response to the Death of Aylan Kurdi*', said: "The decision to produce the report is based on a belief that change for the better is possible. Understanding how a unified global response that amassed substantial power was arrived at, we hope, can help us become more humane – by realizing the conditions for an atrocity to become visible and widely known and to acquire a political voice that can lead to political change."
Dr Claire Wardle, Research Director at the Tow Center for Digital Journalism at Columbia University and one of the report's authors, said: "2015 was the year the Syrian refugee crisis hit the European consciousness, but it's easy to forget that this was not the case before the Aylan Kurdi image.
"In April, over 700 refugees and migrants lost their lives when their boat capsized off Lampedusa. After one day of coverage, the story disappeared, despite the tragic loss of life. The photo of Aylan Kurdi galvanised the public in a way that hours of broadcasts and thousands of column inches wasn't able to do. It has created a frame through which subsequent coverage has been positioned and compared.
"This research provides concrete evidence of the ways in which this image framed the biggest story of 2015, the flight of Syrian refugees to Europe."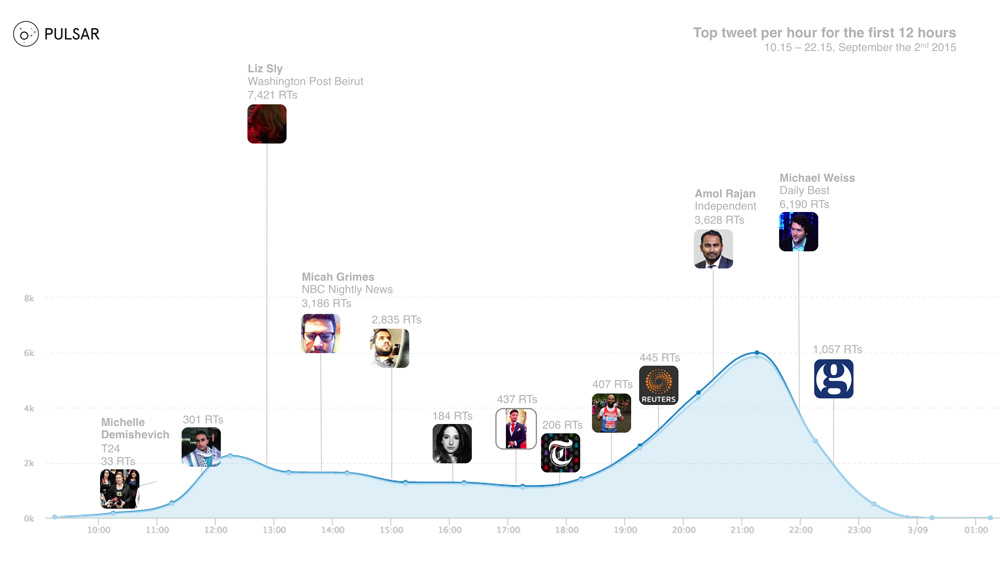 Additional information
1. Copies of the report are available here. Members of the Visual Social Media Lab worked with data provided by Pulsar (as part of the Economic and Social Research Council funded Picturing the Social project.) Pulsar's platform was used to retrieve, analyse and visualise historic data covering the period 1-14 September 2015, using specific search terms. It covered Twitter, Tumblr, news, forums, and blogs (amounting to 2,843,274 posts). The vast majority of the data gathered, however, was from Twitter. The authors mainly engage with images shared through Twitter and Facebook, often offering a cross-media analysis. It was decided that images would be included in the report only as hyperlinks.
2. The Visual Social Media Lab is @VisSocMedLab on Twitter and more information can be found here: www.visualsocialmedialab.org
3. Dr Farida Vis is Director of the Visual Social Media Lab and a Faculty Research Fellow based in the Information School, at the University of Sheffield. She is a leading social media scholar and has published widely in this area. She sits on the World Economic Forum's Global Agenda Council on Social Media: http://www.weforum.org/content/global-agenda-council-social-media-2014-2016-0
4. Full list of authors: Dr Olga Goriunova, Royal Holloway; Dr Francesco D'Orazio, Pulsar; Simon Rogers, Google, Dr Farida Vis, University of Sheffield; Professor Mike Thelwall, University of Wolverhampton; Dr Anne Burns, University of Sheffield, Dr Lin Prøitz, University of Sheffield; Dr Lucy Mayblin, University of Sheffield; Dr Holly Ryan, University of Sheffield; Ray Drainville, Manchester School of Art; Dr Simon Faulkner, Manchester School of Art; Professor James Aulich, Manchester School of Art; Dr Lisa Procter and Dr Dylan Yamada-Rice, University of Sheffield; Sam Gregory, WITNESS; Dr Claire Wardle, Tow Center for Digital Journalism, Columbia University; Dr Evelyn Ruppert and Dr Funda Ustek, Goldsmiths.
5. Pulsar is one of the leading social data intelligence platforms focussed on pushing the boundaries of social media analysis beyond keyword tracking into content diffusion and audience mapping. Pulsar is @Pulsar_social on Twitter. More information can be found here: www.pulsarplatform.com
6. The Economic and Social Research Council (ESRC) is the UK's largest organisation for funding research on economic and social issues. It supports independent high quality research, which has an impact on business, the public sector and the third sector. At any one time the ESRC supports over 4,000 researchers and postgraduate students in academic institutions and independent research institutes.
The University of Sheffield
With almost 26,000 of the brightest students from around 120 countries, learning alongside over 1,200 of the best academics from across the globe, the University of Sheffield is one of the world's leading universities.
A member of the UK's prestigious Russell Group of leading research-led institutions, Sheffield offers world-class teaching and research excellence across a wide range of disciplines.
Unified by the power of discovery and understanding, staff and students at the university are committed to finding new ways to transform the world we live in.
In 2014 it was voted the number one university in the UK for Student Experience by Times Higher Education and in the last decade has won four Queen's Anniversary Prizes in recognition of the outstanding contribution to the United Kingdom's intellectual, economic, cultural and social life.
Sheffield has five Nobel Prize winners among former staff and students and its alumni go on to hold positions of great responsibility and influence all over the world, making significant contributions in their chosen fields.
Global research partners and clients include Boeing, Rolls-Royce, Unilever, AstraZeneca, Glaxo SmithKline, Siemens and Airbus, as well as many UK and overseas government agencies and charitable foundations.
Contact
For further information please contact:
Hannah Postles
Media Relations Officer
University of Sheffield
0114 2221046
h.postles@sheffield.ac.uk